Prado homers, delivers walk-off winner for Yanks
Second baseman hits two-run shot in third, two-out RBI single in ninth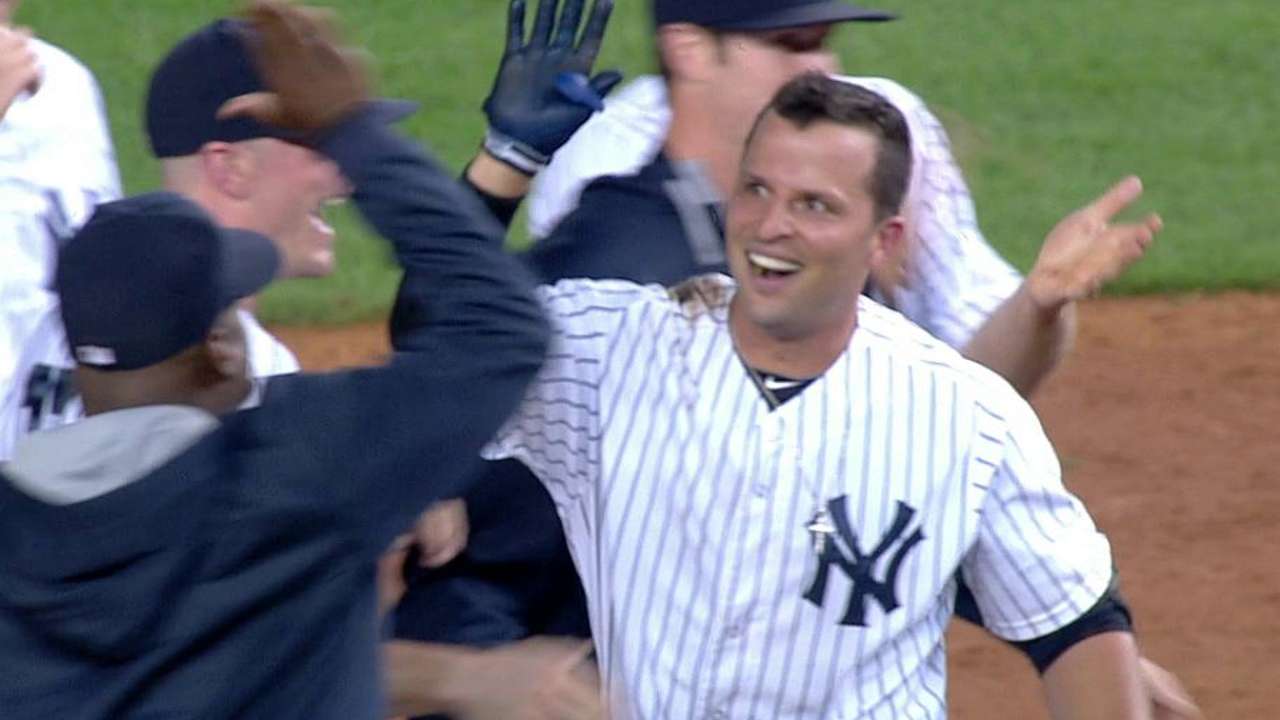 NEW YORK -- One of the major selling points for Martin Prado's midseason acquisition rested in his versatility. Over nine big league seasons, the veteran has not been one to shy away from challenges, carrying his glove and a good attitude out to six different positions.
He can also help a team with the bat, something the Yankees are thrilled to be seeing first-hand. Prado slammed a two-run homer and later cracked the game-winning hit to lift New York to a 4-3 victory over the White Sox on Friday night at Yankee Stadium.
"I can describe it as one of the biggest moments of my career," said Prado, who drove home the deciding run in the ninth inning with a single to center field off Daniel Webb. "Just getting a win for the Yankees means a lot for anyone."
Prado was chased down by his celebrating teammates in the middle of the infield, then had an on-camera interview twice interrupted with icy baths courtesy of Brett Gardner, who doused Prado with both Gatorade and water before calling it "the biggest win of the year, for sure."
"I mean, at this point, we've just got to win every game we have a chance to win," Gardner said. "I thought we had a great crowd tonight. The fans were behind us the whole game. I thought it was a game that we had to win."
The Yanks' fourth walk-off win of the season was sparked when Ichiro Suzuki started the inning with a single to center field, advancing on Gardner's sacrifice bunt. Derek Jeter lined out to center, and after an intentional walk, Webb got ahead of Mark Teixeira 1-2, but lost him to a free pass that loaded the bases.
Prado hacked at Webb's first three pitches, fouling off a trio of high-90s fastballs, but then laid off the next three pitches to work the count full. Webb fired a 97-mph fastball that Prado drilled up the middle for his fifth career walk-off hit and first as a Yankee.
"Guys like that, power pitchers, you cannot be too patient," Prado said. "They're coming right at you. I tried to put the best swing I could. It was overall a team win."
David Robertson picked up the victory after hurling a scoreless ninth inning, which included his 500th career strikeout, surpassing David Cone as the fastest pitcher in franchise history to reach the plateau.
"It's a great honor to be the fastest Yankee, but I'd rather keep winning ballgames than worry about that," Robertson said.
Shawn Kelley recorded four important outs and Dellin Betances got five in relief of Shane Greene, who surrendered a three-run homer to Jose Abreu in the first inning before settling in to give the Yankees five-plus solid frames of five-hit ball, striking out seven.
"It just looked like he was a little off the whole night, but he made some pitches when he had to," manager Joe Girardi said. "They had some more opportunities off him and he fought. It's one of those nights where he wasn't real sharp, but he kept it to three runs and he gave us a chance to win."
"We knew coming in [Greene] is pretty good," said Chicago's Adam Dunn. "Jose had the big homer and after that, [Greene] was the guy that we saw on tape and the guy we thought he was. We had chances early and get three runs in the first and not get any more. That's how you lose."
Prado trimmed the deficit with his third home run in pinstripes, a two-run shot off John Danks in the third inning. Since being acquired from the D-backs on July 31, Prado has been working often with hitting coach Kevin Long; he and Francisco Cervelli have taken a liking to the old 'net drill' that Long used to perform with Robinson Cano.
"Sometimes you need a refresh and that's what I've been doing," Prado said. "Hitting early, I've always been a guy that I like to hit. I like to do a lot of stuff."
Jacoby Ellsbury tied the game with a double to right field off Danks in the fifth, chasing home Gardner. That set up a promising opportunity with runners at second and third and none out, but New York's struggles with men in scoring position were again on display.
Danks wriggled free as Teixeira grounded out, Prado struck out and Brian McCann flew out to right field. Danks finished up allowing three runs and six hits in five-plus innings.
Chicago made a bid to tie the game in the sixth. Alexei Ramirez was hit by a Greene pitch and advanced on a single, then was aggressively sent home on De Aza's two-out single to left field.
Gardner's throw arrived in plenty of time for Cervelli to apply the tag, an out call that stood after a crew-chief review. The Yankees hope that that kind of good fortune will stick around long enough to finish the rest of their charge toward October.
"You sure hope so. We need it to," Girardi said. "Obviously with us being behind and needing to catch teams, it's important."
Bryan Hoch is a reporter for MLB.com. Follow him on Twitter @bryanhoch and read his MLBlog, Bombers Beat. This story was not subject to the approval of Major League Baseball or its clubs.