Abreu's 33rd homer not enough for White Sox
Rookie hits three-run shot in first inning; Webb allows walk-off in ninth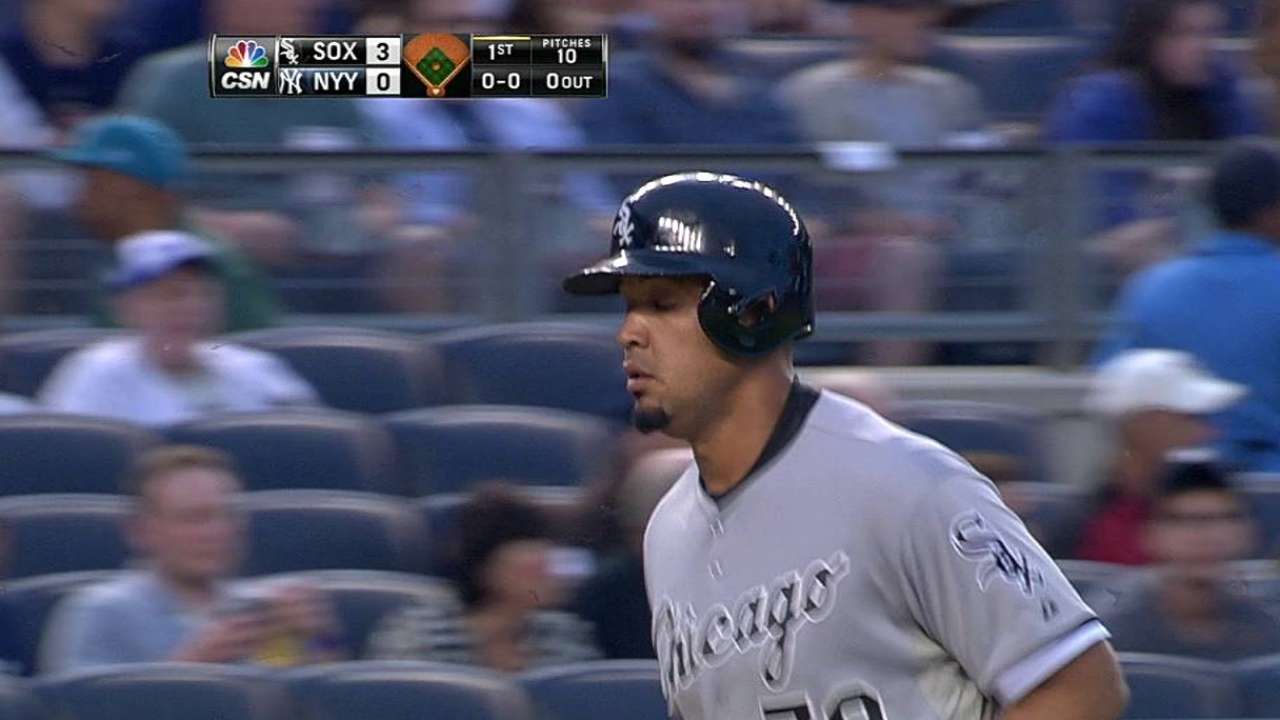 NEW YORK -- The White Sox bullpen has received a lot of criticism this season and at times for good reason. They arrived at Yankee Stadium on Friday with a 4.46 ERA, next to last in the American League.
And while it was reliever Daniel Webb who surrendered a walk-off single to Martin Prado in the ninth to give the Yankees a 4-3 victory on Friday, the White Sox offense should not be absolved of blame. After building a 3-0 advantage in the first inning, the White Sox could not push anything more across the plate.
"I think we've done that quite a bit," said White Sox manager Robin Ventura. "Where we get something early and then, for one reason or another, you don't get anything else. I think eventually it probably wears on the starter and the 'pen, too. But you've got to be able to add on, especially when you jump out real early."
Ichiro Suzuki started off the ninth inning with a single to center and was bunted to second base by Brett Gardner. But Webb (5-4) nearly worked his way out of it, forcing Derek Jeter to fly out to center field for the second out. Jacoby Ellsbury was intentionally walked to get to Mark Teixeira, but Webb walked him as well. That brought up Prado, who sent a bouncing single up the middle to bring the Yankees out of the dugout to celebrate.
The loss was the White Sox sixth consecutive defeat at Yankee Stadium and sent them to a season-worst 10 games under .500.
When the Yankees visited Chicago earlier this season, Jose Abreu was on the disabled list, so this was his first opportunity against New York. In the first inning, he introduced himself, as he so often has to the rest of the Major Leagues, with a home run.
This one was a three-run blast to the stands in left field, his 33rd of the season, off Yankees starter Shane Greene to put the Sox ahead, 3-0. Greene is having a solid rookie season and is coming off a career-high 10-strikeout game, but was not as sharp in this game. The White Sox collected nine hits off Greene, but managed just the three runs.
"The other day, we had an opportunity to knock the starter out early and we did it," White Sox designated hitter Adam Dunn said. "Today, we had an opportunity to do the same but not only did we not do it, but he went [five] innings. That's definitely on us."
White Sox starter John Danks was hindered by the usual suspects during this nightmare season for him: too many walks (three) and a costly home run. Prado tagged Danks with a two-run homer in the third inning to cut the defect to 3-2.
It was the 24th homer Danks has allowed this season, the most in the American League.
"I'm still walking too many guys and giving up homers," Danks said. "That's what has gotten me in trouble in the past and continues to get me in trouble. It's frustrating, like I said, but it's part of it, and we'll do what we can to fix it."
In the fifth inning, Danks hit the first batter, Gardner, who scored on a double by Ellsbury to tie the game at 3. The Yankees had runners on second and third with no outs before Danks retired the next three batters to work his way out of the jam. He completed five innings and allowed six hits and three runs.
"Two or three leadoff walks to an inning, you can't do that," Danks said. "It was a battle. It's frustrating to feel as good as I did. I felt like I had pretty good stuff, to not be able to throw it over the plate consistently and get the early contact you're looking for. I really just shot myself in the foot, and that's the way things happen."
Chicago's next best chance to score came in the sixth inning, when Conor Gillaspie attempted to score from second base on a single by Alejandro De Aza, but was thrown out at the plate by a wide margin by Gardner.
White Sox manager Robin Ventura asked for a crew-chief review, arguing that Yankees catcher Francisco Cervelli was blocking the plate and did not give Gillaspie a path to score. The call on the field was confirmed after a one-minute and four-second review.
Then the Yankees' bullpen, perhaps their biggest strength, shut the White Sox down over the final four innings, retiring the last seven batters.
"Today was one of our better days," said Yankees closer David Robertson. "We made a lot of quality pitches and got a lot of big outs."
Jamal Collier is an associate reporter for MLB.com. This story was not subject to the approval of Major League Baseball or its clubs.