MLB.com Columnist
Terence Moore
Selig left Manfred stable, improved game as legacy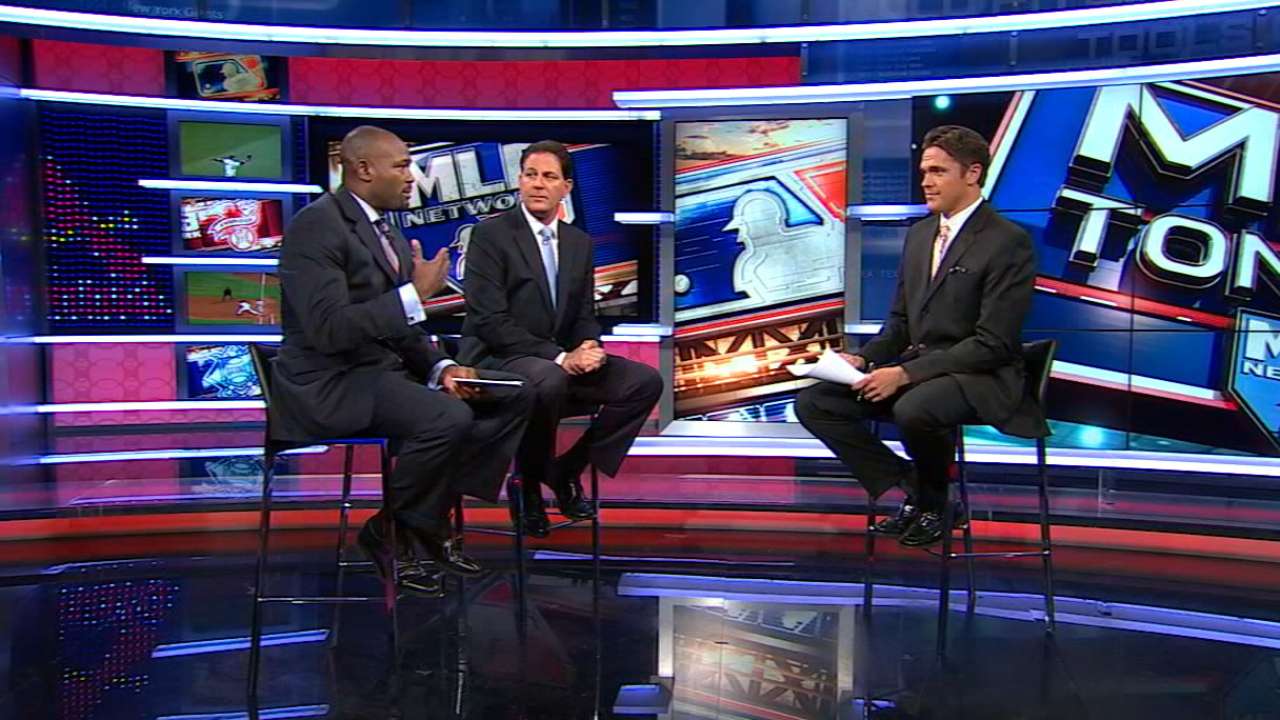 Soon after Roger Goodell followed Paul Tagliabue as NFL commissioner, he said he needed to "protect the shield." There was an epidemic of knuckleheads embarrassing his sport on and off the field.
Elsewhere, in the NBA, Adam Silver became David Stern's successor as that league's commissioner, and just like that, the new guy was in the middle of the Donald Sterling mess. It ended after Silver forced Sterling to sell the Los Angeles Clippers due to the longtime owner's insensitive tongue inflicting damage on the image of the whole NBA.
Let's see. What is Rob Manfred's megaton issue that needs attention right now as the next Major League Baseball Commissioner?
I'm still thinking.
I'm not saying Manfred will inherit just shy of zero problems when he replaces Bud Selig in January. I'm saying he won't have to do anything close to protecting the shield or ousting an owner.
That said, Major League Baseball wouldn't suffer if games were at least 15 to 30 minutes shorter. In addition, more African-Americans are needed on the field, and more young folks are needed in the stands. Plus, no matter what sport you're talking about these days, you always can do better when it comes to ousting performance-enhancing drugs. The same goes for finding ways to increase your revenue streams through all forms of media, international markets and old-fashioned ticket sales.
If you're Manfred, and if you're succeeding the most effective person as Commissioner since Kenesaw Mountain Landis joined Babe Ruth in saving the game, you'll have a few hills to climb. And, yes, I said hills instead of mountains, because Selig has conquered the majority of baseball's Mount Kilimanjaros throughout his 22 years as Commissioner.
Now comes Manfred, 55, a Harvard-trained lawyer who currently is baseball's chief operating officer. He has served in the Commissioner's Office in various capacities since 1998, and just so you know, he was born and raised not far from Cooperstown, which makes for a wonderful resume if you're about to become something like the next Major League Baseball Commissioner. Manfred received a unanimous vote from the owners last week to replace Selig.
Really, nobody can replace Selig. He is splendidly unique in so many ways. Selig is a Milwaukee guy who owned the hometown Brewers for decades. Which means, given that the Brewers are a small-market franchise, he relates to the have-nots of the game, but he also has the respect of the haves.
If Selig didn't, he wouldn't be the 80-year-old baseball Gandhi that he is, and the game still would have its Mount Kilimanjaros for Manfred.
Like steroids. They'll remain a concern for Manfred, but here's the deal: No Commissioner has been more aggressive than Selig at attempting to rid his professional sport of those things in recent years. Baseball has the best drug-testing policy anywhere, and by evidence of the game's aggressive ways throughout the Biogenesis scandal, baseball has shown under Selig's leadership that it only will grow more vigilant in response to cheaters.
There also are all of those national and local television contracts signed during Selig's regime that have contributed to yearly revenues in the neighborhood of $9 billion. It also has helped the bottom line that Major League Baseball Advanced Media always sits on the cutting edge of technology.
Strikes. Lockouts. Those have been foreign words in baseball for a couple of decades now. Attribute that to Selig and his ability to work in conjunction with the Players Association.
New ballparks are everywhere, which translates into more revenue.
Then there is this: Selig ignored his natural leanings toward traditionalism to enhance the game by adding three divisions to each league to replace the previous two. He also used the occasion to add a Wild Card team to the playoffs for both leagues, and that created more interest down the stretch of the regular season. Years later, Selig added another Wild Card team to both leagues to heighten the push for the playoffs even more.
We can't forget about Interleague Play. On an average, those games draw more than intraleague ones, which means Selig was omniscient again.
That isn't all. Selig was wise enough to give home-field advantage in the World Series to the league that wins the All-Star Game, and that has helped to keep baseball's All-Star Game the only one worth watching.
Selig also expanded the replay system.
As a Selig disciple, Manfred was around for most of those advancements, and that's great news for Manfred.
That's even greater news for baseball.
Terence Moore is a columnist for MLB.com. This story was not subject to the approval of Major League Baseball or its clubs.