Pipeline preview: Heaney, Syndergaard to square off
No. 1 prospects for Marlins, Mets will meet when New Orleans visits Las Vegas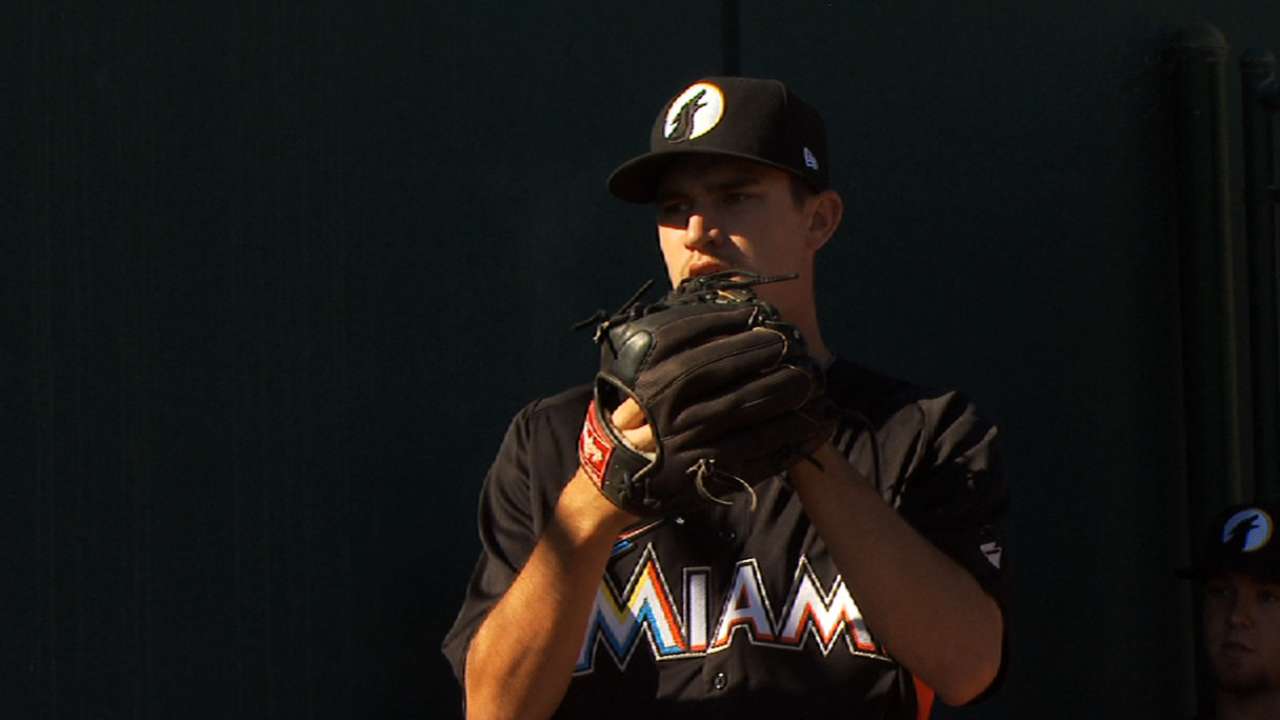 Sunday, while facing Triple-A Reno, Marlins' No. 1 prospect Andrew Heaney took a no-hitter into the eighth inning for New Orleans. Though a leadoff single quickly ended his bid for history, Heaney retired the next three batters to complete eight scoreless innings -- his longest and best start as a professional.
Heaney will look to repeat that success when he takes the mound on Friday, when New Orleans continues its four-game series Las Vegas. He will square off against Mets' No. 1 prospect Noah Syndergaard in a pitchers' duel that could be repeated for years to come in Miami and New York. This time, however, it will be played at Cashman Field in Las Vegas at 10:05 p.m. ET. Fans can watch on MiLB.TV.
Heaney, ranked No. 21 on MLBPipeline.com's Top 100 Prospects list, began the season with Double-A Jacksonville and pitched his way to the big leagues in little more than two months. Heaney made his Major League debut June 19 and made four starts for the Marlins before he was optioned back to New Orleans.
Heaney has pitched in 21 games in the Minor Leagues this season, going 9-6 with a 2.99 ERA. He has struck out 129 batters and walked 28 in 120 1/3 innings.
Unlike Heaney, Syndergaard has spent all season at Triple-A. Syndergaard is 8-7 with a 4.72 ERA and ranks fifth in the Pacific Coast League with 127 strikeouts in 118 1/3 innings.
Syndergaard, ranked No. 12 on the Top 100, struggled early in the season, but he seemed to turn a corner just before the All-Star break. In his last eight starts, Syndergaard has struck out 53 batters in 45 2/3 innings. During that stretch, Syndergaard posted a 3.15 ERA and surrendered just two home runs, despite pitching the bulk of those games in the hitter-friendly havens of the PCL's Pacific Conference.
While a Syndergaard-Heaney duel may one day be a familiar occurrence, Friday will be the first meeting between the two. In addition to their matchup, several other pitchers ranked in the Top 100 are scheduled to start, including Eddie Butler (No. 29), Kyle Freeland (No. 70), Touki Toussaint (No. 81), Sean Newcomb (No. 86) and Alex Gonzalez (No. 96). Fans can watch Butler and Gonzalez on MiLB.TV. Gonzalez and Double-A Frisco will be hosting Padres' No. 1 prospect Austin Hedges and San Antonio at 8:05 p.m. ET, while Butler and Double-A Tulsa will be visiting Arkansas at 8:10 p.m. ET.
Top prospect probables
Chris Anderson (Dodgers' No. 5), Rancho Cucamonga vs. Stockton
Clayton Blackburn (Giants' No. 7), Richmond vs. Bowie
Butler (Rockies' No. 2), Tulsa at Arkansas
Alex Colome (Rays' No. 5), Durham vs. Gwinnett
Tim Cooney (Cardinals' No. 10), Memphis vs. Sacramento
Zach Davies (Orioles' No. 8), Bowie at Richmond
Freeland (Rockies' No. 4), Asheville at Delmarva
Drew Gagnon (Brewers' No. 19), Huntsville at Mobile
Gonzalez (Rangers' No. 5), Frisco vs. San Antonio
Foster Griffin (Royals' No. 9), Burlington vs. Bristol
Heaney (Marlins' No. 1), New Orleans at Las Vegas
Nick Howard (Reds' No. 5), Dayton at West Michigan
Jason Hursh (Braves' No. 5), Mississippi vs. Birmingham
Felix Jorge (Twins' No. 12), Elizabethton at Pulaski
Cody Martin (Braves' No. 9), Gwinnett at Durham
Sean Newcomb (Angels' No. 1), Burlington vs. Cedar Rapids
Tyler Pike (Mariners' No. 14), Jackson vs. Chattanooga
Syndergaard (Mets' No. 1), Las Vegas vs. New Orleans
Blake Taylor (Mets' No. 17), Kingsport at Bluefield
Toussaint (D-backs' No. 3), Missoula at Billings
Jose Urena (Marlins' No. 9), Jacksonville at Tennessee
Taylor Williams (Brewers' No. 14), Brevard County at Clearwater
Tyler Wilson (Orioles' No. 16), Norfolk at Charlotte
Kevin Ziomek (Tigers' No. 5), West Michigan vs. Dayton
Teddy Cahill is a reporter for MLB.com. Follow him on Twitter at @tedcahill. This story was not subject to the approval of Major League Baseball or its clubs.