Waiver wire wisdom for fantasy stretch run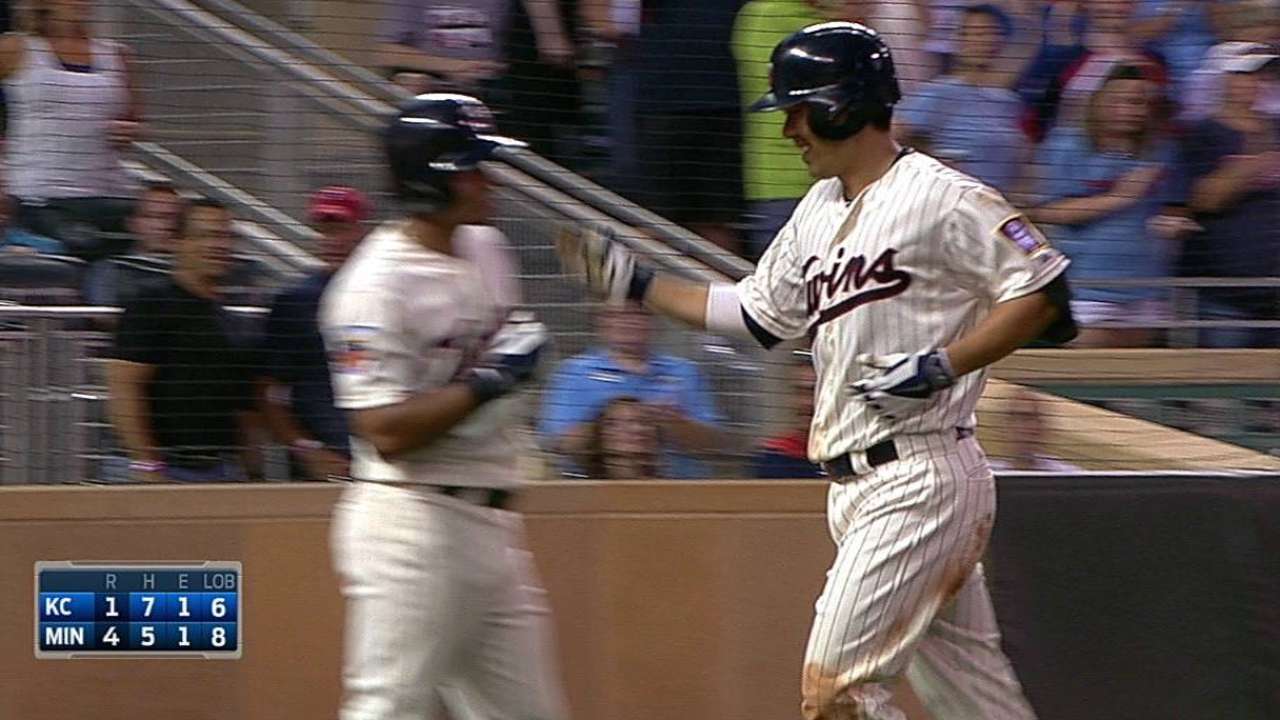 Many fantasy owners are focusing on specific categories in the coming weeks, as they attempt to make a surge or protect a lead in certain areas. This week's hitters present options for help with batting average, steals and homers. There are also several underrated closers who can provide cheap saves, and two-start hurlers who can lead to gains in K's and wins.
Catcher, Kurt Suzuki (Twins) : Suzuki is one of few catchers who can help a fantasy squad in the batting-average category. Teams who are in a close race in that category could swap out a .230 backstop for the 30-year-old, who has hit over .275 in every month this season.
First baseman, James Loney (Rays) : Consistency is the name of Loney's game, as he has hit over .280 in all but one month this season. He does not offer notable power, but his high batting average has helped him to drive in 59 runs. He will not spark a fantasy comeback, but he also will not be a disappointment.
Second baseman, Mookie Betts (Red Sox) : The rookie was recalled at the beginning of the week, and he should handle center field duties on his own in the coming weeks. Betts is eligible at second base in most leagues, and his impressive Minor League numbers suggest that he could be a difference maker down the stretch.
Shortstop, Brock Holt (Red Sox) : Fantasy owners have continually doubted Holt's staying power, but he continues to hit for average and score runs out of the leadoff spot. It is fine to be skeptical of Holt's long-term value, but he is useful in mixed leagues right now.
Third baseman, Justin Turner (Dodgers) : Turner is being used as a full-time starter at the hot corner while Juan Uribe rehabs on the DL. The 29-year-old does not possess notable speed or power, but he is hitting .309 this season, and he has picked up three RBIs and a stolen base in his first four games as Uribe's replacement.
Outfielder, Drew Stubbs (Rockies) : The loss of Carlos Gonzalez has stripped the Rockies of their outfield depth. Stubbs has been a main beneficiary, as he is on pace to rack up more playing time in August than in any of the first four months of the season. He is hitting .300 with 13 homers and 15 steals in 307 at-bats, so he has the potential to be a major producer in a full-time role.
Outfielder, Avisail Garcia (White Sox) : The 23-year-old made a speedy recovery from a shoulder injury that was expected to sideline him for the remainder of the season. Garcia is a talented young hitter who has collected a homer and six RBIs in his first five games since returning from the DL. He should be added in all leagues.
Outfielder, Jon Jay (Cardinals) : Jay is currently riding a 12-game hitting streak and he is hitting .447 with a pair of homers this month. The 29-year-old does not typically offer much power, but he should be owned in most leagues until his bat cools off.
Starter, Dillon Gee (Mets) : Gee has not pitched well since returning from the DL last month, but he has two favorable matchups next week against the Braves and Phillies, who are both in the bottom-10 in baseball in runs scored. Having both of those games in his pitcher-friendly home park gives Gee and even better chance for success.
Starter, Wei-Yin Chen (Orioles) : The southpaw has been very consistent, as he has allowed more than three runs just once in his past eight outings. With a surging Orioles squad behind him, Chen should be able to come away with at least one win in a pair of home outings next week.
Starter, Jorge De La Rosa (Rockies) : De La Rosa has kept his WHIP close to 1.00 in the second half. He will face a pair of unimposing offenses next week, in the Giants and D-backs.
Starter, Jason Hammel (A's) : It would take a lot of guts to start Hammel next week, as he has struggled mightily with his new club. On a positive note, he has allowed one run over 12 innings in his past two starts in his pitcher-friendly home park. The right-hander could respond favorably from an extended break, and he will make home starts against the Astros and Rangers next week.
Starter, Jimmy Nelson (Brewers) : Prior to his hiccup against an AL offense last time out, Nelson was showing great consistency vs. NL squads. The tall right-hander should have plenty of success next week when he will work on the road in pitcher-friendly parks against the Padres and Giants.
Starter, Jake Peavy (Giants) : Peavy has adapted well to a return to the Senior Circuit, as he has allowed three runs over 14 innings in his past two starts. He could extend his two-game winning streak when he faces the Rockies and Brewers in his spacious home park next week.
Reliever, Hector Rondon (Cubs) : The rebuilding Cubs may not offer a plethora of save chances, but Rondon has converted four saves since Aug. 12. Owners who want to load up on closers in order to make a late push in saves should add Rondon right away.
Reliever, Kevin Quackenbush (Padres) : MLB.com Padres correspondent Corey Brock reported that Benoit's sore shoulder could cause him to land on the DL in the coming days. Benoit has not pitched since Aug. 13, and Quakenbush has taken over as the team's temporary closer. The 25-year-old owns a 2.35 ERA and a 0.97 WHIP, so he should be able to handle the role and provide cheap saves for owners in deep leagues.
Reliever, Dellin Betances (Yankees) : Fantasy owners who are protecting narrow leads in ERA and WHIP should think strongly about adding Betances. The massive right-hander is on pace for nearly 150 K's, which makes him the only setup man who can match weekly strikeout rates with many starters.
Fred Zinkie is a fantasy baseball writer for MLB.com. This story was not subject to the approval of Major League Baseball or its clubs.