Posey, Panda back Bumgarner's great start
Left-hander strikes out 12, contributes RBI as Giants win nightcap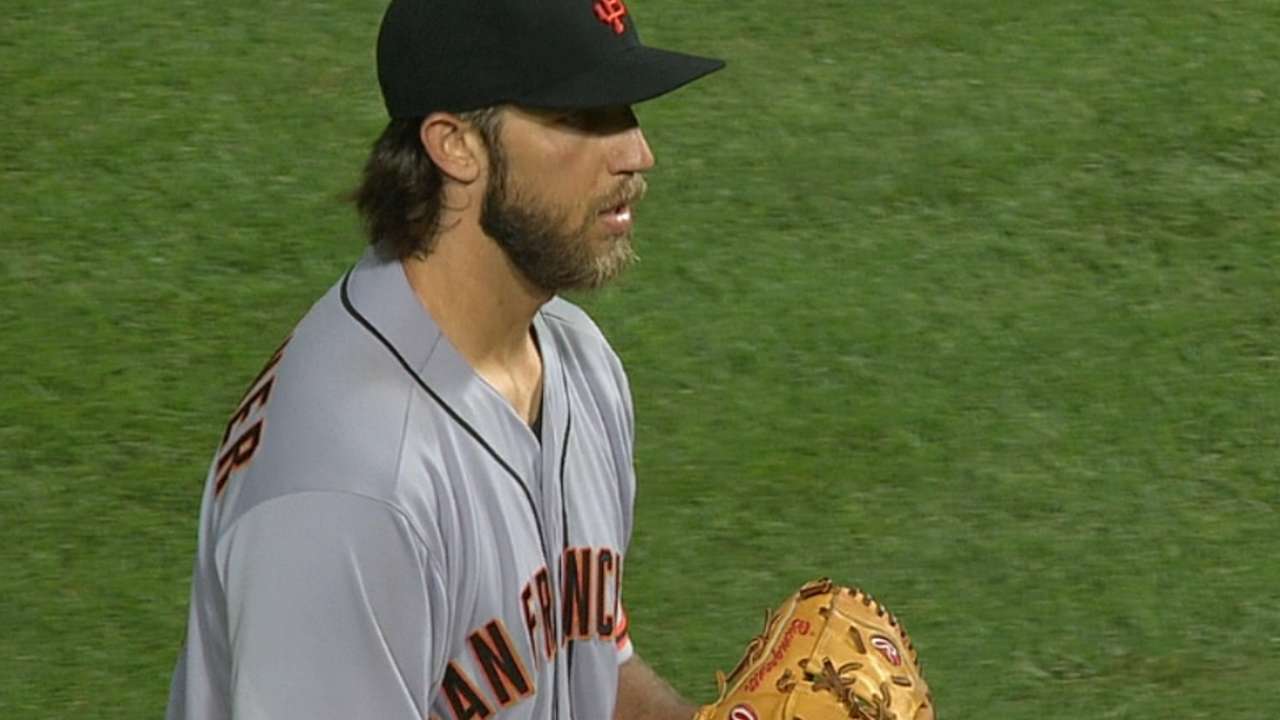 CHICAGO -- The triumphant pounding of Madison Bumgarner's left fist into his glove after he struck out Javier Baez to end the seventh inning echoed the constant report of the Giants' bats Thursday night.
Bumgarner, Buster Posey and Pablo Sandoval were most responsible for the raucous 5-3 verdict that gave the Giants two victories in the series' three games -- a tangible accomplishment, given the adverse weather that disrupted routines and bedtimes for both clubs.
Bumgarner displayed his wealth of skills, striking out 12 -- one short of his career high -- while working seven innings. He was particularly rough on Baez, Chicago's hotshot rookie, who struck out four times. Bumgarner (14-9) recovered after yielding three first-inning runs on back-to-back homers, blanking Chicago on four hits afterward. For good measure, he added a fourth-inning RBI single off his Cubs counterpart, Travis Wood (7-11).
Bumgarner explained that his expressive reaction reflected his desire to excel.
"We have to win all the games we can win right now and that could have been the turning point in the game, depending on what happened there," he said. "He was probably my last hitter, so I gave it everything I had to get us back to the dugout."
Welington Castillo, who struck out twice after hitting the second homer off Bumgarner, vouched for the left-hander's effectiveness.
"He just challenged us with fastballs, and I think we were a little aggressive with him," Castillo said. "I think after the first inning he figured out that we were aggressive and he kept throwing that high fastball."
Earlier Thursday, the Giants dropped a 2-1 decision to the Cubs in the completion of Tuesday's suspended game.
The Giants will encounter their next challenge in Washington, where they'll open a three-game series against the Nationals, winners of 10 consecutive games. As daunting a task as that is, at least the Giants left Wrigley Field knowing that the heart of their batting order maintains a robust beat.
Posey and Sandoval, who hit third and fourth, respectively, combined for five extra-base hits and three RBIs. Both entered Thursday with statistics that would satisfy many a ballplayer. But observers expect more from Posey, the 2012 National League Most Valuable Player, and Sandoval, the World Series MVP that year.
With 35 regular-season games left, ample time remains for Posey and Sandoval to propel the Giants into the postseason.
Sandoval made authoritative contact all night as he went 3-for-4 with a pair of doubles and drove in the Giants' first two runs.
Posey went 4-for-4, hitting his 14th homer of the season to break a 3-3 tie in the fifth inning and lacking a triple for the cycle.
"We've got to have him," Bumgarner said, "and we've got to have everybody else to get where we want."
The outcome gave the Giants five wins in their last seven games and left them a half-game in front of Atlanta for the league's second Wild Card spot and 3 1/2 games behind first-place Los Angeles in the NL West. But Giants manager Bruce Bochy didn't reveal which postseason berth he considered to be most attainable.
"We're still in August. There's a lot of baseball left," Bochy said. "I don't think at this point you target a Wild Card or [a division title]. I don't think any club should."
At this juncture, simply winning is the paramount objective.
"It's definitely not the time of year to hold back," Bumgarner said.
Nothing restrained Posey, who felt refreshed after resting a stiff right hip Wednesday.
"The hip is something I've kind of battled throughout the year. I've had it for a while," he said. "It just kind of gets you bound up, is the best way to describe it. Everything gets kind of tight around my hip and back."
Those who vote for the Silver Slugger awards, which go to the top hitters at each position, might want to study this game. As baseball's most productive pitchers at the plate, Bumgarner (.269 batting average, .304 on-base percentage, .481 slugging percentage, three homers, 12 RBIs, nine runs) and Wood (.261/.306/.500, three homers, 10 RBIs, eight runs) entered the affair with remarkably similar statistics.
Yet their paths diverged sharply as the evening unfolded. Though Wood struck out Bumgarner twice, in between those at-bats the Giants left-hander followed Joaquin Arias' one-out double in the fourth with a ringing single to left field that tied the score.
Chris Haft is a reporter for MLB.com. Read his blog, Haft-Baked Ideas, and follow him on Twitter at @sfgiantsbeat. This story was not subject to the approval of Major League Baseball or its clubs.