Ross handed tough loss in duel with Kershaw
Shutout bid ends on eighth-inning HR; Rivera nabs two baserunners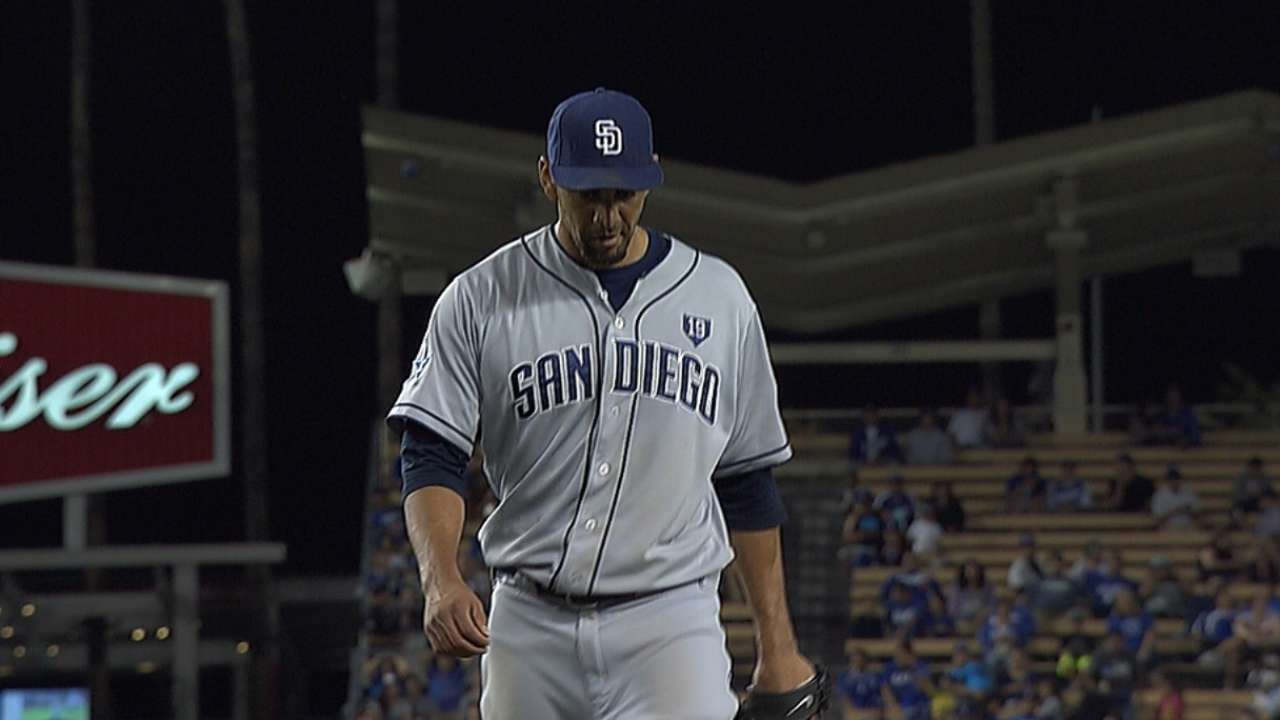 LOS ANGELES -- The best 12-loss pitcher in baseball had no intention of cursing under his breath late Thursday night, nor did Tyson Ross have any intention of fuming at the mere thought of the one that got away.
Instead, before the Padres' charter whisked the team from Los Angeles to Phoenix, Ross vowed to do something he's done all season in times of turbulence and turmoil -- move on.
"I'll try to focus on the good things," Ross said, standing in the visiting clubhouse at Dodger Stadium. "The focus moves to the next start."
Ross appeared to be on his way to besting arguably the top pitcher in baseball on Thursday until Justin Turner's two-run home run in the eighth inning took the wind out of the sails of a dominant start, as the Dodgers claimed a 2-1 victory before a crowd of 39,596.
Ross took a two-hit shutout into the eighth inning before the Dodgers (72-57) rallied, beginning with a Carl Crawford infield single and ending with Turner's home run, as he jumped on a slider from Ross (11-12), who allowed two runs in eight innings.
Ross was efficient, needing just 75 pitches to get through seven innings, as the Dodgers were aggressive early in counts. He got 11 ground-ball outs, limited his walks to two and finished with eight strikeouts -- getting a lot of mileage out of his best pitch (slider) while showing very good command of his fastball.
"Ty was great," said Padres catcher Rene Rivera. "That was one of the best outings. He was pounding the strike zone, he got quick outs. Two runs in eight innings is not bad. He did a great job."
So did the other guy, Clayton Kershaw.
In fact, Kershaw (15-3) didn't allow a hit until there were two outs in the sixth inning, when Ross lined a clean single to center field. Oddly enough, it was last April when Ross got his first Major League hit off Kershaw here at Dodger Stadium. That hit caused a subluxation of Ross' left (non-throwing) shoulder, which eventually led to surgery.
One inning after that hit, the Padres (59-67) got their run. Abraham Almonte led off the seventh with a sharp single to left field, and Jedd Gyorko walked. Tommy Medica hit a fly ball to center field that allowed Almonte to advance to third base. Rivera then followed with an RBI single to left for a 1-0 lead.
For as well as Ross was pitching, Rivera was shaping up to be the hero of the game -- not just for the hit that gave the Padres a lead but for throwing out two would-be base stealers earlier in the game, and two burners at that in Crawford and Dee Gordon.
"When you're able to stop the running game, especially with those two guys, it's impressive," said San Diego manager Bud Black.
Kershaw went eight innings, allowing the run on three hits with two walks and 10 strikeouts. He was in line for a loss before the Dodgers rallied.
"[Ross] pitched great and matched Kershaw. We had some good at-bats. We had a chance to extend the lead against a guy in Kershaw who is arguably the best pitcher in the game," Black said.
As for Ross, the home run to Turner nearly rated as an anomaly, as it was only the second home run he's allowed in his last 12 starts dating back to June 21. Ross now is in sole possession of the franchise record of most consecutive quality starts (12).
Kershaw knew that Thursday's game was going to be a struggle when he saw he'd be opposed by Ross, who lowered his ERA to 2.68.
"Tyson is really, really good, so I knew I was in for a battle tonight," said Kershaw. "His slider and fastball are pretty unbelievable."
After the game, Black was asked if there was any particular message he shared with Ross -- Thursday or on other occasions this season where he's pitched well but hasn't received run support.
"He knows he's pitching well," Black said. "He'll remember a night like tonight and realize that every time he takes the mound, he's capable of nights like tonight."
Corey Brock is a reporter for MLB.com. Keep track of @FollowThePadres on Twitter. This story was not subject to the approval of Major League Baseball or its clubs.