Shoemaker flirts with no-no in win over Red Sox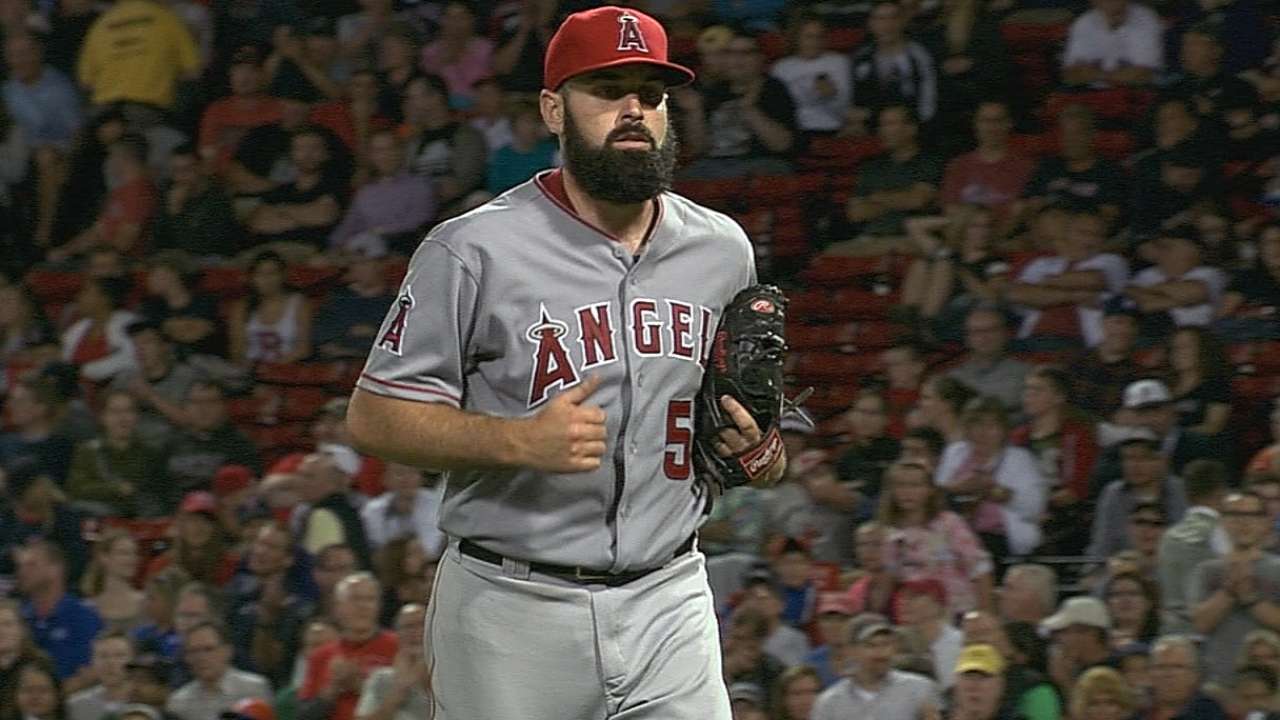 BOSTON -- One night after the Angels wondered how they could ever recover from the loss of Garrett Richards, the following question came to the forefront:
Where on earth would they be without Matt Shoemaker?
The undrafted 27-year-old rookie no-hit the Red Sox through 6 2/3 innings and one-hit them through 7 2/3 on Thursday night, leading the Angels to a 2-0 victory hours after they learned that their best starting pitcher, Richards, would require season-ending surgery to repair a torn left patellar tendon.
"This is what I've been talking about," catcher Chris Iannetta said. "We need guys to step up, from the first guy to the 25th guy to another 10 guys who are going to get called up in September. It's going to take all of us to get this done."
And so far most of them have. Thanks to Shoemaker's gem, the Angels completed their first four-game sweep at Fenway Park since 1962 and won for the eighth time in their last nine games, moving a season-best 26 games above .500 and two full games ahead of the idle division-rival A's for the best record in the Majors.
At 76-50 they're just one game off their best pace through 126 games, set by the 100-win team of 2008.
"We have a great team," said Albert Pujols, who was ejected in the sixth for arguing balls and strikes.
Shoemaker struck out three times as many batters (nine) as he allowed baserunners (three), continuing his standout season one night after Richards' knee buckled while he was sprinting toward first base.
Manager Mike Scioscia, ejected as well after defending Pujols, called Shoemaker's outing "uplifting."
"It's important," Scioscia added. "There's going to be a lot of attention on our rotation with Garrett not being part of it. Anything our guys do will be important.
"You can't say enough about what Matty did tonight."
Shoemaker plunked the first batter of the game, Brock Holt, then retired the next 20 in a row -- seven on strikeouts, eight on routine groundouts, five on harmless flyouts. The splitter had a little more bite than usual, the location was as precise as ever, and all of a sudden, the bearded right-hander was seven outs from becoming the first rookie to throw a no-hitter in Fenway since Clay Buchholz in 2007.
"I didn't even really know or even think about it until the fifth or sixth," Shoemaker said. "It's like one of those things you don't even know or think about until it's like, 'OK, who's coming up?' And you realize where you're at in the order and go, 'Man, all right. Let's just make pitches.' Take that out of my head and just go pitch."
The next batter was third baseman Will Middlebrooks, who was only in the game because Yoenis Cespedes left to attend to a personal matter. Shoemaker fell behind, 2-1, then got Middlebrooks to swing through a slider to even the count. Shoemaker's next pitch, his trademark splitter, started high and didn't drop far enough.
"Definitely just an unfortunate pitch, given the circumstances," Shoemaker said.
Middlebrooks drove it down the left-field line, giving the Red Sox (56-71) just their second baserunner of the night, and the no-hitter was over.
"His split was good tonight," Middlebrooks said. "It looked like his fastball out of his hands, so I was up there looking [for an] off-speed [pitch]."
Middlebrooks didn't miss it, but he also didn't score. Shoemaker retired the next batter, then the next two in the eighth before walking Mookie Betts and exiting with a season-high 116 pitches.
Shoemaker went undrafted out of Eastern Michigan University in 2008, became a professional pitcher only because the Angels offered him $10,000 after his redshirt-junior season, and was mired in Triple-A each of the last two seasons. Now he has 12 wins -- tying the Yankees' Masahiro Tanaka for the Major League lead among rookies -- and a 3.56 ERA for the best team in baseball.
"He goes out there with his stuff, and he thinks his stuff will get hitters out," Scioscia said. "And he really has the confidence that it is. With that composure he has, and that poise, it gives him a sense of confidence where he's not going to be intimidated. He's not afraid to fail. He trusts what he can do, and he's having a terrific season for us."
Alden Gonzalez is a reporter for MLB.com. Read his blog, Gonzo and "The Show", and follow him on Twitter @Alden_Gonzalez. This story was not subject to the approval of Major League Baseball or its clubs.