Holmberg roughed up in short outing vs. Braves
Rookie starter can't stop Reds' losing skid, which reaches six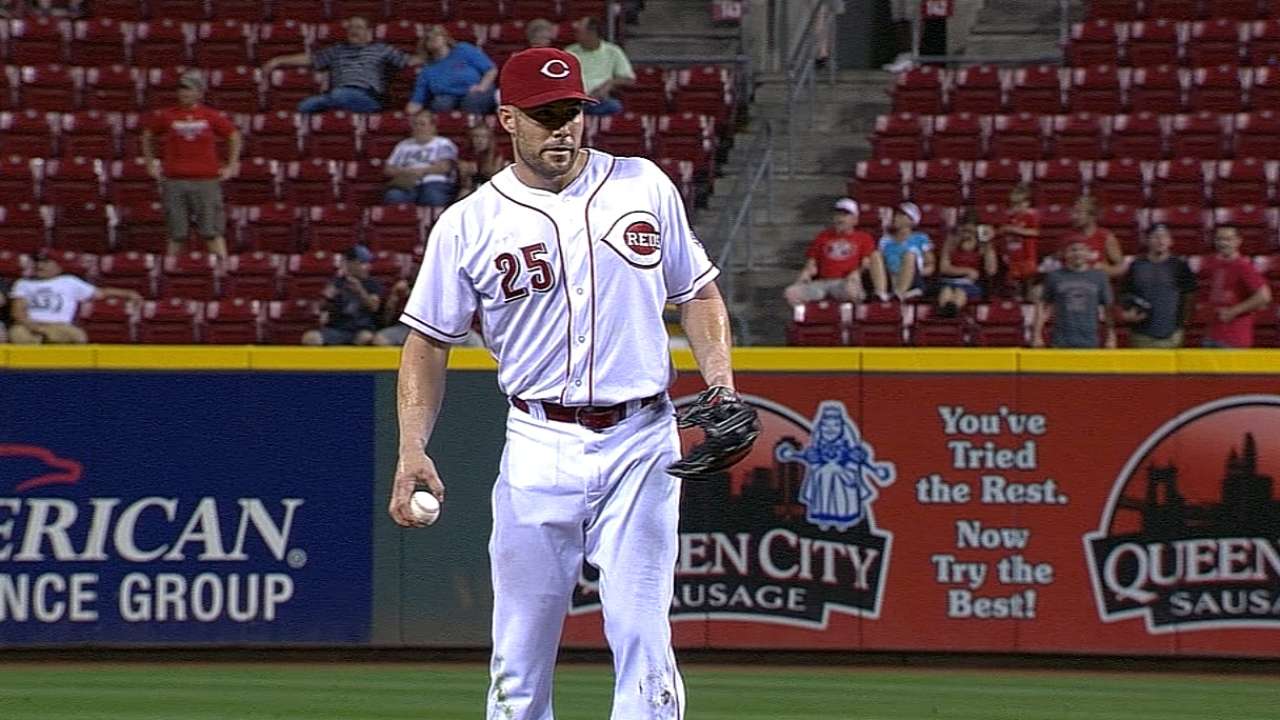 CINCINNATI -- Having returned home from a poor road trip, the struggling Reds placed a couple of challenges in front of freshly called-up spot starter David Holmberg on Thursday.
No. 1: Pitch well enough vs. the Braves to keep his team in the game and try to halt a losing streak.
No. 2: Work deep enough to give a beleaguered bullpen a chance to catch its breath.
Holmberg, up from Triple-A Louisville, could not meet either objective as he lasted only 2 2/3 innings, while the Reds were handed an 8-0 defeat by Atlanta. It extended their losing streak to six games with losses in nine of the last 10 games and 11 of 13.
"We were hoping for a few more innings there and it didn't work out," Reds manager Bryan Price said.
Just how bad did the night go for Cincinnati? The ninth inning was pitched by position player Skip Schumaker, who moved over from left field to take the mound. He worked a scoreless inning with one walk.
"Whenever you're in the game as a position player pitching, it's the worst-possible scenario because you know you're getting your butt kicked," Schumaker said.
Holmberg matched the length he provided in his other 2 2/3-inning spot start in a callup on July 8 against the Cubs. This time, the left-hander gave up six earned runs, five hits, four walks, two hit batters and one homer while striking out two to raise his two-start ERA to 18.56.
In that short amount of time, Holmberg faced 19 batters and threw 86 pitches. By contrast, Braves starter Julio Teheran threw 87 pitches through his six scoreless innings with only four hits allowed.
"Definitely not what I wanted to do," Holmberg said. "The team needed a good start. They need to win ballgames. I wanted to go out and try and win a ballgame and didn't execute pitches. Once again, they took advantage of it."
Cincinnati's rotation has a 6.39 ERA during the losing streak and has seen only one starter work seven innings in that span. Because of the water-main break that postponed Saturday's game and created Sunday's rescheduled day-night doubleheader at Colorado, the Reds were short a starter and summoned Holmberg.
Atlanta took a 1-0 lead in the second inning when Andrelton Simmons hit a 1-2 pitch to the left field seats for a homer.
The real trouble for Holmberg began in the five-run top of the third as his first five batters got on base. Following a blooped single and a bunt hit, a Freddie Freeman walked loaded the bases. Justin Upton hit a two-run single to left field before Chris Johnson's RBI double and Evan Gattis' sacrifice fly added two more runs.
With two outs, Holmberg intentionally walked eighth hitter B.J. Upton to get to the pitcher's spot. The move backfired when Holmberg hit Teheran with a 1-2 pitch to reload the bases. Jason Heyward's walk followed to force home a run to make it a 6-0 game and end Holmberg's night.
"I thought when guys got on base he was reaching back to try to force velocity when he went to his fastball," Price said. "He had a nice changeup but after a while, they figured out when he needed to make a pitch, it would be with the changeup and they put the barrel on a couple."
Pedro Villarreal, also called up from Louisville before the game, took over and allowed two runs and three hits over 2 1/3 innings. Logan Ondrusek worked two scoreless innings.
"It did save our bullpen a little bit but we were hoping to be in the game a little longer," Price said.
The only real shred of good news to come from the game for the Reds was the healthy return of closer Aroldis Chapman with a perfect eighth inning. Chapman hadn't pitched since Sunday's four-walk debacle in Game 1 of a doubleheader against the Rockies, when it was revealed he had an achy shoulder. The lefty struck out his first two batters and got a fly ball to center field.
With Chapman and Schumaker working the end of the game, tired relievers like Sam LeCure, Manny Parra and Jumbo Diaz could stay idle.
"We could pitch Chapman today as we did and he can pitch [Friday] if he comes out of it OK," Price said. "If we would have used [Jonathan] Broxton, LeCure, Diaz or Parra, most likely they would have been done for [Friday]. It just made sense to use Chappy there. It served two purposes. We got a chance to see that he's healthy as well."
Mark Sheldon is a reporter for MLB.com. Read his blog, Mark My Word, and follow him on Twitter @m_sheldon. This story was not subject to the approval of Major League Baseball or its clubs.