Rout keeps streaking Braves on pace in race
Five-run third backs strong outing from Teheran vs. reeling Reds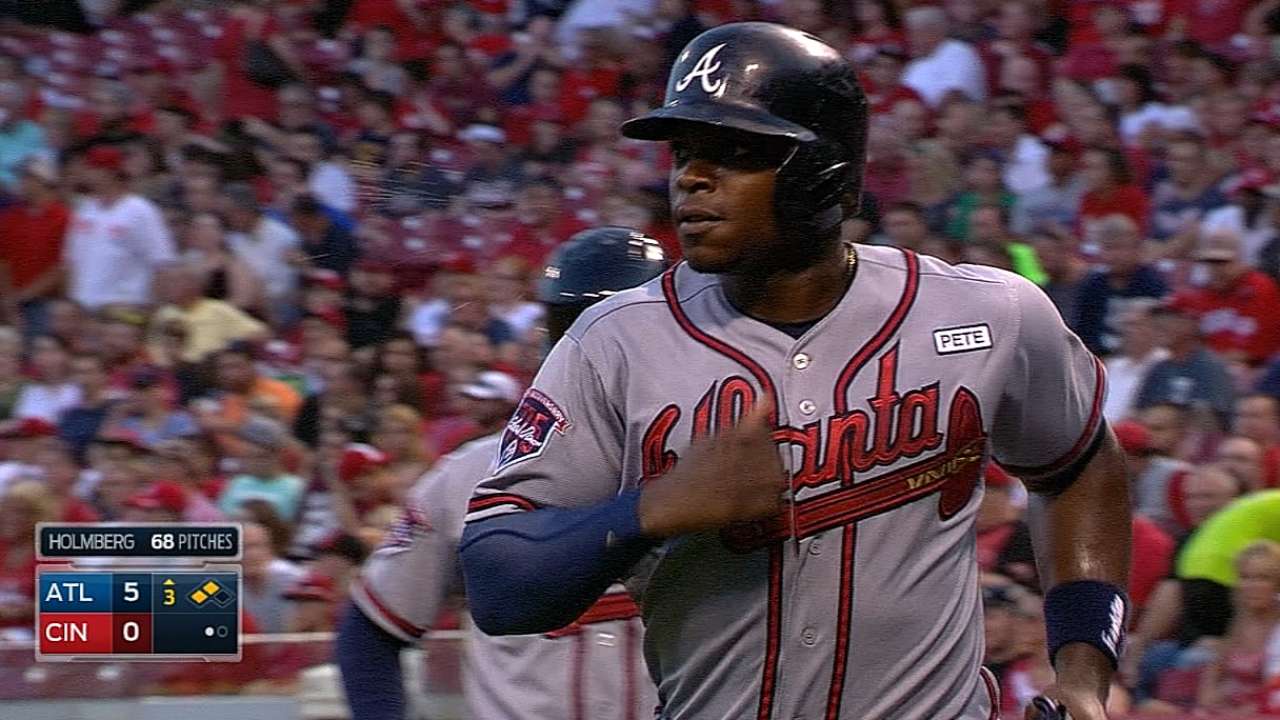 CINCINNATI -- In their loss to the Pirates on Wednesday, the Braves were unable to score more than two runs for the first time since a 4-2 loss to the Dodgers on Aug. 12.
But following Wednesday's hiccup, Atlanta's bats were booming again in Thursday's series opener with the Reds, backing a strong outing by Julio Teheran with a five-run third inning en route to an 8-0 victory at Great American Ball Park.
The victory was the Braves' sixth in seven games and kept them seven games behind the Nationals in the National League East. With the Giants beating the Cubs, Atlanta's win has them one game behind San Francisco for the second NL Wild Card spot.
Over the last seven games, Atlanta's offense has been hot, averaging 6.1 runs per contest and fueling six wins. Prior to that, the Braves had lost 12 of 15, averaging 2.7 runs per game over that span. More on the recent hot streak:
• The Braves are batting .277 over the last seven games. On the season, they're batting .246.
• With their five-run third inning Thursday, Atlanta has had an inning of five or more runs in three of the last four games.
• Justin Upton, who extended his hitting streak to 12 games Thursday and drove in three runs, is batting .400 (16-for-40) over that span with four home runs and 17 RBIs. He's turned in multi-hit efforts in four of his last five games.
• Jason Heyward was 2-for-4 with an RBI on Thursday. Since moving back to the leadoff spot in the batting order on Aug. 13, Heyward is batting .324.
• Rookie Phil Gosselin, who has started six of the last nine games, was 2-for-5 with his first career double Thursday. Since Aug. 13, he's batting .321 (9-for-28) with six runs scored.
Andrelton Simmons opened the scoring Thursday by hammering his seventh homer of the season into the left-field seats off Cincinnati starter David Holmberg in the second, giving the Braves a 1-0 lead. Simmons continued a career trend of hitting well against the Reds:
He's batting .364 (16-for-44) in his career against Cincinnati, with four homers. In four games at Great American Ball Park, Simmons is batting .500 (9-for-18) with two doubles, three homers and six RBIs.
"I definitely feel hot whenever I'm playing here, but I've also been feeling pretty comfortable overall lately, and especially today I felt pretty good," Simmons said.
The floodgates opened up for the Braves in the third. Heyward led off with a bloop single to left, which was originally ruled a catch on a dive by Reds left fielder Skip Schumaker. Following a challenge from Braves manager Fredi Gonzalez, the call was overturned and Heyward was ruled safe at first.
Gosselin followed with a bunt single and Freddie Freeman walked. Upton then hit a two-run single to score Heyward and Gosselin.
"That's what we've got to do to score runs," Upton said. "We've got to put guys on, move guys around and see if we can plate a few of them. I'm just trying to get one run at a time; if we can plate one of those runs [in that situation], we're in good shape."
The next batter, Chris Johnson, stroked an RBI double off the wall in left-center to make it 4-0.
Evan Gattis followed with a sacrifice fly to right. After a Simmons flyout, a walk to B.J. Upton and Teheran being hit by a pitch, Heyward drew a bases-loaded walk to make it 6-0.
The Braves tacked on a run in the fourth on a fielder's-choice ground ball by Simmons, and another in the fifth on a Justin Upton sacrifice fly to extend their advantage to 8-0.
"You know what [Justin] is doing? He's taking advantage of situations," Gonzalez said. "He came up with second and third, and instead of trying to hit the ball out of the ballpark, he put the ball in play and made a productive out with a sac-fly. He's done that a few times on this road trip and he's keeping within himself. And that's a good sign."
Teheran, meanwhile, cruised through six innings, allowing four hits while walking none, striking out three and hitting a batter. He was lifted after six because he was battling the Cincinnati humidity and Gonzalez didn't want to take any chances. The right-hander also had to deal with a good problem: sitting in the dugout for some long half-innings while his offense put up crooked numbers.
"It was difficult," Teheran said. "I was trying to stay warm, stay loose and I was just trying to stretch and make sure the long innings didn't affect me. I was trying to battle with the humidity; sometimes you don't make pitches because the ball slides out of your hand."
Following a rough first two starts in August, in which he posted a 7.43 ERA (11 earned runs in 13 1/3 innings pitched), Teheran has strung together two excellent outings in a row, posting a 1.50 ERA since (two earned runs in 12 innings pitched).
But he also had great run support, something Atlanta is seeing more of recently, and something the club knows will be indispensable if the Braves are to return to the postseason.
"It's definitely something we're capable of," Simmons said. "It's not going to show up every day, but it's good to see. It's good to see our offense is coming back to life."
Manny Randhawa is an associate reporter for MLB.com. This story was not subject to the approval of Major League Baseball or its clubs.