'EWC' vet Pollak returns to the studio to talk Giants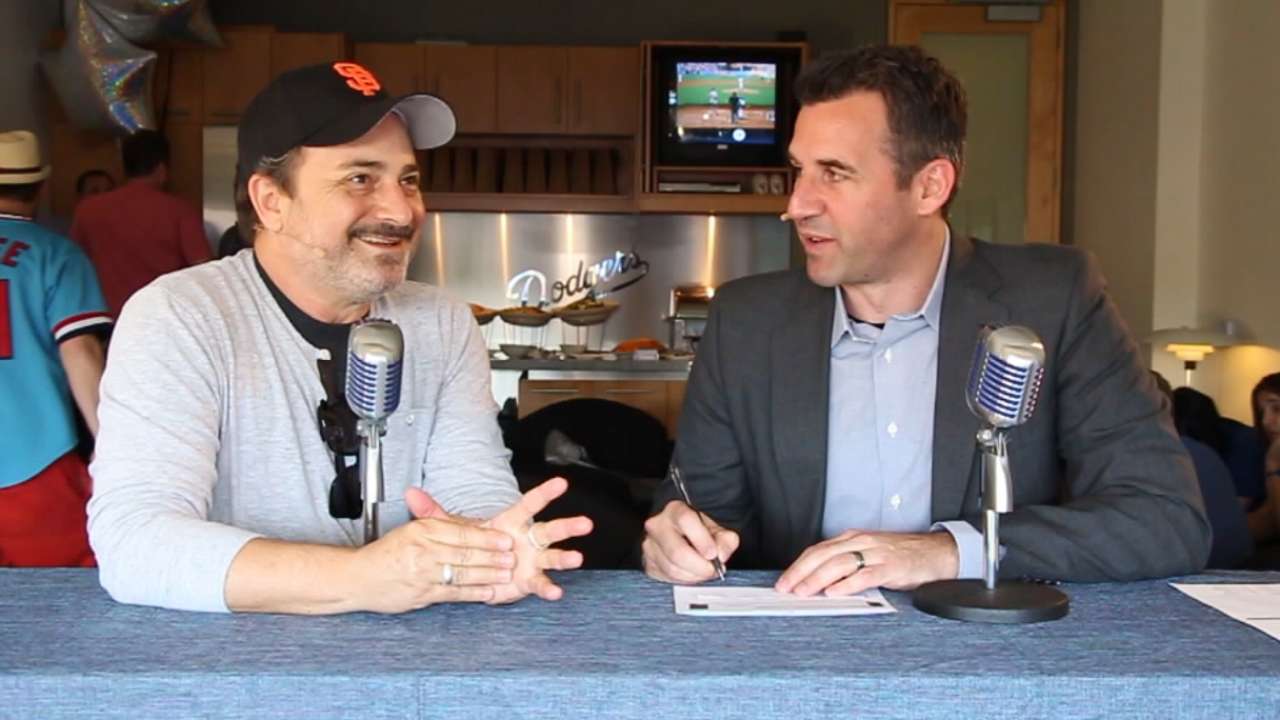 Our old friend Kevin Pollak is back in the "Express Written Consent" booth, making this day a Throwback Thursday in its truest sense.
Pollak was a special "EWC" guest when the show was in its infancy just over two years ago, when we squeezed our operation into small spaces at select ballparks and asked famous people to do a little play-by-play. Oh, how far we've come.
"You've moved into a suite," Pollak commented to MLB.com host Jeremy Brisiel as he surveyed the plush surroundings at Dodger Stadium. "So congratulations for that. Last time, I believe, we were in a broom closet."
Pollak, a native of San Francisco, is not, of course, a stranger to Los Angeles. Despite being largely known as a comedian, he's appeared in a slew of movies that has necessitated spending quite a bit of time in Southern California. But as a lifelong, diehard, orange-bleeding Giants fan, don't expect him to ever, ever change allegiances and root for that other National League West team. Truth be told, he could hardly stand just being in the Dodgers' home ballpark.
"Have I mentioned how much I loathe this stadium, and being here, being a lifelong San Francisco Giants fan?" he asked, rhetorically and somewhat playfully.
So with that in mind, we are forever indebted to Pollak for gracing us with his presence during this particular episode of "EWC." He's accustomed to being behind the mic, so this wasn't a terribly tall order for him, although changing venues from a studio to a Major League stadium -- even one he has no love for -- has to at least be a nice break in the action.
Pollak hosts an Internet talk show called "Kevin Pollak's Chat Show," that features in-depth interviews with celebrities who dish about everything, from their childhoods to how they broke into show business to unusual or odd experiences they've encountered through their work.
He just approached the five-year anniversary of the show, a source of pride for Pollak, considering how many episodes he records every year.
"Five years, 200 episodes," he said. "It's a weekly live show, so there's only 52 available. That I was able to suit up 40 out of the 52 is very impressive to me, considering how lazy I truly am."
A quick glance at Pollak's resume makes that a little hard to believe. He's appeared in more than 60 movies since the late 1980s, including a role in the 1992 blockbuster "A Few Good Men." He's recently cut his teeth behind the camera as well, directing a soon-to-be-released documentary titled "Misery Loves Comedy." He interviewed over 70 "very funny famous people," Pollak said, ranging from comedians to directors to actors.
The question it explores: Do you have to be miserable to be funny?
"After doing the chat show for so many years and getting inside the process of a lot of creative people," Pollak said, "when I was approached about doing this documentary, it was an instant 'Yes.'"
While we'll have to wait to find out the answer to the grand question, Pollak did hint that while being miserable doesn't always lead to a comedian being successful, it does help to be a little on the narcissistic side. Just a little.
"There's a reason I'm on Twitter and not on Facebook," he said. "I'm not on Facebook because my friends are useless and I don't care what they do. I'm on Twitter because I need the attention of total strangers. Narcissism would be my one weakness. Almost all performers must suffer from an acute degree of 'Hey, look at me' disease."
In the routine exercise we call "Start, Bench, Cut," Pollak was asked to do the nearly impossible -- rank his three co-stars from "A Few Good Men."
"Working with them literally changed the outcome of the rest of my life," Pollak said. "They were all stars who treated me as an equal from Second 1."
He'd start Tom Cruise, because "He doesn't understand the word 'lose,'" Pollak said.
He'd bench Jack Nicholson, because, well, "He's 105 and needs the rest."
And Demi Moore? She gets the cut.
"She drove off the reservation a little too quickly," Pollak reasoned.
We're not sure what that means, which is what Pollak prefers. When presented with a potential uncomfortable situation, he prefers to get out of it with jokes, just as he did when asked to start, bench and cut Giants stars Willie McCovey, Willie Mays and Buster Posey.
"You gave me an impossible scenario, and I went with the funny," he said. "It's all I know how to do."
Given his expansive career, that approach seems to have worked out just fine.
Alyson Footer is a national correspondent for MLB.com. Follow her on Twitter @alysonfooter. This story was not subject to the approval of Major League Baseball or its clubs.