Red Sox avoid being no-hit, but skid hits five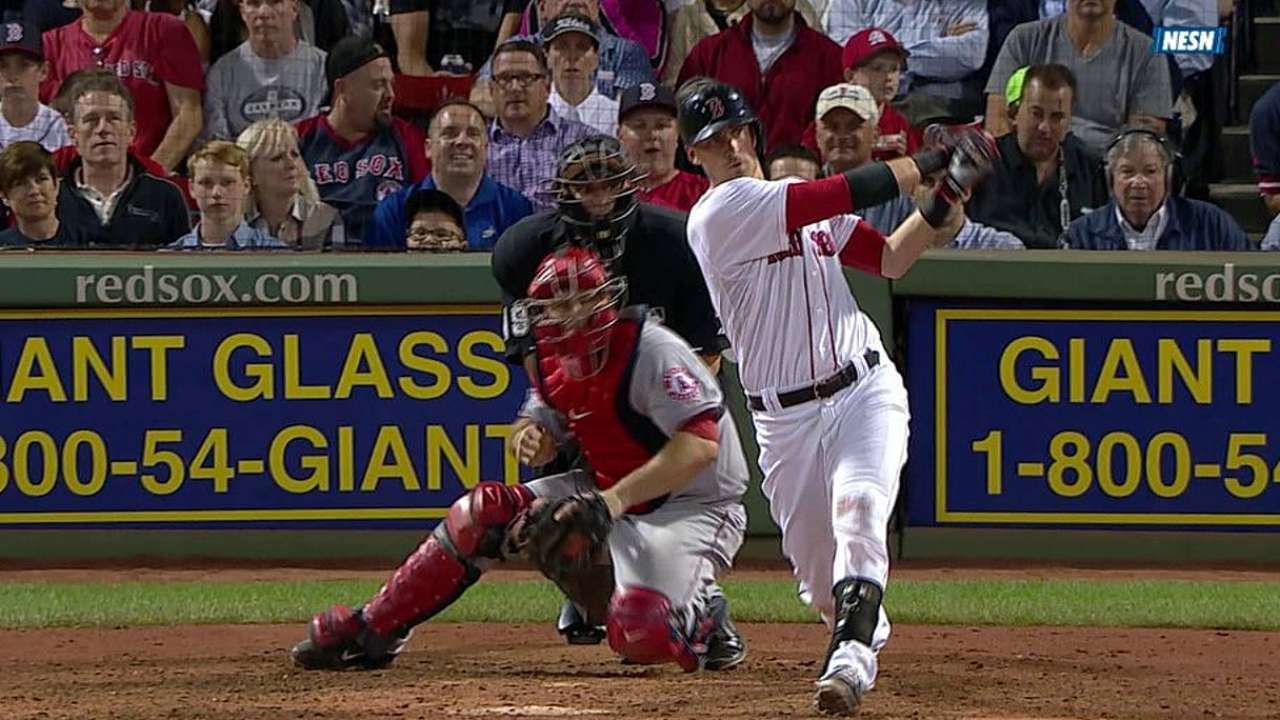 BOSTON -- As Matt Shoemaker's masterpiece for the Angels gained steam on Thursday night, the chatter in the Boston dugout became more frequent.
"Absolutely," said Will Middlebrooks, who explained the type of things that are said in that situation. "'There's a no-hitter.' 'Nobody's got any hits'. Yeah, there's plenty of talk. Yeah, we're trying to ruin it."
And it was Middlebrooks who spoke with his bat, lacing a double into the corner in left with two outs in the seventh, snapping the no-no, but the Red Sox took a 2-0 loss that pushed their latest skid to five games and completed a four-game sweep.
The double by Middlebrooks was the only hit the Red Sox had on the night, marking the second time they've been one-hit this season.
"He was obviously making good pitches with all three pitches," said Middlebrooks. "He had a good split, his slider was working and he was mixing a curveball in, too. Everything was just black away, black in, at the knees or below. He did a good job."
Thanks to Middlebrooks, the Red Sox avoided being no-hit at Fenway Park for the first time since 1958, when the Tigers' Jim Bunning pulled off the feat. As a team the Sox haven't been no-hit since April 22, 1993, when Chris Bosio did the honors at Seattle's Kingdome.
"I didn't even really know or even think about it until the fifth or sixth," said Shoemaker. "It's like one of those things you don't even know or think about it until it's like, 'OK, who's coming up?' And you realize where you're at in the order, and go, 'Man, all right. Let's just make pitches.' Take that out of my head and just go pitch."
A day after the Angels were dealt the blow of losing solid starter Garrett Richards for the season, Shoemaker came up large, stifling the Boston bats to the tune of one hit over 7 2/3 innings. He walked one and struck out nine.
Rubby De La Rosa took a tough-luck loss, scattering eight hits and two runs over 6 2/3 innings. He walked three and matched a season high with eight strikeouts.
"After the second inning, [when] he did a very good job pitching out of a bases-loaded jam, I thought he settled in," said manager John Farrell. "He was really strong early on, with better velocity than we've seen. He settled in and was very good. Very good changeup, good slider at times."
The Red Sox rested David Ortiz, and Mike Napoli missed his second game in a row with back spasms. Their third thumper, left fielder Yoenis Cespedes, left the game in the top of the third due to a personal matter.
In fact, the only reason Middlebrooks, who has been battling issues with his right hamstring, was in the game is because he replaced Cespedes.
"A little tight," said Middlebrooks. "I wasn't 100 percent coming into the game, but I was good enough to go. It was fine, just a little tight."
The Angels rallied in the first. After a leadoff single by Kole Calhoun, Josh Hamilton clubbed an RBI double off the Green Monster to make it a 1-0 game. Howie Kendrick laced a single into left, and third-base coach Gary DiSarcina sent Hamilton, but Cespedes made a perfect throw home to cut down the run.
De La Rosa wove his way out of a jam in the second and settled in for a fine performance.
But the Red Sox couldn't touch Shoemaker, who hit Brock Holt to start the first. The next baserunner was Middlebrooks after his double in the seventh, which left Shoemaker seven outs shy of the no-no.
"He was spotting up his fastball, working it in and out, and he was also throwing his splitter -- at least to lefties," said Daniel Nava. "Everything was on point, and I think that's the goal for every pitcher, is to have more than one pitch to hit your spots, with good arm movement and deception."
Ian Browne is a reporter for MLB.com. Read his blog, Brownie Points, and follow him on Twitter @IanMBrowne. This story was not subject to the approval of Major League Baseball or its clubs.