Hughes outduels Kluber as Twins end scoreless skid
Righty goes seven strong, wins 14th; Vargas homers, sparks offense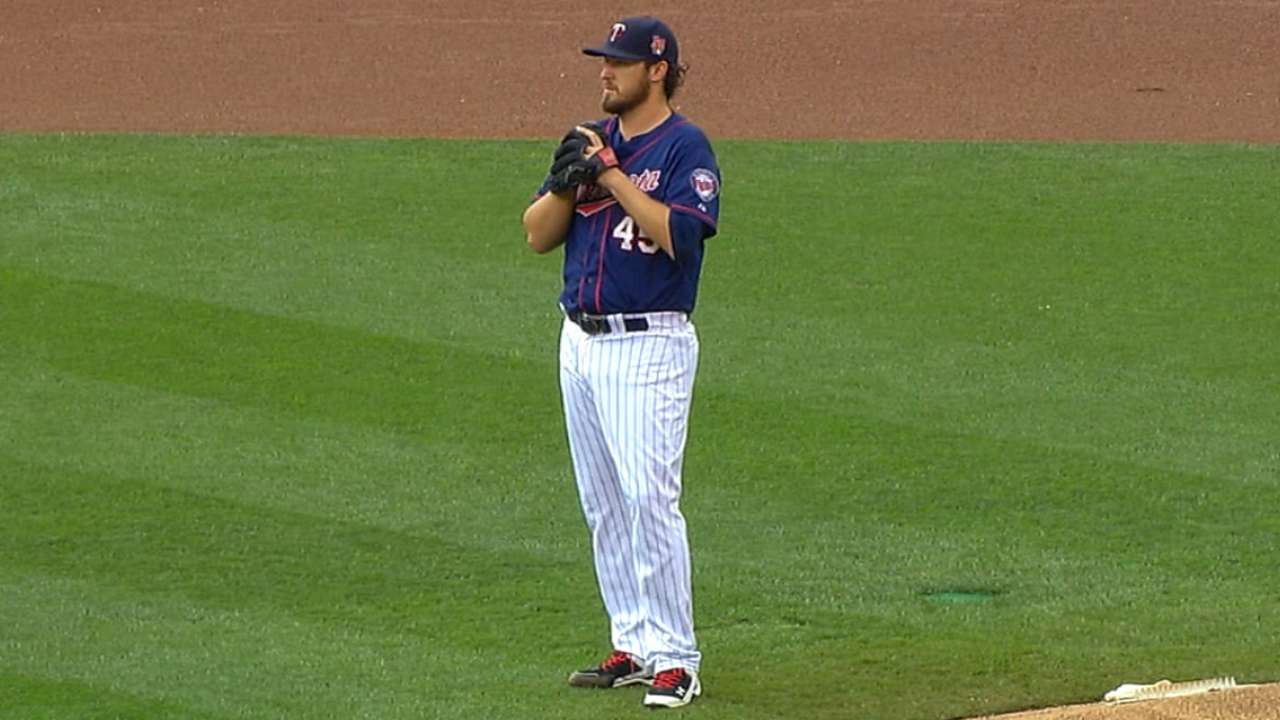 MINNEAPOLIS -- Phil Hughes and Corey Kluber have been two of the biggest surprises in baseball this season.
Both have had excellent seasons, as evidenced by the fact that Kluber entered Thursday second among all pitchers in the Majors in Wins Above Replacement (WAR), while Hughes ranked tied for fifth, according to Fangraphs.com.
But it was Hughes who came out on the right side of a pitchers' duel with Kluber, while rookie Kennys Vargas powered the offense to lead the Twins to a 4-1 win over the Indians at Target Field.
Hughes continued his recent run of success, tossing seven strong innings to get his team-leading 14th win of the year after winning four games with a 5.19 ERA with the Yankees in 2013. The right-hander gave up just one run on five hits while striking out eight despite dealing with a broken nail on his right index finger for a fourth straight outing.
"To be able to not have your best stuff and be able to limit those guys to one run when you're going against one of the best guys in the league is obviously a good feeling," Hughes said. "We needed this win desperately. So it was good to get this one."
It was the fifth straight quality start for Hughes, who has a 1.89 ERA over that span to lower his ERA on the season to 3.65.
The lone run he allowed came on a shot from Zach Walters in the fifth inning. It was the second homer in as many days for Walters, and the first served up by Hughes since Aug. 5.
"He threw a little cutter that came back over the plate," Walters said. "His stuff was good. He was throwing that invisible fastball, it seemed like. No one could get on top and no one could square up. I got lucky on one."
The righty outpitched Kluber, who has developed into Cleveland's ace but uncharacteristically struggled with his command, walking four and hitting a batter. The right-hander also went seven innings, but surrendered three runs on six hits to take his first loss since June 30.
Vargas got the Twins on the board in the fourth with a solo shot to left field, ending a 20-inning scoreless streak for Minnesota's offense. It was the fourth career homer for Vargas, and the first one allowed by Kluber since July 11.
"I was looking for something middle-outside," Vargas said. "I think it was a cutter. And I adjusted and hit it hard to the other way."
Vargas, who finished 3-for-4 with two runs scored, sparked a rally in the sixth with a one-out double to left-center field before Oswaldo Arcia followed with a walk. Trevor Plouffe came through with a go-ahead two-run double down the left-field line to give the Twins a lead they wouldn't relinquish.
"Kluber has such good stuff, you have to let the ball travel," Plouffe said. "His slider, his best pitch, comes out just like a fastball. That was my approach to see it as long as I could. It kind of backed up a little bit and caught a lot of the plate. And I was able to shoot it down the line."
It came after the Indians threatened against Hughes in the top of sixth, when Carlos Santana laced a ball down the right-field line after an error from center fielder Jordan Schafer. Santana was originally ruled safe at second base by umpire CB Bucknor for a double, but Twins manager Ron Gardenhire challenged the ruling on the field and it was overturned quickly to get Minnesota out of the potential jam.
"That was big," Hughes said. "I didn't want to face that situation coming up with second and third, so it was a big play. They got the call right, so that was huge."
After Hughes departed, reliever Casey Fien tossed a scoreless eighth, and Arcia added an insurance run with an RBI double in the bottom of the frame. Closer Glen Perkins finished it off with a scoreless ninth to get his 32nd save of the year.
But it was Hughes who was the story for the Twins, as he's proved to be a bright spot for the club since signing a three-year, $21 million deal in the offseason.
"He's throwing the ball great," Gardenhire said. "You saw him again today, and he was pounding the strike zone. He had a great breaking ball when he needed it. He moved the ball in and out and was in control of the game."
Rhett Bollinger is a reporter for MLB.com. Read his blog, Bollinger Beat, and follow him on Twitter @RhettBollinger. This story was not subject to the approval of Major League Baseball or its clubs.