Indians can't support less-than-stellar Kluber
Walters homers, but ace uncharacteristically walks four, allows dinger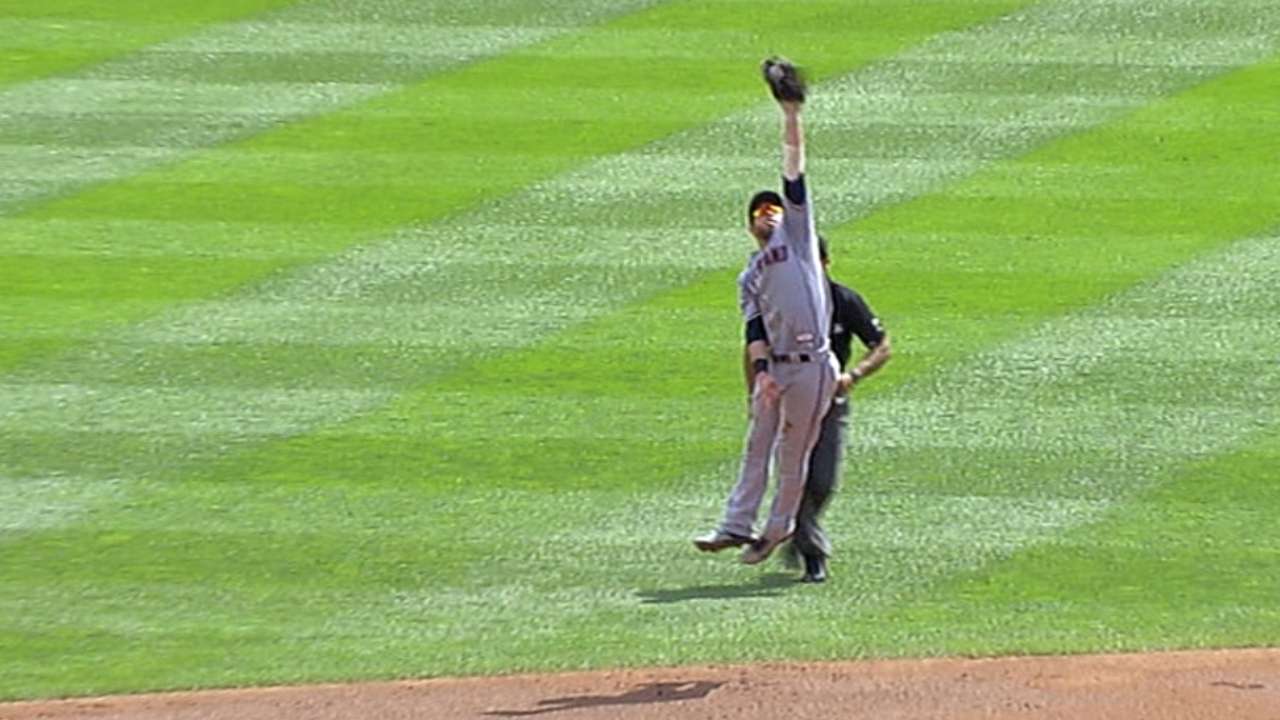 MINNEAPOLIS -- It says a lot about the kind of season Indians starter Corey Kluber is having that Thursday could be considered a bad day at the office.
In what has been an incredible second half for Cleveland's rotation leader, Kluber finally flinched in what would normally be deemed a decent effort. Given the high standards the right-hander has set of late, he looked to be laboring on a day when a lack of run support led to a 4-1 loss to the Twins at Target Field.
"He's earned the right for us to expect what he does," Indians manager Terry Francona said. "He just didn't command today as well as he normally does."
The defeat was only the third in the past 10 games for the Tribe, which slipped to six games behind the first-place Royals in the American League Central. Cleveland remains 4 1/2 games behind the Tigers for the AL's second Wild Card spot.
Pitted against Twins right-hander Phil Hughes, Kluber gave Cleveland seven solid innings in what ultimately went down as another quality start for the American League Cy Young Award contender. For the first time since July 11, though, Kluber gave up at least three runs, surrendered at least one home run and worked with at least 11 baserunners.
Since that July 11 glitch against the White Sox, Kluber had gone 4-0 with a 0.76 ERA, 55 strikeouts and only six walks in 47 2/3 innings across the six starts leading up to Thursday's outing. The Twins showed early on that they were up to the task, collecting one hit and drawing a walk in Kluber's first inning on a muggy afternoon.
In all, Kluber issued four free passes, marking his most in one outing since June 15. Entering the game, the right-hander also had just four non-intentional, four-pitch walks on the season. Against the Twins, Kluber uncharacteristically had a pair of four-pitch walks.
Kluber said he knew what the issue was, but declined to go into detail.
"We'll figure it out," said the pitcher.
With the loss, Kluber dropped to 13-7 and saw his season ERA tick up to 2.46 through 27 starts for Cleveland.
"I was a little off," Kluber said. "I just wasn't quite able to reel it in and find it. I did a good job battling, trying to keep the team in the game, but I didn't quite have enough today to pull off the win."
Kluber sidestepped the potential harm of Minnesota's early traffic, but encountered his first setback in the fourth inning, when Kennys Vargas drilled a pitch into the left-field seats for a solo home run. In the sixth inning, the Twins struck again in the form of a two-run double off the bat of Trevor Plouffe, pushing the Tribe in a 3-1 hole.
On another day, Kluber's 109-pitch effort might have been enough to net a win.
"The fact that he still kept it a low-scoring game," Indians second baseman Jason Kipnis said, "and [kept] us in the ballgame that long, that's a credit to him. That's what we've come to expect from him."
Minnesota's slim margin was sufficient for Hughes, who outdueled Kluber by striking out eight, walking none and scattering five hits in his seven frames for Minnesota. Cleveland's lone breakthrough against the Twins starter came in the fifth inning, when rookie Zach Walters drilled a 1-2 offering out to right field for a rocket of a home run.
"He threw a little cutter that came back over the plate," Walters said of the pitch he launched for his seventh homer of the season. "His stuff was on. He was throwing that invisible fastball, it seemed like. No one could get on top and no one could square up. I got lucky on one."
When it was all said and done, Kluber ended the day with eight strikeouts, giving him 205 on the year. That represents the most in a season by a Cleveland right-hander since 2000, when Bartolo Colon had 212. Kluber also joined Colon as one of only nine Indians pitchers in the past 100 seasons to have at least 200 strikeouts in a single campaign.
That was hardly a consolation prize for a pitcher trying to do his part in keeping Cleveland in contention.
"Any time you lose a ballgame it's disappointing," Kluber said. "Obviously, we'd like to win every game we can right now with the position we're in."
Jordan Bastian is a reporter for MLB.com. Read his blog, Major League Bastian, and follow him on Twitter @MLBastian. This story was not subject to the approval of Major League Baseball or its clubs.