MLB.com Columnist
Bill Ladson
Walk-off magic extends Nats' streak to 10
Error by Pacheco allows game's only run to score in bottom of ninth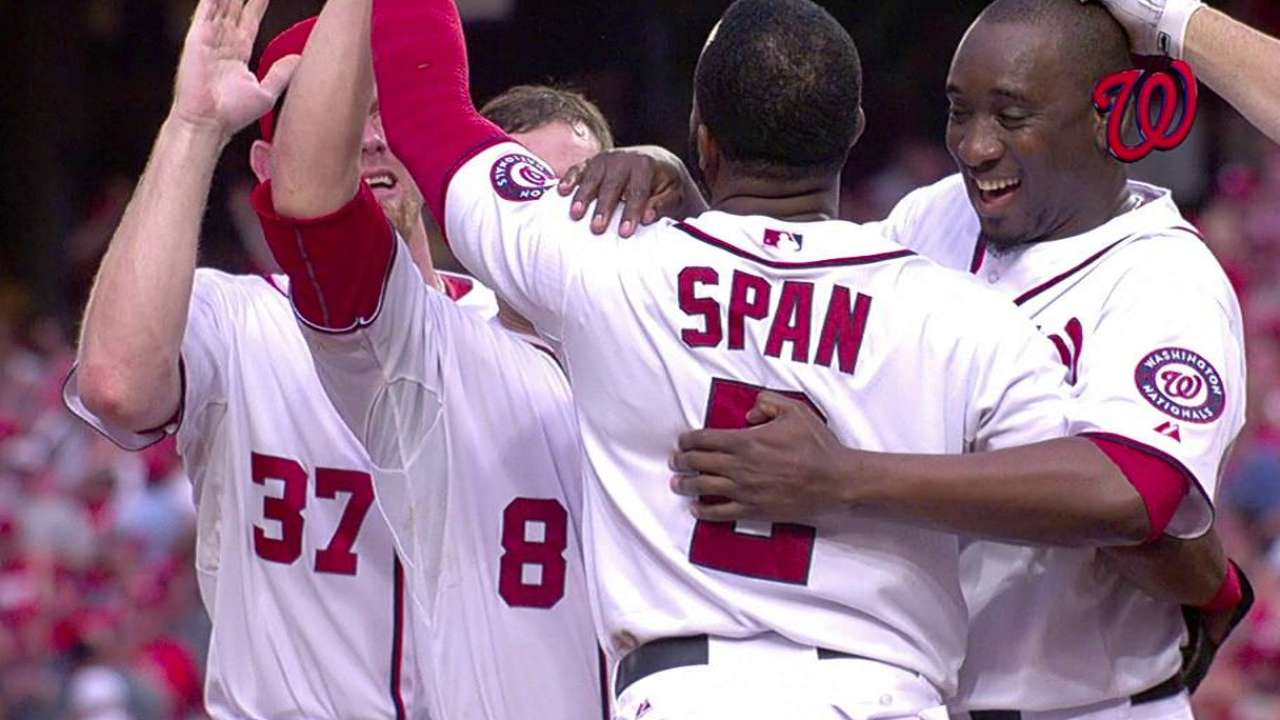 WASHINGTON -- Not only did the Nationals win their 10th consecutive game Thursday, they had another walk-off victory at Nationals Park.
An error by third baseman Jordan Pacheco in the bottom of the ninth inning helped the Nationals edge the D-backs, 1-0. It was Washington's fifth walk-off victory in the last six games. According to Elias Sports Bureau, the last team to accomplish that feat was the Astros from July 19-24, 1986.
Nationals manager Matt Williams was stoic after the game, realizing that his team cannot rest on what it has accomplished.
"I've experienced a lot in my time in baseball, certainly not as much as other folks," Williams said. "But I understand appreciating what you have and working hard to get what you want. That's important to me and it's important to those guys, so that's how we approach it.
"I love to see them do well. … That's important to me. My job is to guide them and help them do that. That's gratifying. But I refuse to go too far one way or the other because it doesn't work for me and it won't work for our team either."
Left-hander Oliver Perez started the final inning for Arizona and allowed a single to Denard Span with one out.
Arizona manager Kirk Gibson decided to bring in right-hander Evan Marshall, the same pitcher who allowed the game-winning hit to Anthony Rendon on Wednesday night. Unlike the previous day, Marshall decided to mix things up. He wasn't going to throw only fastballs.
Span then stole second base, his 27th of the season. Span called it his most important steal of his career.
"That's what speed guys like me dream of, getting stolen bases like that and helping your team win and getting in scoring position like that," he said. "That's way more important than stealing two or three bags in the first five innings. That was probably my first meaningful bag of my career right there, where I actually stole a base and put us in a position to win."
Rendon then hit a ground ball to Pacheco, who threw the ball past first baseman Mark Trumbo, allowing Span to score the winning run.
"We'll take it. It would be nice to get up by five or six [runs], but we'll take it any day of the week," Span said.
Said Pacheco, "I had a good grip on [the ball], I just had to rush it and at that time, I was just caught in between."
The winning streak matches the team record set in 2005. The victory also means that Williams will impersonate Babe Ruth sometime this season. Earlier this season, Williams vowed that he would impersonate the baseball legend if the Nationals won 10 consecutive games. As a member of the Giants, Williams once impersonated Ruth's famous stance and home-run trot. But don't look for Williams to do the impersonation any time soon.
"It's not appropriate. You talk to folks and you say, 'Sure, we would love to win 10 in a row.' At some point, it will be fun and appropriate, but not right now," Williams said.
Left-hander Gio Gonzalez had his best start since July 26 against the Reds. He pitched seven shutout innings, allowed four hits, walked three and struck out six. It also helped he was able to get outs with his curveball. However, Gonzalez found himself in trouble a couple of times, but managed to get out of it.
In the third inning, Arizona had runners on second and third with one out, but Ender Inciarte lined out to shortstop Danny Espinosa and Cliff Pennington flied out to right fielder Jayson Werth.
Two innings later, the D-backs had the bases loaded with two outs, however, Gonzalez was able to get out of the inning when Pennington popped up to first baseman Adam LaRoche.
"It wouldn't be the same if we didn't get a walk-off win. It's a perfect way to have a perfect 10" Gonzalez said. "It was fun just being a part of something that is going on. We had such great pitching lately. Our bullpen has been fantastic. Again, Nats win on a walk off. I just wanted try to blend in with the rest of the rotation, try not to stick out like a sore thumb."
The day would not have been complete without someone getting a Gatorade shower and it turned out to be the guy who scored the game-winning run: Span. He saw Rendon opening the Gatorade lid, so he was waiting to get doused.
Bill Ladson is a reporter for MLB.com and writes an MLBlog, All Nats All the time. He also could be found on Twitter @WashingNats. This story was not subject to the approval of Major League Baseball or its clubs.