Ninth-inning error mars pitching duel for D-backs
Pacheco's errant throw allows game's only run to score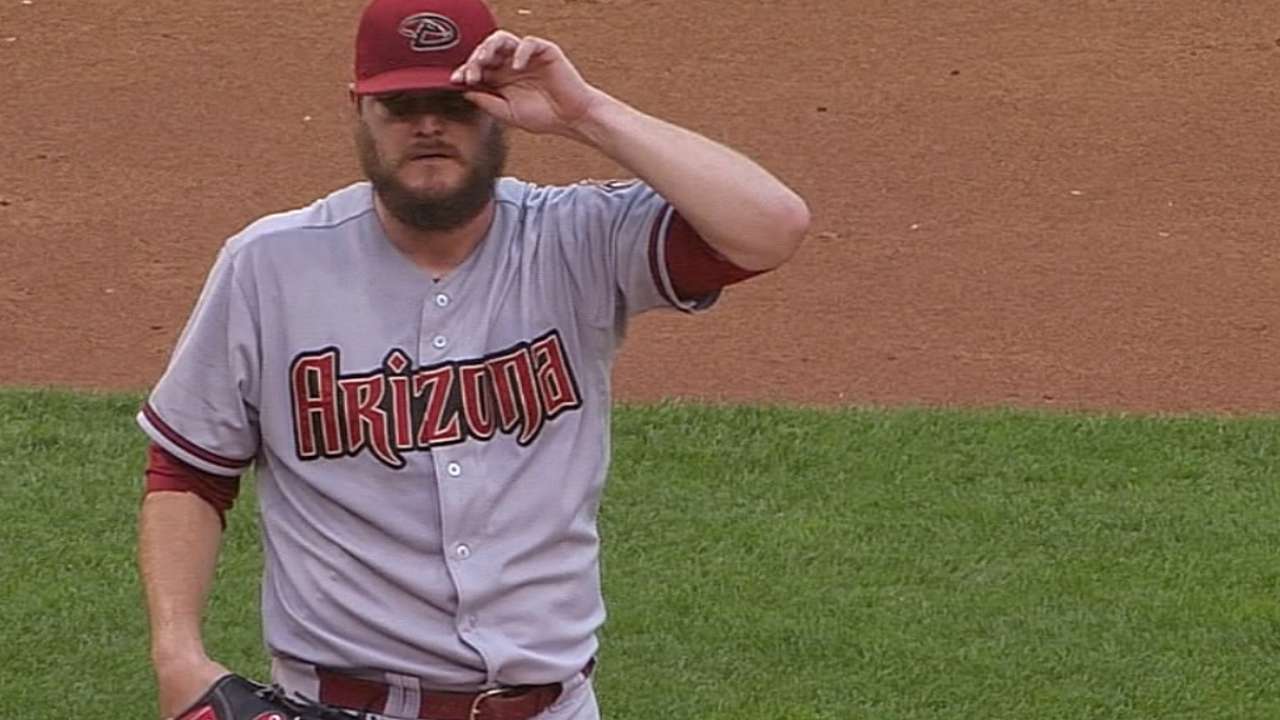 WASHINGTON -- The D-backs and Nationals hooked up in a pitchers' duel Thursday in which it felt like neither pitcher threw the ball particularly well.
And it ended with a walk-off throwing error.
Jordan Pacheco's ninth-inning throwing error allowed the Nationals to score the game-winning run as they beat the D-backs, 1-0, to complete the four-game sweep at Nationals Park.
"I should have come got it," Pacheco said referring to not charging the grounder. "I found myself kind of back too far and had to rush the throw a little bit and obviously made a bad throw."
The loss was the sixth in a row for the D-backs, while the Nationals are headed in the other direction having won 10 straight.
Denard Span singled with one out in the ninth and then stole second. Anthony Rendon then hit a chopper to Pacheco at third, and he fielded it cleanly, but his throw skipped by Mark Trumbo at first and bounced into the photo well next to the dugout, and Span was awarded home.
A light drizzle fell almost the entire game, but Pacheco said the ball was not slick.
"No, I had a good grip on it," he said. "I just had to rush it and, at that time, I was just caught in between and I should have come and got the ball and didn't come and get it. Obviously, our pitchers did well and in a game like that, you definitely don't want that to happen especially when your pitching staff has done so well all game. To have it end like that, it's definitely my fault. That's a horrible way to lose."
The two lefty starters -- Wade Miley and Gio Gonzalez -- each pitched into the seventh inning without allowing a run.
Gonzalez's outing appeared a bit cleaner than Miley's as he allowed four hits while walking three.
Still, it was not stress free for him as he pitched out of jams in the third and fifth innings.
Miley, on the other hand, was a veritable Houdini with the way he seemed to escape all forms of trouble.
"It was a grind," Miley said. "It was a battle. Those guys did a great job at the plate. They were laying off some pretty good pitches. I felt like it was bases loaded, one out every inning. I was just trying to make pitches and I was fortunate enough to get a couple of ground balls."
In his 6 2/3 innings, Miley allowed eight hits and six walks (one of which was intentional). The Nats left the bases loaded in the fifth and seventh innings, and three double plays helped Miley's cause.
Nats slugger Adam LaRoche, who won Monday's game with a home run in the 11th inning, left a village on the basepaths. In his first three at-bats, LaRoche came up with seven runners on base and was unable to get any of them in, twice hitting into inning-ending double plays.
Miley needed help to get out of his final jam in the seventh.
With two outs and a runner on first, Miley issued back-to-back walks to Jayson Werth and LaRoche, prompting D-backs manager Kirk Gibson to bring on rookie Matt Stites.
Stites came into the game pumping his high-90s fastball, and he got Wilson Ramos to fly out weakly to right to strand the bases loaded.
"Our guys pitched great," Gibson said. "Wade dug deep down inside. Stites came in and did a good job."
On the bright side for the D-backs, they are finally headed home after this miserable three-city, 10-game road trip that saw them go 2-8.
Five of the eight losses were by one run, and they scored a total of 21 runs.
"That's a credit to our pitching," Trumbo said of the close games. "We didn't give them any kind of support. Especially in this series, we didn't get the big hits when we needed whatsoever. There were some home runs that did help, but we never got that knockout punch to give us any kind of sizable lead."
Steve Gilbert is a reporter for MLB.com. Read his blog, Inside the D-backs, and follow him on Twitter @SteveGilbertMLB. This story was not subject to the approval of Major League Baseball or its clubs.