McCarthy masters Astros in four-hit shutout
Righty enjoying renaissance with Yanks, who make up ground in WC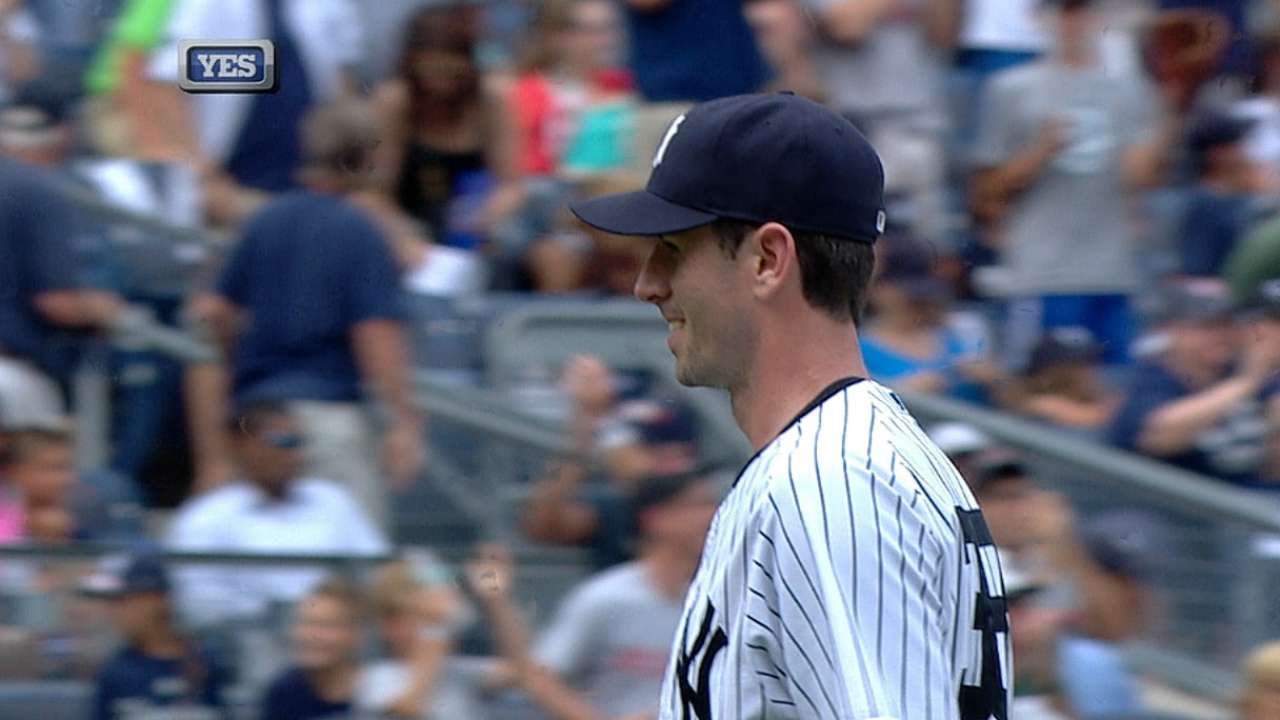 NEW YORK -- There were advanced statistics that suggested Brandon McCarthy hadn't pitched to his potential this season, an attractive advertisement that the Yankees jumped at. But even they couldn't have imagined how much this change of scenery would help.
McCarthy enjoyed his most dominant outing to date in pinstripes on Thursday afternoon, whipping a four-hit shutout to lead the Yankees to a 3-0 victory over the Astros, salvaging the finale of a three-game series at Yankee Stadium. Paired with a Tigers loss, New York pulled back within four games of the second American League Wild Card spot.
It was the ninth career complete game and fourth career shutout for McCarthy, who struck out eight without a walk. The right-hander improved to 5-2 with a 1.90 ERA in eight starts since being acquired from the D-backs on July 6.
"I feel confident again," McCarthy said. "I feel like I'm able to get through situations I wasn't there, and then you start to believe you can. It's just kind of the story of the season, riding those ups and downs."
The victory came after New York's hitters held an informal clubhouse meeting, according to Chase Headley, who said that the Bombers challenged themselves to produce better results after being dealt seven losses in the last nine contests.
"We talked about it before the game, that we needed to come out with a little more energy and hopefully some emotion and play the way that we're capable of playing," Headley said. "We understand that we're a lot better offensively than we've shown."
Headley connected for a two-run double that highlighted a three-run second inning, an early lead that was welcome support for McCarthy after the Yankees had been shut out in his last two starts -- a pair of quality outings against the Indians and Rays.
As it turned out, the three runs were all that the Yankees could produce against left-hander Dallas Keuchel, so it would be a stretch to say that the meeting was a cure-all.
Both lineups rolled over quickly in the dual complete game, which lasted just 2 hours and 7 minutes, the shortest nine-inning game at this Yankee Stadium. It was the Yankees' briefest home game since a June 18, 1996 win over the Twins that was three minutes shorter.
"It was nice to have a quick game and a win," Brett Gardner said. "Obviously we would have liked to score more than three runs, but at this point, we'll take a win any way we can get it."
McCarthy's efficient start ensured that it was enough. Dealt to the Yankees just two days before Masahiro Tanaka was lost to a right elbow injury, McCarthy has filled the void and stepped in as New York's ace.
"He's been really, really good from his first start all the way through," manager Joe Girardi said. "He's given us distance. He's gone deep into games, and they've all been quality starts."
Familiar with his own advanced stats, McCarthy said after the trade that his ground-ball rate, strikeout rate, velocity and xFIP all suggested that he should have been getting better results in Arizona. He has found them in New York.
"I think my pitch mix is better now," McCarthy said. "The cutter and the four-seam have become pitches I can use as weapons again. In turn, that just starts to build confidence."
The Yankees hope a similar reversal of their offensive stats is underway. New York was 2-for-19 with runners in scoring position in the first two games of the series, but Headley capitalized on the team's first chance after hits by Mark Teixeira and Martin Prado, banging a double down the right-field line.
Headley advanced on a groundout, then scored on an Ichiro Suzuki sacrifice fly. Keuchel settled in from there, permitting seven hits over eight innings, his fifth complete game of the season.
"I could have been a little bit better in the second inning, and that just proved to be the game," Keuchel said. "Outstanding job by McCarthy. That was pretty dominant."
McCarthy saved a run in the fourth inning, as Dexter Fowler's double put runners at second and third with two outs. Marc Krauss hit a hard shot to the mound that kicked off McCarthy, who briefly lost the ball but tracked it down to record the out.
In the fifth, McCarthy said that he felt his energy level drop, and a stern talking-to from catcher Francisco Cervelli provided the pick-me-up he needed.
"He was angry with me," McCarthy said. "He was like, 'Your stuff's so good, let's go. We're going to get all the way through this.'"
McCarthy also pitched out of trouble in the seventh, when Houston had runners at second and third with one out. McCarthy struck out Jon Singleton on a fastball and got Carlos Corporan to fly out to left field, squelching the threat.
"Up until that point, he hadn't made a lot of pitches, and he was still strong," Girardi said. "But he has the ability to make pitches when he needs to."
Girardi had Dellin Betances getting loose in the eighth and closer David Robertson available for the ninth, but they were limited to light tossing as McCarthy kept the bullpen doors shuttered, retiring the last eight batters he faced.
"It's always nice to know that you can keep grinding and getting through later innings, and it gives you that confident feeling," McCarthy said.
Bryan Hoch is a reporter for MLB.com. Follow him on Twitter @bryanhoch and read his MLBlog, Bombers Beat. This story was not subject to the approval of Major League Baseball or its clubs.