MLBAM answers Manfred's Ice Bucket Challenge
Nearly 400 participants take part; $39,200 will be donated to battle ALS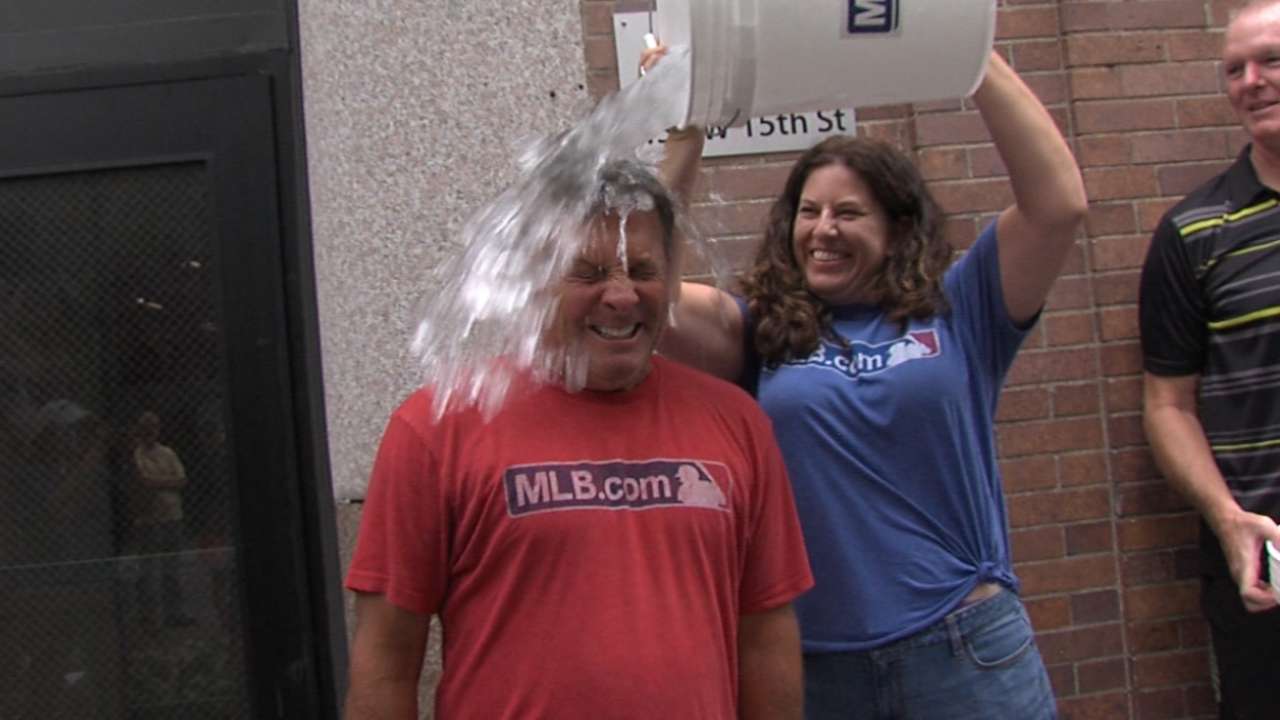 The ALS Ice Bucket Challenge continued to make its rounds through Major League Baseball on Thursday morning, as nearly 400 participants from MLB Advanced Media completed the challenge outside MLB.com's headquarters at Chelsea Market in New York.
The mass participation came one day after Commissioner-elect Rob Manfred completed the challenge himself, along with Joe Torre and 165 other MLB staffers, then proceeded to call out MLB Advanced Media, MLB Network and MLB Productions. Like Manfred and MLB, MLB Advanced Media donated $100 per participant toward ALS research. With 392 people taking part in the challenge Thursday morning, that means another $39,200 will be donated.
Following his company's Ice Bucket Challenge on Thursday morning, MLBAM president and CEO Bob Bowman challenged Yankees president Randy Levine and the club's front office, Columbia University athletic director Dr. M. Dianne Murphy and the Boston Red Sox's front office. The first two each have ties to Lou Gehrig, as he spent his entire 17-year career with the Yankees after playing his college ball at Columbia.
"The one who got the disease and made it so famous and did it so gracefully, Lou Gehrig was, as we all know, a lifetime Yankee," Bowman said. "So our first challenge goes to that great organization and the people who run it. Randy Levine and the Yankees' front office, you are now on the clock."
As for challenging the Red Sox's front office, Bowman made that selection with Pete Frates in mind. Frates, who started the Ice Bucket Challenge and suffers from ALS, is a former Boston College baseball player and a lifetime Red Sox fan.
"While many people have had a hand in making this so great and so meaningful, the name that we all respect the most and hear the most is Boston native Pete Frates," Bowman said. "Pete has ALS, was a Boston College great baseball player and he's a diehard Red Sox fan. So in honor of the person who would give the 'Luckiest man alive' speech today, Pete Frates, we now call on [Red Sox vice president and COO] Sam Kennedy and the entire Red Sox front office -- you are on the clock."
On July 4, Major League Baseball commemorated the 75th anniversary of that famous Gehrig speech with in-park tributes and a $300,000 donation split among the organizations that are leading the fight against ALS: ALS Association, ALS Therapy Development Institute [ALS TDI], Muscular Dystrophy Association [MDA] and Project ALS.
Frates has helped to bring national attention to Amyotrophic lateral sclerosis, more commonly known as "Lou Gehrig's disease." The disease attacks nerve cells in the brain and spinal cord, leading to weakness and eventual paralysis of all voluntary muscles, including those used for breathing and swallowing. There is no cure or effective treatment for ALS, and an estimated 30,000 people in the U.S. have the disease.
Paul Casella is a reporter for MLB.com. Follow him on Twitter @paul_casella. This story was not subject to the approval of Major League Baseball or its clubs.