Actor Newbern joins 'Express Written Consent'
Entertainer dishes on roles old and new while taking in game at Dodger Stadium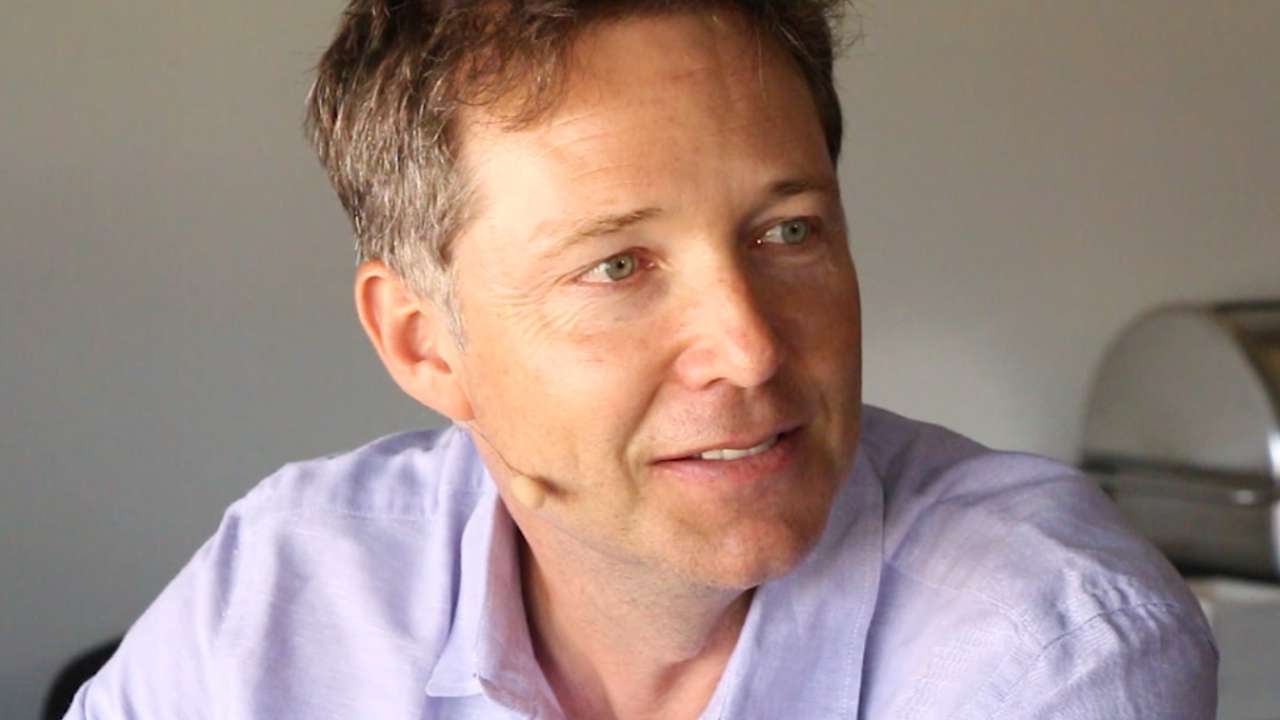 More than two decades have passed since he wooed audiences as the loveable future son-in-law of Steve Martin in "Father of the Bride," but even as he approaches his 50th birthday, George Newbern still has that boy-next-door appeal.
Fortunately for Newbern, who recently joined MLB.com's "Express Written Consent," that hasn't prevented him from spanning his acting wings to roles that aren't quite so wholesome. These days, for example, you can find him playing the role of Charlie, the former CIA agent/snarky B613 assassin in the ABC hit show "Scandal."
The role originally called for a few spot appearances in the first season. More than 30 episodes later, Charlie -- and, by association, Newbern -- are still going strong. It's a win-win, Newbern explained during his recent appearance on "EWC," given the complexity of the character he plays, coupled with a forgiving work schedule.
"I don't work every day," Newbern said with a laugh. "I come in for a couple choice days. I get to be a super spy assassin guy. The case is super fun, and it's pretty rare in my experience to have a great cast and great writing and then have the show also be popular. It never happens that way."
Taking in a Dodgers-Cardinals game at Chavez Ravine with MLB.com host Jeremy Brisiel, Newbern, who grew up in Arkansas, admitted that while he likes baseball, he wouldn't be much of a contributor if engaged in a conversation about the sport. He was more of a football and tennis guy as a kid being raised far from the nearest Major League city, and while he did pay some attention to the Cardinals during that period of time, he's pretty much all Dodgers, all the time, since moving to Hollywood 20-plus years ago.
Just don't ask Newbern to get too detailed.
"Unfortunately for my son, I can't tell him much about baseball other than, 'Wow, look at that hit, look at that green field,'" Newbern said. "'Look at the people running.' I enjoy it, but I can't really instruct him on it."
Fortunately, baseball acumen is not a requirement for "EWC" participants. The conversations in the booth are easy-breezy, orchestrated in a way that allows J.B. and his guest to throw whatever they want against the wall and see what sticks.
Versatility is key in this exercise, which made Newbern and "EWC" a good fit. Newbern, who hit the big screen with "Father of the Bride" in 1991, cut his acting teeth with brief roles in the 1980s, including a one-episode appearance on "Family Ties" in 1986, a semi-recurring role on "Designing Women" from 1986-92, and a role in the movie "Adventures in Babysitting" in 1987.
As time went on, Newbern landed roles that crossed many genres, and he also has tried his hand at animation, providing the voices of Superman from the "Justice League" and "Justice League Unlimited" animated series, as well as Nooj and Sephiroth from the "Final Fantasy" series and the "Kingdom Hearts" series.
Newbern is, in some ways, the king of guest-starring. Consider this list of shows on which he's appeared: "Providence," "Chicago Hope," "Friends," "Bull," "CSI," "Medium," "Ghost Whisperer," "Touched by an Angel," "Criminal Minds" and "Private Practice."
And now, "Scandal."
Whew.
"I've been doing this a long time, in Hollywood for over 20 years," Newbern said. "I've done every imaginable job possible out there -- movies, TV, animation, TV movies ... and, at this point, almost reality, it seems. It's been a real blessing. It's been a great ride."
Newbern rose to the occasion during the regular "EWC" feature called "Start Bench Cut," especially when he was asked to rank these three wedding cliches: cold feet, embarrassing toasts, and the awkward group dance.
"It's truly the worst thing ever," he said about the latter. "Why does it happen? Stop it! No one wants to do it."
Speaking of embarrassing wedding occurrences ...
"At my rehearsal dinner, my first cousin made me drink out of my wife's shoe," Newbern revealed.
During "Three Up, Three Down," Newbern, given a handful of baseball terms to choose from, was asked to describe his experiences as a father.
Newbern selected, of all things, "Hit and Run." Fortunately, there was a very viable explanation behind it.
"I have two teenage daughters and a little boy and a beautiful wife," Newbern said. "Raising children is like a hit and run. You've been hit, you can't flag the person down, you're wounded and you don't know who to blame, and no one helps you. And it's weeks, maybe months, before you find out what really happened."
Most parents would probably tend to agree.
"It feels like a hit and run, sometimes," Newbern said. "But not all the time."
Alyson Footer is a national correspondent for MLB.com. Follow her on Twitter @alysonfooter. This story was not subject to the approval of Major League Baseball or its clubs.