Angels lose Richards, but rebound with winning rally
Victory followed by somber clubhouse as Halos extend division lead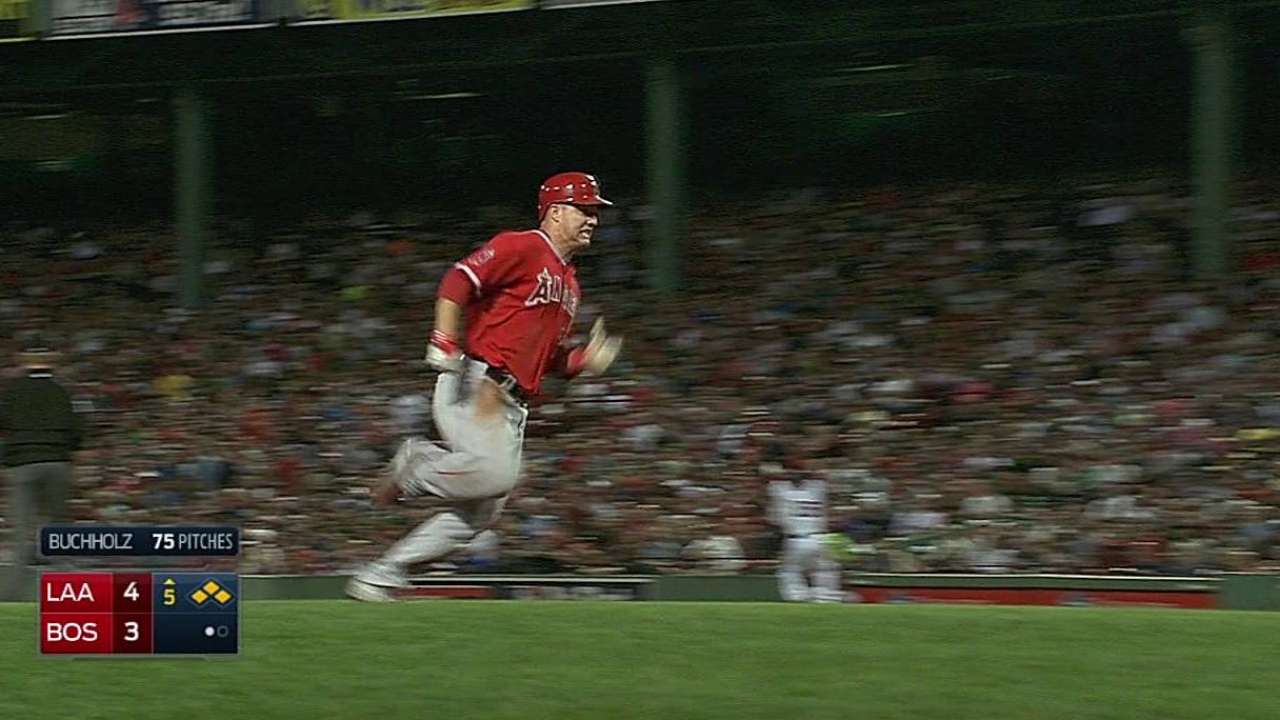 BOSTON -- There was no celebrating in the visiting clubhouse at Fenway Park late Wednesday night. No music, no laughter; not even an occasional high-five.
The Angels won a game against the Red Sox, 8-3, but they also lost their best starting pitcher. They extended their lead in the American League West to 1 1/2 games, the highest it's been since May 14, 2011, but they also faced the reality of likely being without Garrett Richards for the rest of this season.
"This was a tough night," Angels manager Mike Scioscia said, solemnly, after watching Richards suffer a devastating injury to his left knee. "I can't tell you how bad we feel for Garrett. Winning the game is important, but it's secondary to what happened tonight. This is a tough night for us. Obviously, it's a significant injury."
The Angels' entire season seemed to turn in the bottom of the second, with one out, runners on the corners and the Red Sox leading, 2-0. Brock Holt hit a grounder to the right side that Albert Pujols fielded and fired to shortstop Erick Aybar at second, and Richards sprinted over for the potential inning-ending double play.
Before he could reach the bag, he collapsed, and lay on the ground for about eight minutes before finally being lifted onto a stretcher, Richards' teammates surrounding him while head athletic trainer Adam Nevala worked on his left leg. Scioscia would only say "it's a serious injury," waiting until further word when Richards gets re-evaluated in Los Angeles on Thursday.
Angels ace Jered Weaver called it "a shocking blow to our team."
For one night, though, the Angels seemed to rally behind it.
An offense that has averaged just 3.5 runs since the All-Star break blasted Clay Buchholz for five in the fifth inning, turning a 3-1 deficit into a 6-3 lead. And a bullpen that entered with a 2.50 ERA in its last 55 appearances shut it down the rest of the way, giving the Angels (75-50) seven wins in their last eight games and putting them a season-best 25 games above .500.
"It was huge to come back, put some runs on the board and win the game," Trout said. "We're all thinking about [Richards]; hope everything is all right."
Kole Calhoun drew a bases-loaded walk, Trout plated a run on a fielder's choice, Albert Pujols notched an RBI single, Josh Hamilton -- 2-for-3 with three RBIs on an encouraging night -- added a sacrifice fly and Howie Kendrick capped the scoring with an RBI single.
After Richards went down, Cory Rasmus, Mike Morin, Fernando Salas, Kevin Jepsen, Joe Smith and Huston Street combined to limit the Red Sox (56-70) to one run on six hits and one walk in the final 7 1/3 innings.
For one night, the offense and the bullpen picked up the slack.
But the Angels are going to need a whole lot more of that moving forward.
"We have a game tomorrow," Scioscia said when asked of the challenge that lies ahead. "We have to build momentum and win that game, turn the page and get to the next one. We had a lot of good things happening on the field tonight.
"This really tough for Garrett. I know our team is feeling it for how much Garrett is respected in that clubhouse, for how hard he's worked. But the schedule keeps coming. We have to play well."
Alden Gonzalez is a reporter for MLB.com. Read his blog, Gonzo and "The Show", and follow him on Twitter @Alden_Gonzalez. This story was not subject to the approval of Major League Baseball or its clubs.