Papi collects four hits, 30th homer in loss to Angels
Buchholz allows five-run fifth inning as Ortiz enjoys big night at plate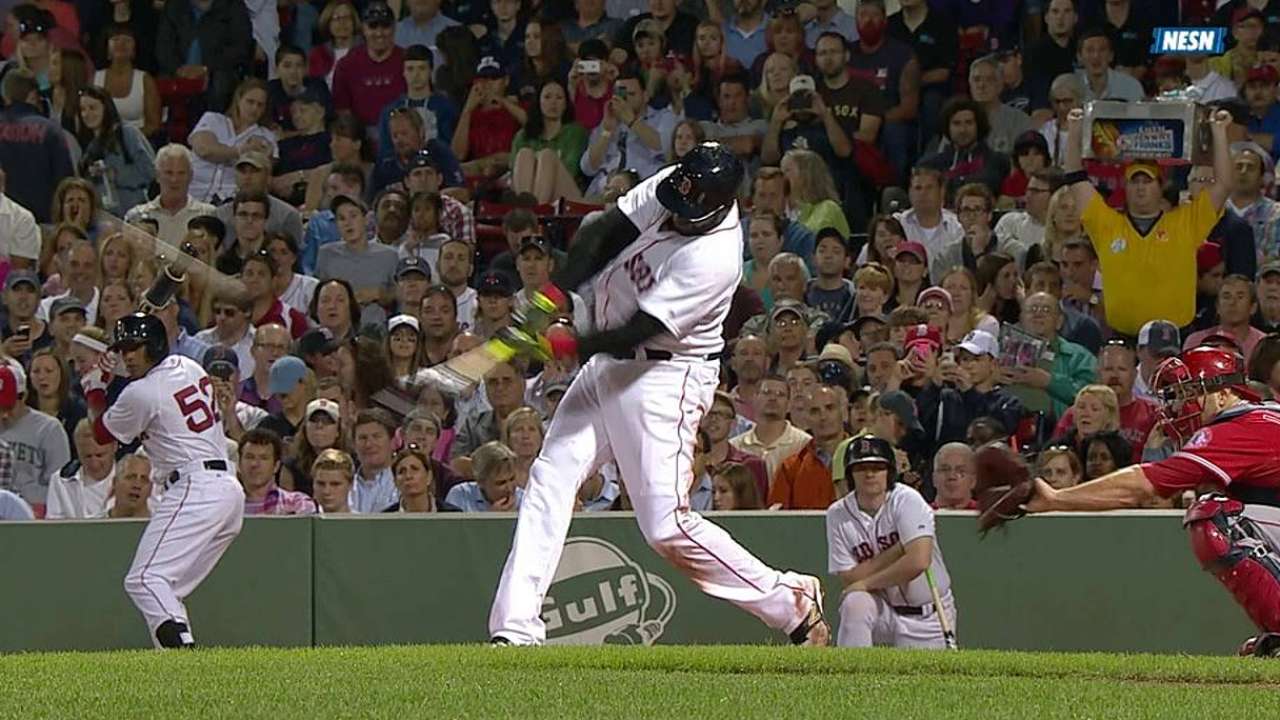 BOSTON -- From last season to this one, just about everything has changed for the Red Sox. The one constant is David Ortiz, who just keeps belting the baseball.
In an 8-3 loss to the Angels, Ortiz was the one clear bright spot, going 4-for-4 and belting his 30th home run.
At the age of 38, the slugger produced his eighth season of 30 or more homers, tying the late and legendary Ted Williams for the team record.
"It's sort of like it was last season in the postseason," said right-hander Clay Buchholz. "He wants to be the guy at the plate in the big situation and I think everyone on the club wants the same thing. That's vintage David."
Then there is Buchholz, who has been anything but vintage this season.
Coming off two straight solid starts, Buchholz gave the impression early on in Wednesday night's game that he was at last coming around and perhaps primed to go on the type of run that had eluded him all season.
But in 2014, nothing ever seems to go as planned for Buchholz.
It all fell apart for the righty and for the Red Sox in a five-run top of the fifth.
This, after Buchholz had come out so strong early, retiring nine of the first 10 batters he faced.
"The difference between everything going on this year and last year is a lot of balls finding holes or are home runs or doubles, they were hit at somebody last year and I got a lot of double plays that way," said Buchholz. "Sometimes that's the way it goes. You don't ever want it to be a full season but that's the way it is sometimes, and I've got to keep grinding."
Buchholz's record dipped to 5-8 and his ERA swelled to 5.94. This, on a night he went six innings while allowing seven hits and six runs. He walked two and struck out six.
"Through the first four I thought he was sharp," said Farrell. "He had good action to his stuff. In the fifth, when he got ahead of hitters, he didn't have the same finishing pitch that he had shown in the previous four. They were able to put some people on."
In five of the six innings, he looked as good as he has all season. The fifth was a completely different story.
The Angels loaded the bases with nobody out on two singles and a walk. Buchholz then walked Kole Calhoun to force in a run.
"Just missed location with a couple of pitches," said Buchholz. "They were able to put a big inning together. It's been a long time since I've walked a run in, that didn't help. Just a couple of balls that got hit and found some holes, and they scored five."
After the bases-loaded walk, there was another pivotal play. Mike Trout blooped one into right, and Daniel Nava seemed to have a play on it. For some reason, Nava stopped, and the ball fell in front of him. Nava alertly threw to second for the force, but a run scored on the play.
"We had a miscommunication on a ball in short right field that contributes to that," said Farrell. "They found some holes, bunched some hits and walks for the five runs."
After an RBI single by Albert Pujols, a sacrifice fly from Josh Hamilton and an RBI single by Howie Kendrick, the Red Sox were suddenly in a 6-3 hole.
"This game can humble you when you start off rough and your confidence isn't quite as high. This game is hard. It's not that easy. Clay is starting to get his confidence back," said Red Sox catcher David Ross. "He had that one rough inning, but for me his ball is moving a lot more than it had been. I don't know how many strikeouts he had tonight, but he was starting to move the ball around and getting some guys off his soft stuff. He threw a lot of good fastballs today."
A pall was cast over the evening when Angels starter Garrett Richards sustained a non-contact left knee injury in the bottom of the second, having to be carted off the field following a lengthy delay. As he went to cover first on a grounder by Brock Holt, Richards stumbled as his leg completely gave out.
"It was huge for us to come back and put some runs on the board and win the game," said Trout. "We are all behind him and thinking about him. I hope everything is all right and hope he comes back strong."
Early on, the Boston bats chipped away and got Buchholz a modest lead. After singles by Dustin Pedroia and Ortiz put runners at the corners in the first, Yoenis Cespedes made it 1-0 with a sacrifice fly.
Ross, fresh off being activated from the disabled list, added another run with an RBI single in the second.
The Angels had to ask for a long night out of their bullpen. Ortiz's shot in the third made it 3-0.
Little did the Red Sox know it at the time, but that was the end of their good fortune in this one.
The Fenway faithful didn't even get the chance to see Ortiz go for his first career five-hit game. In the ninth inning, Alex Hassan pinch-hit for the slugger, with Farrell saying that Ortiz was removed because of "general soreness."
Ian Browne is a reporter for MLB.com. Read his blog, Brownie Points, and follow him on Twitter @IanMBrowne. This story was not subject to the approval of Major League Baseball or its clubs.