MLB.com Columnist
Anthony Castrovince
Manfred focused on development of youth baseball
Inspired by Mo'ne Davis' story, Commissioner-elect attends LLWS, throws first pitch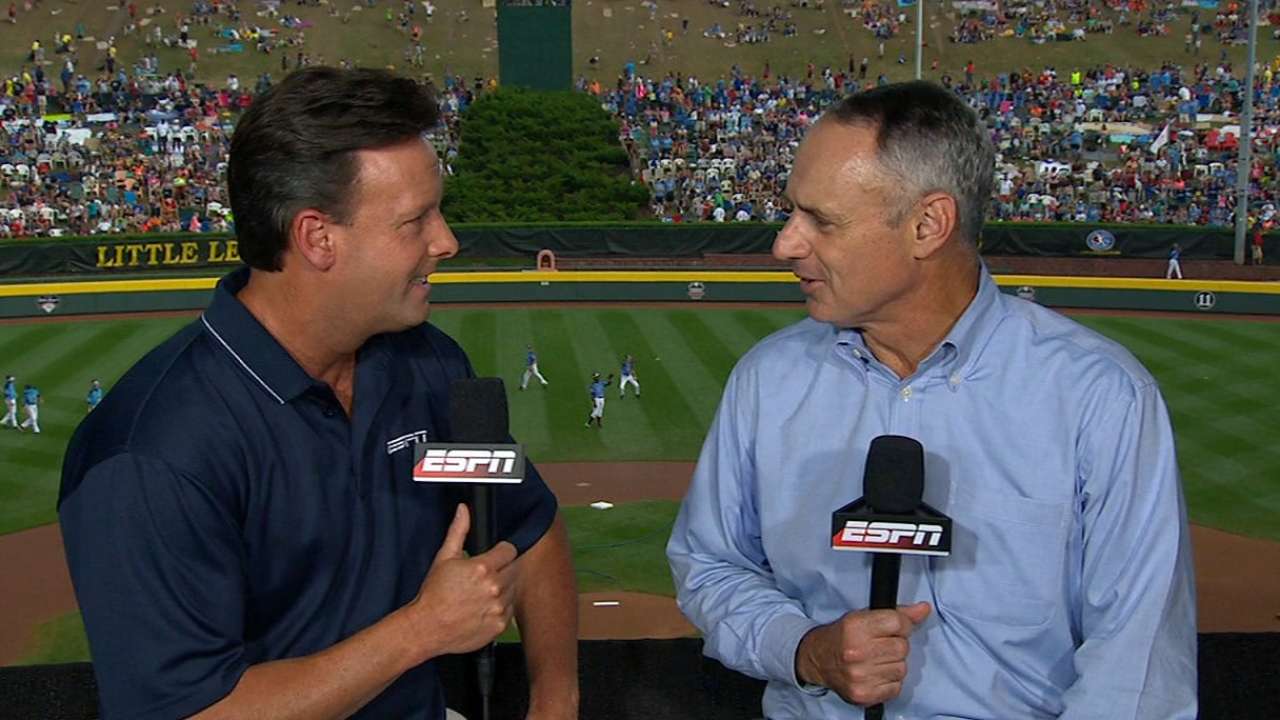 SOUTH WILLIAMSPORT, Pa. -- It was no coincidence that Rob Manfred's first major public appearance as Commissioner-elect came not at a Major League game, but here in the shadows of the Susquehanna River at the Little League World Series at Howard J. Lamade Stadium on Wednesday night.
That he showed up on the night Sports Illustrated cover girl and national sensation Mo'ne Davis was pitching was probably no coincidence, either.
"I think it's really a great story for Little League," Manfred said of Davis, "really a great story for diversity and equality, and I think we should embrace it and hope that she continues to develop."
Youth baseball, as a whole, is an area Manfred, who will succeed Bud Selig and become Major League Baseball's 10th Commissioner on Jan. 24, wants to continue to see develop, too.
The working relationship between Little League and MLB -- one that resulted in every big league club honoring the 75th anniversary of the amateur organization earlier this year -- is one Manfred wants to continue to foster. But his interest in other youth programs is also strong.
"It was not thoughtlessly that I made this my first outing since we finished the Owners Meetings in Baltimore," Manfred said just before throwing out a ceremonial first pitch before the game between Davis' Taney Youth Baseball club from Philadelphia and Mountain Ridge Little League from Las Vegas. "I was very interested in doing something associated with youth baseball. It has been a focus of Commissioner Selig's near the end of his long tenure that we work very hard at encouraging youth participation. It is an effort that I will continue."
This year's Little League World Series has seen two inner-city teams -- the Taney team and the Jackie Robinson West club, from Chicago -- advance to the final three in the U.S. bracket. The interest has been so high that the ESPN broadcasts of games involving those teams have rivaled those of the Phillies, Cubs and White Sox.
Manfred, for one, has no problem with those TV numbers.
"The strength of the game is what drives the strength of our product," he said. "An event like the Little League World Series, when kids from all over the country tune in, that's all good from our perspective."
Manfred noted that the biggest determinant of somebody becoming an avid fan of baseball is to participate at the youth level, which is why baseball needs to continue to find ways to ensure kids from all socioeconomic backgrounds are given proper opportunity to play at a competitive level.
"We want our youth participation programs to be umbrella programs," he said. "Black, white, male, female, urban, rural, rich, poor. We want all kinds of kids playing. And I think that particularly when you have a diverse group like the Philadelphia group, it sends a message that baseball is a wide-open sport. It's a great sport for people from all sorts of backgrounds. And the publicity you get associated with an event like this, you can't pay for that messaging. It's so wonderful when people turn on their televisions and they see people from very different socioeconomic backgrounds in a setting like this. It sends a great message."
Manfred, for the record, is the first Little League alum to be elected Commissioner, which is why, when he arrived to Williamsport, Little League president Stephen Keener had a special surprise waiting for him -- the rosters from his 1968, '69 and '70 teams in his native Rome, N.Y.
"Let's just get this out of the way," Manfred said. "I was not that good."
Manfred did, however, catch the final out (he was a shortstop) of a perfect game thrown by a boy named Carl Weaver. The two have stayed in touch and remained lifelong friends. Weaver reached out to Manfred last week to congratulate him on becoming Commissioner.
"Seeing his name there on that list brought back lots of memories," Manfred said. "I tell you, I can picture the face and tell you where almost every kid on that roster played. That's how important Little League was to me."
And Manfred's presence here proved youth baseball is still very important to the Commissioner-elect.
Anthony Castrovince is a reporter for MLB.com. Read his columns and follow him on Twitter at @Castrovince. This story was not subject to the approval of Major League Baseball or its clubs.