Duffy, Royals can't slam door on Rockies
Big blow in sixth after Colon's error ends KC's streak of series wins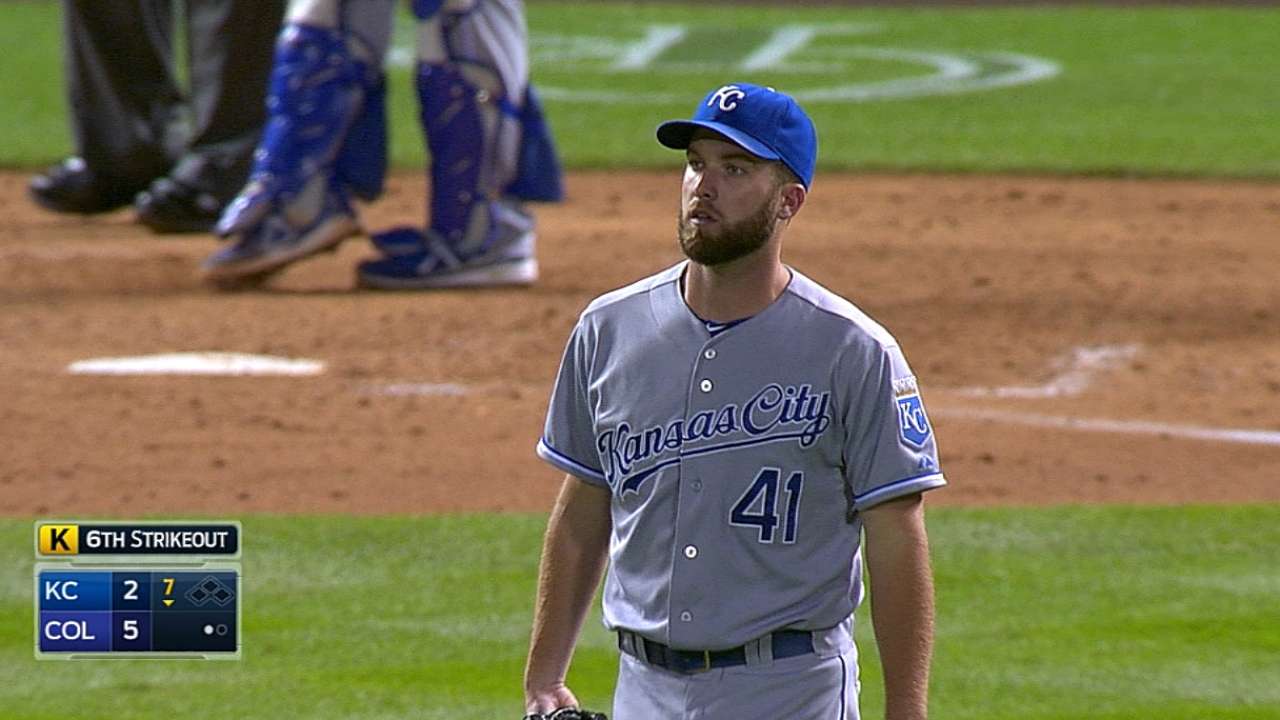 DENVER -- There's a reason Royals manager Ned Yost has relentlessly called Mike Moustakas his everyday third baseman. And in one seemingly routine play to third, Christian Colon reinforced that reason Wednesday.
Starting in Moustakas' place against left-hander Jorge De La Rosa, Colon proved why platoon splits are the least of the Royals' worries by misfiring on the would-be third out of the sixth.
Three batters after the error, Matt McBride came through with his first career grand slam to hand the Royals a 5-2 loss and put an end to their streak of eighth consecutive series victories with a split.
"I should have made the play," Colon said after appearing in just his third Major League game at third. "It's just one of those things that you wish you could take back … It's on me right there. That play needs to be made with two outs."
Operating with a 2-1 lead, Royals left-hander Danny Duffy seemed destined to cruise through another inning at Coors Field as he retired the first two batters of the sixth on six pitches. And it only took a seventh pitch to set up a manageable ground ball to third.
But Colon, a rookie middle infielder who only made 13 of his 470 Minor League appearances at third, failed to get "a four-seam grip" on the ball. With Nolan Arenado hustling down the line, Colon's ensuing throw spiked the dirt short of first to keep the inning alive.
Even after Wilin Rosario's first-pitch single put two on, Duffy was relieved to see Corey Dickerson stepping to the plate. After all, left-handers like Dickerson had just 13 hits in 104 at-bats against Duffy entering Wednesday.
But after Duffy (8-11) missed with a hanging slider, he wouldn't recover, walking Dickerson on four pitches.
"I think the walk killed me the most," said Duffy after allowing only one earned run and five hits over seven innings. "I've been really good with lefties the entire year and I just nibbled a little bit … I'm more upset about the Dickerson at-bat than the McBride at-bat because I didn't really get a chance to work with McBride."
Duffy, undeterred by the Rockies jumping on him early, fired in his first pitch right to McBride's wheelhouse. And by the time the ball landed in the left-field bleachers, the Royals were staring at a 5-2 deficit.
"It was a great feeling," McBride said. "I was excited that we got the lead right there, and just excited I was able to get my pitch, get the barrel to it and hit the ball hard."
The Royals got on the board first when Alex Gordon led off the second inning with a solo shot that touched the second deck in right field. Erik Kratz, a late addition to the Royals lineup following Salvador Perez's precautionary scratch because of right knee soreness, added to that 1-0 advantage with a sacrifice fly in the fourth.
But that's all Kansas City could muster against the former Royal De La Rosa. In eight innings of work, De La Rosa (13-8) allowed five hits and three walks but rolled up four double plays, tying the single-game franchise record.
Yost, who was De La Rosa's manager for his three seasons in Milwaukee, knows the Rockies' ace has been a different animal altogether since making the move to Coors Field, where he's 9-2 in 13 starts this season.
"He always has it going here," Yost said. "He's effectively wild with his fastball and his changeup is killer."
Before McBride's blast, the Rockies put up their first run on a sacrifice fly from Rosario in the fourth.
But when you're a team that has won 22 of its last 28, you don't sweat the small stuff like this one.
"We're not going to dwell on this," Duffy said. "We're going to go back out there Friday and take care of business in Texas. That's what teams that succeed do."
Cody Ulm is an associate reporter for MLB.com. This story was not subject to the approval of Major League Baseball or its clubs.