McBride's grand slam lifts De La Rosa to 13th win
Rockies infielder turns game around in first start in two years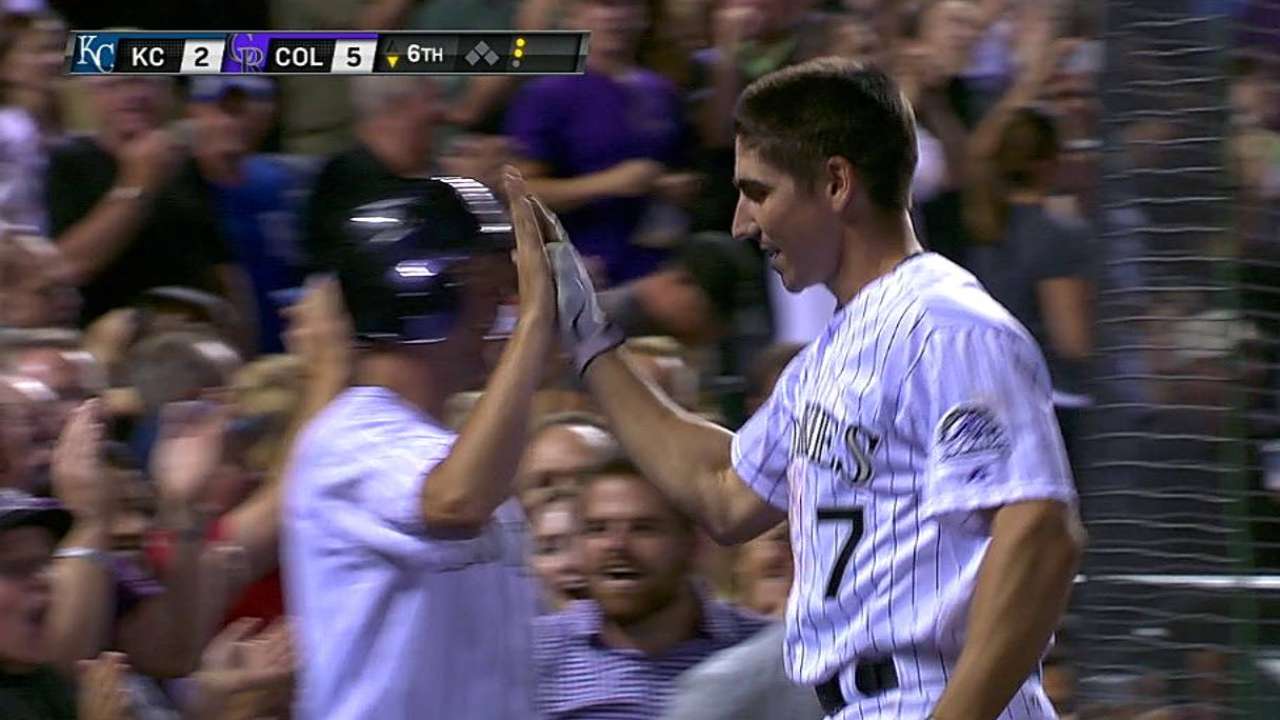 DENVER -- Slowly … real slowly … Jorge De La Rosa will get you at Coors Field. Or at least he'll hold the opposition until the bats come around.
On Wednesday night, the deliberate De La Rosa kept the game close until Matt McBride launched his first career grand slam, in the sixth inning, and the Rockies ended up cooling off the sizzling Royals, 5-2, in front of 28,834.
Wednesday's performance improved De La Rosa to 9-2 at home this year, and 44-14 in a park that's supposed to be somewhere between difficult and harrowing for hurlers.
"I like to pitch here," De La Rosa said. "It's exciting for me every time I pitch here."
De La Rosa (13-8) held the American League Central-leading Royals -- who lost for just the sixth time in the last 28 games -- to two runs and five hits, and fanned three, in eight innings. He kept the ball out of the air for the most part, and forced four ground-ball double plays to tie a franchise record for a single pitcher in a game. It's the sixth time a Rockies pitcher has done it.
De La Rosa, who can drive hitters crazy mussing his hair and adjusting his uniform between pitches (and that's with no runners on base), and doesn't care when hitters become impatient, has become a wonderful night of entertainment in Denver.
"He's been ridiculously good here," Rockies manager Walt Weiss said.
Royals manager Ned Yost, who managed De La Rosa with the Brewers several years back, said, "He always has it going here. He's effectively wild with his fastball and his changeup is killer."
The Royals led, 2-0, as Alex Gordon opened the second with his 14th homer of the season. Josh Willingham opened the fourth with a double and scored on Erik Kratz's sacrifice fly.
The Rockies needed De La Rosa to keep pace with Royals lefty Danny Duffy (8-11), who struck out six and gave up five hits in seven innings. Just one of the five runs off him was earned.
Nolan Arenado tripled to open the fourth and scored on Wilin Rosario's sacrifice fly to cut the difference to 2-1. It took a sixth-inning error on Royals third baseman Christian Colon -- a middle infielder by trade who has seen only spot duty at third in the Minors and Majors since being drafted fourth overall in 2010 -- for the Rockies to crack Duffy.
With two down, Arenado hit a hard grounder that Colon bobbled, and first baseman Billy Butler could not dig up Colon's throw. Rosario singled and Corey Dickerson drew a walk to set up McBride, who is in the Majors for the first time since 2012.
McBride, playing instead of Justin Morneau because Duffy had held lefty hitters to a .138 batting average previously, jumped on a 95 mph fastball and sent it into the left-field bleachers.
"It was a great feeling," McBride said. "I was excited that we got the lead right there, and just excited I was able to get my pitch, get the barrel to it and hit the ball hard."
De La Rosa spent the rest of his time on the mound snuffing out rallies. He walked Gordon to open the seventh before forcing Kratz's double-play grounder and forcing a Lorenzo Cain popup. Alcides Escobar singled to lead off the eighth, but De La Rosa made Nori Aoki fly out and worked Colon into a double play.
De La Rosa, who threw 103 pitches, asked to pitch the ninth. But Weiss went with LaTroy Hawkins, who has had precious few opportunities because the Rockies have had so few leads in a 50-76 season. The clean inning gave Hawkins his 19th save in 20 chances.
Thomas Harding is a reporter for MLB.com. Read his blog, Hardball in the Rockies, and follow him on Twitter @harding_at_mlb. This story was not subject to the approval of Major League Baseball or its clubs.