Offensive woes continue as Twins drop series
Nolasco fans six in 6 2/3 innings, but offense held scoreless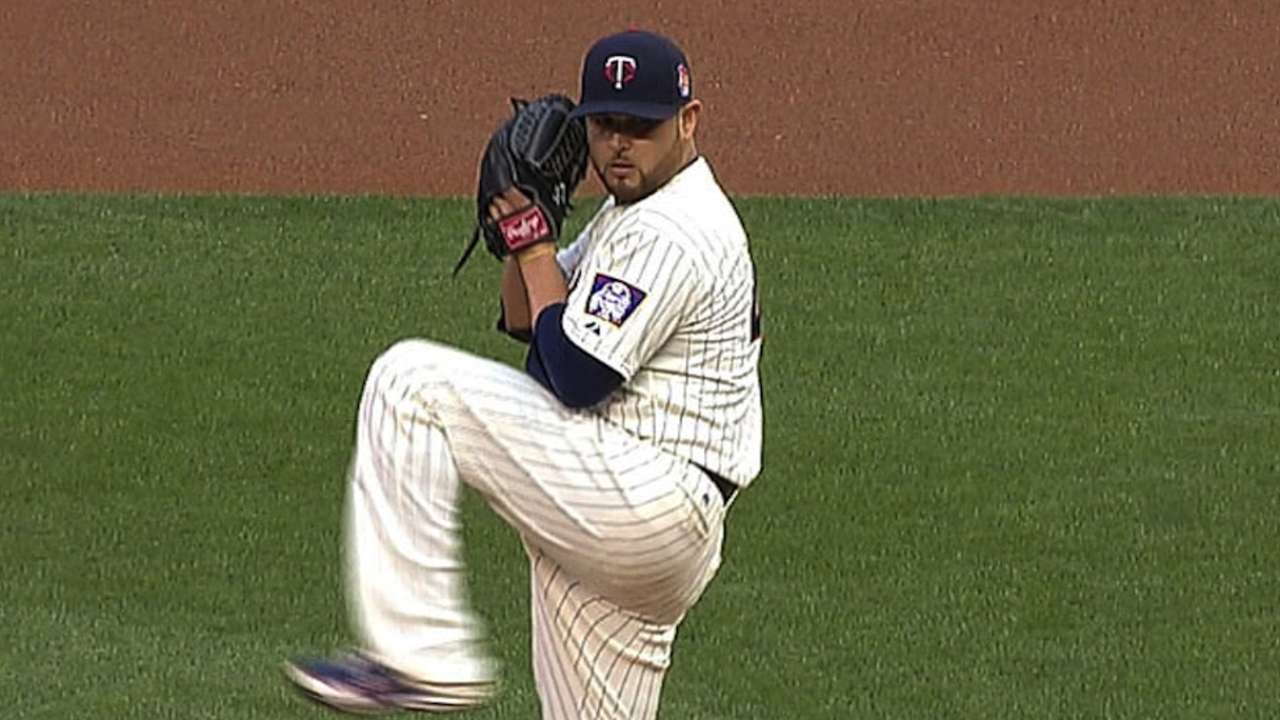 MINNEAPOLIS -- Ricky Nolasco certainly wasn't at his best in his second start since returning from the 15-day disabled list, but it was the offense that was the main culprit for the Twins on Wednesday night.
Nolasco, making his second start since missing more than a month with a right elbow strain, was only so-so, but the offense faltered yet again to hand the Twins a 5-0 loss to the Indians at Target Field.
Nolasco went 6 2/3 innings, giving up four runs on eight hits and a walk with six strikeouts, but he didn't receive any run support for the third time this season. The right-hander, who is in the first year of a four-year deal worth $49 million, fell to 5-9 with a 5.96 ERA on the season.
"He did a nice job tonight, but we still lost the ballgame," Twins manager Ron Gardenhire said. "He did his part and kept us in the game. But we didn't score any runs for him. His stuff was decent and he made pitches when he had to. A couple pitches he left up and they hit them, but for the most part, Ricky did a nice job for us."
Nolasco saw it as an improvement over his previous outing, when he gave up five runs over six innings against the Royals on Saturday. He said he's not all the way back, but feels like he can build on the outing.
"I thought it was a lot better today," Nolasco said. "I made a lot of good pitches. But I also had a couple I wanted back. But at the end of the day, I thought I threw the ball well. It's getting there and a step in the right direction as far as feeling good."
The Indians struck early with a solo blast from Zach Walters in the second inning before adding two more runs in the fourth. Carlos Santana started the rally in the fourth with a double to right field before scoring on a double from Jason Kipnis, who came around to score on a single from Mike Aviles.
Cleveland added another run in the seventh, when Chris Dickerson singled and stole second base. Nolasco was removed for left-hander Caleb Thielbar, who surrendered a two-out RBI single to Michael Bourn, with the run getting charged to Nolasco. Aviles added a towering solo shot off Samuel Deduno in the ninth for an insurance run.
"I feel bad we gave up that fourth run," Gardenhire said. "He had pitched well and got his pitch count up there and we didn't want to take any chances."
It was enough offense for Indians left-hander T.J. House, who threw 5 1/3 scoreless innings, scattering four hits and three walks to get the win. It was his first official start with the Indians since Aug. 7, but he was able to shake off the rust even though he didn't get deep into the game.
"It was kind of a deep pitch count, but you look up and there's zeros on the scoreboard," Indians manager Terry Francona said. "He has a way of doing that. I didn't think it was his best stuff, but he had a layoff, and a short outing, and he put up zeros."
The Twins came up short with runners in scoring position against House, going 0-for-8 in those situations.
"Once he gets guys in scoring position, he's all changeups and sliders," Dozier said. "He actually throws more offspeed in hitter's counts. He has a good changeup. We barreled a lot up but just didn't get any hits with runners on."
Dozier became the club's first 20/20 player with 20 homers and 20 stolen bases since 2004 with a single in the first and his 20th steal of the year. But he was stranded with Kennys Vargas grounding into an inning-ending double play after Joe Mauer walked.
Mauer had a chance to get the Twins on the board in the fifth with two on and two outs, but he grounded out to shortstop to end the inning. Minnesota also had two runners on and one out in the sixth and couldn't come up with a run.
The Twins were shut out for the 10th time this season and have been held scoreless for 17 straight innings against the Indians, dating back to the first inning of Tuesday's 7-5 loss.
Rhett Bollinger is a reporter for MLB.com. Read his blog, Bollinger Beat, and follow him on Twitter @RhettBollinger. This story was not subject to the approval of Major League Baseball or its clubs.