Sturdy House, timely offense lead Tribe over Twins
Rookie lefty earns first career road win with 5 1/3 scoreless innings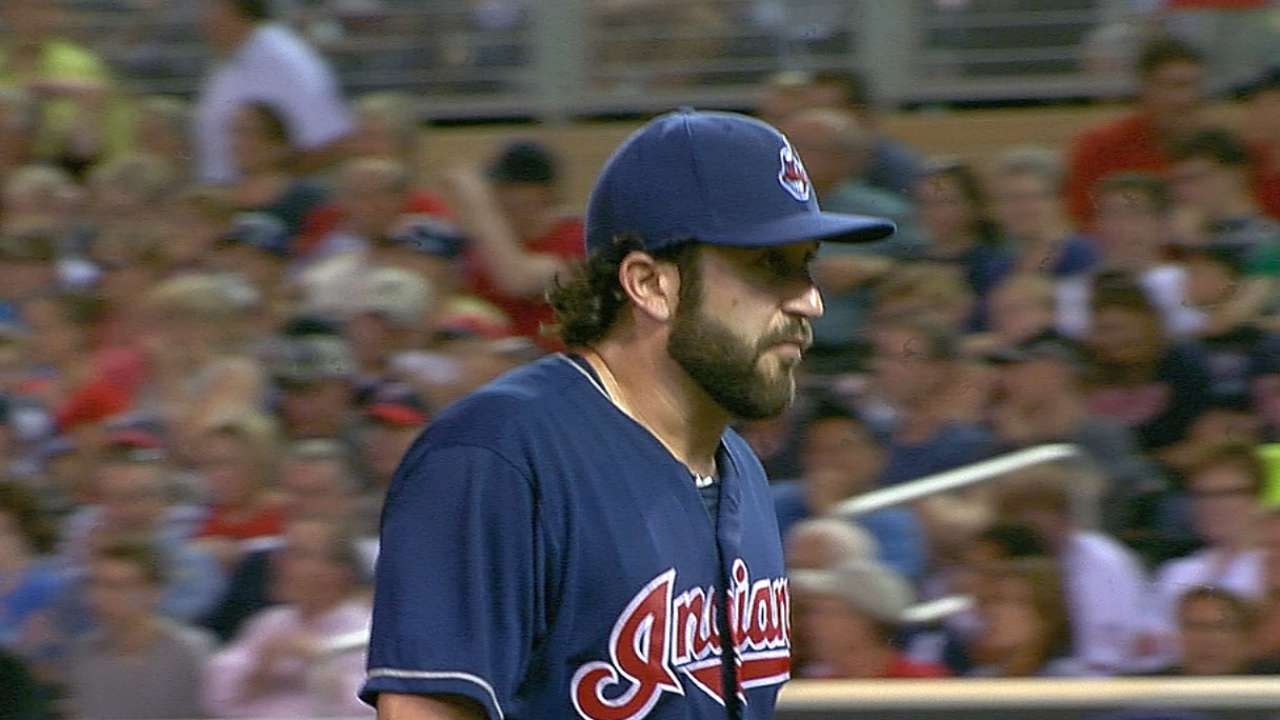 MINNEAPOLIS -- T.J. House has accepted and embraced his role within the Indians' rotation. The rookie left-hander's job has entailed bouncing between Triple-A Columbus and Cleveland, and having his turn skipped if the team feels it might benefit the staff. Through it all, House has been a reliable part of the rotation.
On Wednesday night, House made his first official start in nearly two weeks for the Indians and effectively shook off the rust. The lefty pitched into the sixth inning, quieting Minnesota's bats and setting the tone for the Tribe in a 5-0 victory at Target Field.
"I think he's been very mature about everything," Indians manager Terry Francona said of House. "There's been a lot to like, but the way he's handled things being thrown at him, he's been very mature and I think it's helped his pitching.
"Shoot, man. He's pitching in the middle of August for a team that's desperately trying to win games. Good for him."
With the win, Cleveland claimed the first two games in the three-game series with staff leader Corey Kluber slated to take the mound in Thursday's finale. The Indians have now won seven of their past nine games, maintaining a position on the edge of the races for the American League Central (5 1/2 games behind the first-place Royals) and Wild Card (4 1/2 games back of the second spot).
The 24-year-old House had his last start washed away by rain on Aug. 12, when he pitched into the fourth inning against the D-backs before the game was postponed. His last official start for Cleveland came on Aug. 7 in Cincinnati and, following a stretch of three team off-days in a recent eight-day span, House was skipped and asked to start again Wednesday.
"It's definitely been a work in progress," said House, referring to his season. "Obviously, I've never gone through the situation I've been in this year. You always want to be positive and not a nuisance or a distraction in any possible way. So I just told them, 'Whatever you need me to do, I'm going to do.'
"Whether that's me going down and coming back up and starting, going back down, going to the bullpen, whatever it may be. I'm just going to do my job and help this team win. That's all I want to do."
House shrugged off the unusual circumstances and worked his way through the Twins' lineup, while dodging the potential harm of the four hits and three walks he allowed in 5 1/3 innings. The left-hander blanked Minnesota with a solid mix of strikeouts (five) and outs via grounders (eight).
"Once he gets guys in scoring position, he's all changeups and sliders," Twins second baseman Brian Dozier said. "He actually throws more offspeed in hitter's counts. He has a good changeup. We barreled a lot up, but just didn't get any hits with runners on."
The bullpen finished the job, giving Cleveland's pitching staff a season-high 17 consecutive scoreless innings (also done on Aug. 3-4) against the Twins and helping House to his first win since July 5 against the Royals.
Cleveland's offense held up its end of the bargain with four runs off Minnesota starter Ricky Nolasco, who bowed out of the ballgame after 6 2/3 innings of work. Rookie Zach Walters launched a two-out solo homer deep to right field off Nolasco in the second inning, giving the young designated hitter six home runs on the season (three since being acquired by Cleveland on July 31).
"He's a strong kid," Francona said. "That ball today he hit, that ball went a long way. He's got a lot of juice in his bat and we're still getting to know him."
In the fourth, Carlos Santana and Jason Kipnis came through with consecutive doubles -- the latter scoring a run for the Tribe. Mike Aviles later added an RBI single to push the Indians to a 3-0 lead. Following Nolasco's exit, Michael Bourn delivered an RBI single off Caleb Thielbar in the seventh, padding Cleveland's lead and tacking one more run on Nolasco's line.
For good measure, Aviles also launched a tape-measure shot off Twins reliever Samuel Deduno in the ninth inning. The Tribe's third baseman sent a 1-0 offering clanking off a seat in the second deck down the left-field line to push the Indians to a 5-0 advantage.
"I think I blacked out. I still haven't woken up," Aviles joked about his first three-hit game since May 31. "I was able to get a couple of pitches to hit where they weren't standing and I was able to move the line along."
Asked about House, Aviles said he has been impressed with how the rookie has weathered things this season.
"He's handled it unbelievable," Aviles said. "He's so young, and sometimes younger players don't understand when they get sent down. It's not [always] because you're not good enough to be here, it's just that the numbers get you. That's what it has been with him.
"He has an option, and they use it. The way he's gone about his business every time: he comes up, pitches his game and, if he has to go down, he goes down. You commend a guy like that."
Jordan Bastian is a reporter for MLB.com. Read his blog, Major League Bastian, and follow him on Twitter @MLBastian. This story was not subject to the approval of Major League Baseball or its clubs.