Jackson struggles in Cubs' loss to Giants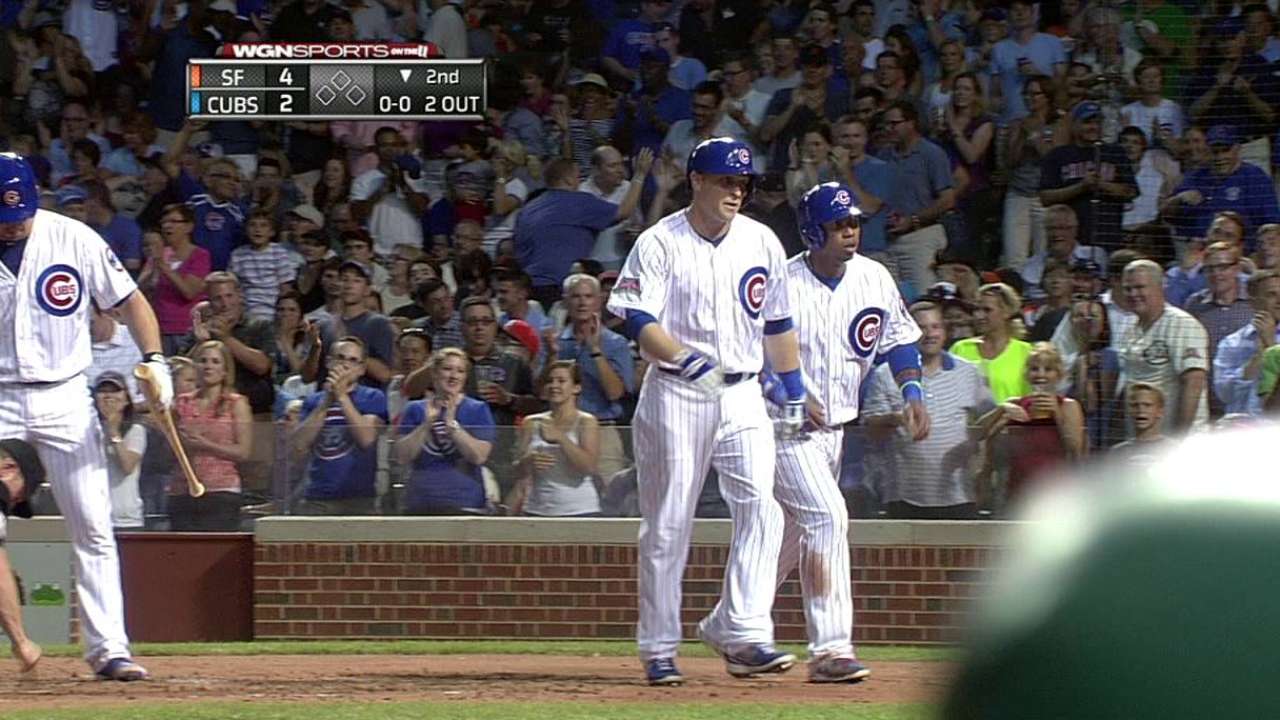 CHICAGO -- Edwin Jackson's spot in the rotation could be in question after Wednesday's 8-3 loss to the Giants.
Jackson put up his shortest start of the season -- 61 pitches over 2 2/3 innings -- and allowed seven earned runs for the third time, manufactured on eight hits with two walks and two strikeouts against 18 batters.
When asked about a role shift for Jackson, whose season ERA ballooned to 5.74, manager Rick Renteria repeatedly said, "We're going to assess and evaluate and see where we go."
Of Jackson's 26 starts this season, seven have been quality. He has averaged 6.3 hits, 4.7 strikeouts and just over 5 1/3 innings per outing. He has allowed four runs or more in 12 starts, and his only scoreless outing was a win over the Brewers on May 17.
"No one wants to be moved, but if it happens, it happens," Jackson said about a potential shift to the bullpen. "The only thing you can do if you don't like it is go out and pitch your way out of jams. Like I said, you just have to relax and have fun and get back to having fun. And tonight was an example of absolutely not doing that.
"I haven't really gone out and made it an easy decision for the organization and for the team."
Jackson has discussed mechanical changes throughout the season, which Renteria said have cleaned up his delivery despite a continued lack of command.
Jackson has allowed 26 earned runs in 26 first innings this season -- the most of any frame, trailed closely by the 20 allowed in the second inning. He's also thrown nine wild pitches this season -- including one on Wednesday -- tied for sixth most in the Majors.
"It's command, because his velocities are still decent," Renteria said.
Jackson neither confirmed not denied when asked if he is 100 percent healthy, saying, only, "There are no excuses."
"At the end of the day, you have a job, and your job is to go deep into games," he said. "If you ask around the league, there's a lot of guys that are dealing with things, but no one is really making an excuse. I could have easily went out tonight and went six or seven innings, and the same questions wouldn't be asked."
The Cubs trimmed the deficit to two runs in the second, when Chris Valaika launched his first homer of the season, a two-run, two-out shot over the right-field wall with a full count. Luis Valbuena added a solo shot in the eighth to score the game's final run. Valbuena went 3-for-4 and finished a double shy of the cycle.
Three double plays in the first four innings curbed any offensive momentum for Chicago
"Obviously, double plays never are any team's friend unless you're on the defensive side," said Anthony Rizzo, crediting winning pitcher Jake Peavy for the many forced grounders. "But it's just one of those days that you've got to get the ball in the air, especially with the wind blowing out."
Jackson's early departure forced the bullpen to chew up the final 6 1/3 innings. Carlos Villanueva, Wesley Wright and Kyuji Fujikawa combined to allow just one earned run on six hits. with eight strikeouts and no walks.
"They ate up some innings, which was big, and allows us still to have some of our guys available for us tomorrow," Renteria said. "Obviously, it's a couple games, but we'll make some adjustments."
The Cubs will play essentially a game and a half on Thursday after Major League Baseball upheld the Giants' protest over Tuesday's rain-shortened game, citing mechanical malfunction. The teams will pick up in the bottom of the fifth inning at 4:05 p.m. CT and continue with the scheduled series finale at 7:05 p.m.
Daniel Kramer is an associate reporter for MLB.com. This story was not subject to the approval of Major League Baseball or its clubs.