Cueto falters as Reds' skid reaches five
Ace is knocked around by Cards as tough trip concludes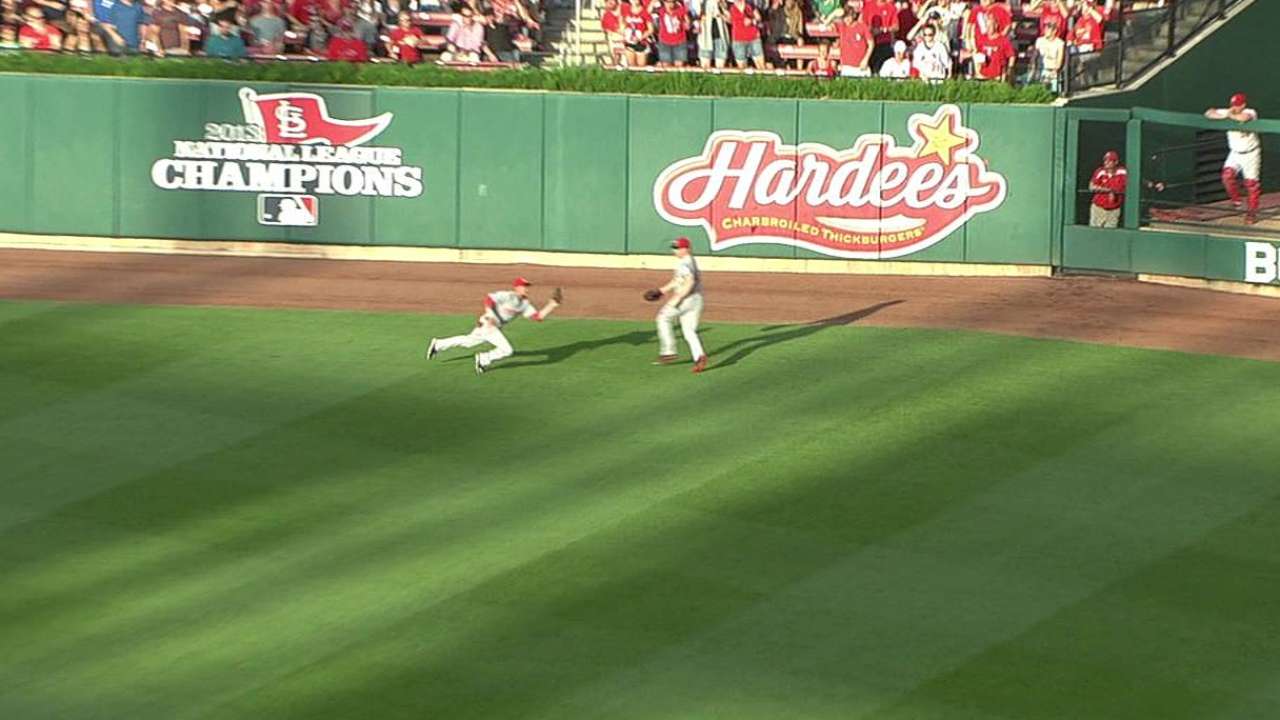 ST. LOUIS -- It was a Reds road trip that will be remembered for bullpen breakdowns, walk-off losses and even a postponement caused by a water-main break. Wednesday's conclusion brought something that hasn't happened often: a misstep by Johnny Cueto.
In a 7-3 loss to the Cardinals, the club's 10th defeat in its last 12 games, it was the Reds' ace who wasn't very effective. With five earned runs allowed, it was only the fifth time in 27 starts this season that Cueto allowed more than two earned runs. He came in 7-0 with a 2.24 ERA in his last eight starts and tied for the Major League lead with 15 wins.
"We've come to expect him to be great every time," Reds manager Bryan Price said. "Today just wasn't one of those times."
While not a late-inning or one-run defeat that became a hallmark of the trip, it was still another sting to a fading Cincinnati club that finished one of its worst trips in recent memory 1-6, with five straight losses to end it -- including four in the opponent's final at-bat.
That nearly doubled its deficit in the National League Central, starting the journey at Colorado 5 1/2 games out and finishing it in St. Louis 10 games behind the first-place Brewers. The deficit for the 61-66 Reds in the NL Wild Card stretched to 6 1/2 games.
"Miserable road trip," Price said. "It's hard to say something that will make sense to anybody that's a Reds fan. We just haven't played terribly well since the All-Star break (10-22). I know these guys expect a lot more. We all do. We have to stay together. These are the times that can break the spirit of a club. We can't allow that to happen."
Laboring throughout, Cueto gave up five earned runs over five-plus innings with five hits, four walks, two hit batters and four strikeouts. It was his most runs allowed since giving up eight runs (six earned) on May 20 at Washington.
"I did not have control or command of what I wanted to throw," Cueto said through translator Tomas Vera. "Those nights are going to happen."
Appearing uncomfortable with the heat and humidity, signs of trouble came in the first inning when Cueto began with a Matt Carpenter double and hit Jon Jay with a pitch. It took Billy Hamilton's spectacular diving catch to rob Matt Adams and a long throw to first base for an inning-ending double play.
St. Louis scored its first run on Matt Holliday's one-out double to right-center field that scored Jay from first base. More two-out trouble brought Cueto down in the fifth. It started with Jay's single shortstop where Zack Cozart's long throw from the hole pulled Todd Frazier off first base. Holliday was hit on the left arm with a 0-1 pitch and Adams walked on a full-count to load the bases.
Jhonny Peralta cleared the bags with his three-run double to the gap in right-center field to make it 4-0. Cueto sandwiched a Descalso double with walks, including one to pitcher Lance Lynn on four pitches, and exited the game with the bases loaded and no outs, having thrown 103 pitches. Logan Ondrusek limited further damage by only allowing a sacrifice fly to Carpenter.
"I don't like to make excuses but it was really hot," Cueto said. "I'm used to pitching with long sleeves, but [they] were so wet and my hand was getting really slippery that I could not grip the ball the way I wanted. But that's not what I want you to notice for what happened tonight."
Since Cueto's eight-inning performance in the Reds' last victory on Friday, only one starting pitcher -- Mike Leake on Monday -- has worked more than six innings. It has left the bullpen gassed and struggling to fill the later innings.
In a sign of how critical Cueto has been to keep the Reds afloat, he has five of the pitching staff's 10 wins since the All-Star break. But he did not have it on Wednesday.
Lynn limited the Reds to four singles over seven innings before exiting when a 58-minute rain delay stopped the game before the eighth inning. Only one batter, Jay Bruce in the first inning, reached second base against Lynn. The delay and a ninth-inning rally against Carlos Martinez prolonged the final outcome. Cincinnati would have the tying run at the plate with the bases loaded before closer Trevor Rosenthal came in and got a Frazier fielder's choice to end it.
Mark Sheldon is a reporter for MLB.com. Read his blog, Mark My Word, and follow him on Twitter @m_sheldon. This story was not subject to the approval of Major League Baseball or its clubs.