Shark struggles for scuffling A's against Mets
Righty allows seven runs as Oakland falls to 1 1/2 back in AL West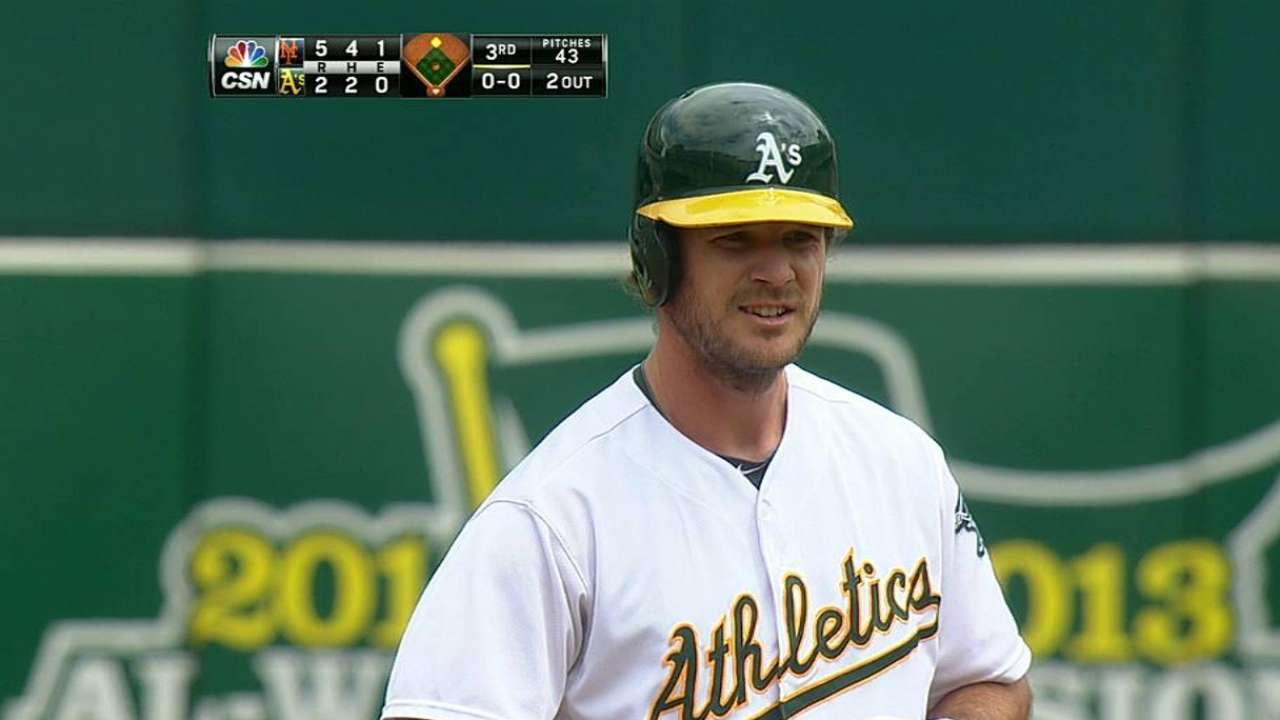 OAKLAND -- The A's will begin their weekend series against the Angels on Friday without sole possession of first place in the American League West.
No one expected to be saying that 10 days ago, when the A's held a four-game division lead. But no one expected them to drop eight of their last 10, a stretch that culminated in an 8-5 loss to the Mets on Wednesday to complete a two-game split.
If the Halos win their next game in Boston, they will enter the Coliseum with a two-game edge in the standings. The A's have not trailed by that much since April 5.
Now, their challenge is to move past these recent struggles and rediscover what's made them tick.
"A lot of frustrating things in today's game, so it takes you a little while to get over that," said A's manager Bob Melvin. "But you do have to move on to the next thing. We have an off-day tomorrow to clear our heads, and we know it will be an exciting series and a good series."
Oakland's scuffling offense scored more than a few runs for a second straight day, but hitting, for once, was not the biggest problem. Jeff Samardzija, who has been mostly fantastic in green and gold, gave up seven runs on seven hits in 3 2/3 innings.
"We have a lot of confidence in him," Melvin said, "and he's pitched some really good games for us. Today was really the one tough game that he's had overall as far as his numbers go."
Down 8-4 in the eighth, the A's loaded the bases with one out. Sam Fuld walked to make it 8-5, but Andy Parrino struck out looking and Josh Donaldson hit a hard groundout to shortstop.
The A's finished with just six hits and were 1-for-9 with runners in scoring position, suggesting their funk may not yet be a thing of the past.
"I feel like we put up some good at-bats, guys were drawing walks to get on base," said catcher John Jaso, who went 1-for-3 with an RBI. "The struggles, it's just kind of individual-work things that guys have to do in the cage or out there during BP, and then just kind of let it play out when the game starts."
Samardzija surrendered five of his seven runs in a 35-pitch third that featured two home runs, a walk and a wild pitch. He got two quick outs after Eric Campbell led off with a long ball, but he suddenly lost his command.
Curtis Granderson squibbed a single to beat the shift, and then, with two runners on, Lucas Duda belted a homer to straightaway center field.
"I've just got to bear down and get an out with two outs there and get our offense back in the dugout," Samardzija said. "Gave up a couple hits and then the home run, which was the dagger."
More two-out damage followed in the fourth, as the Mets scored two runs on three consecutive singles to send Samardzija packing.
Samardzija had lasted six-plus innings and allowed four runs or fewer in each of his first eight starts with the A's. In nine career appearances against the Mets, however, he has an 8.72 ERA.
"Early, my split was great. It was everything we wanted," said Samardzija. "Then it just kind of left me there as the game went on. Kept going to it, kept falling behind in the count. I was trying to get some putouts, and that's usually my pitch to go to, and it wasn't there. I had to go back to some fastballs, and they get comfortable in there when they can eliminate that [splitter]."
Oakland did some scoring of its own in the third and fourth off Zack Wheeler, with Coco Crisp and Jaso hitting RBI doubles in the third and Mets second baseman Daniel Murphy booting a grounder to send two runners home in the fourth.
That brought the A's within three runs at 7-4, but long man Jesse Chavez allowed another run in the fifth.
Ultimately, Samardzija's rare hiccup was too much to overcome.
"It was a big game today and I didn't do my part," Samardzija said, "so it kind of stings. I let the game get away from me, and I can't do that right now late in the season."
Aaron Leibowitz is an associate reporter for MLB.com. This story was not subject to the approval of Major League Baseball or its clubs.