Mets ride Duda's bat, Wheeler's arm to win vs. A's
Slugger hits three-run homer; righty allows four runs, two earned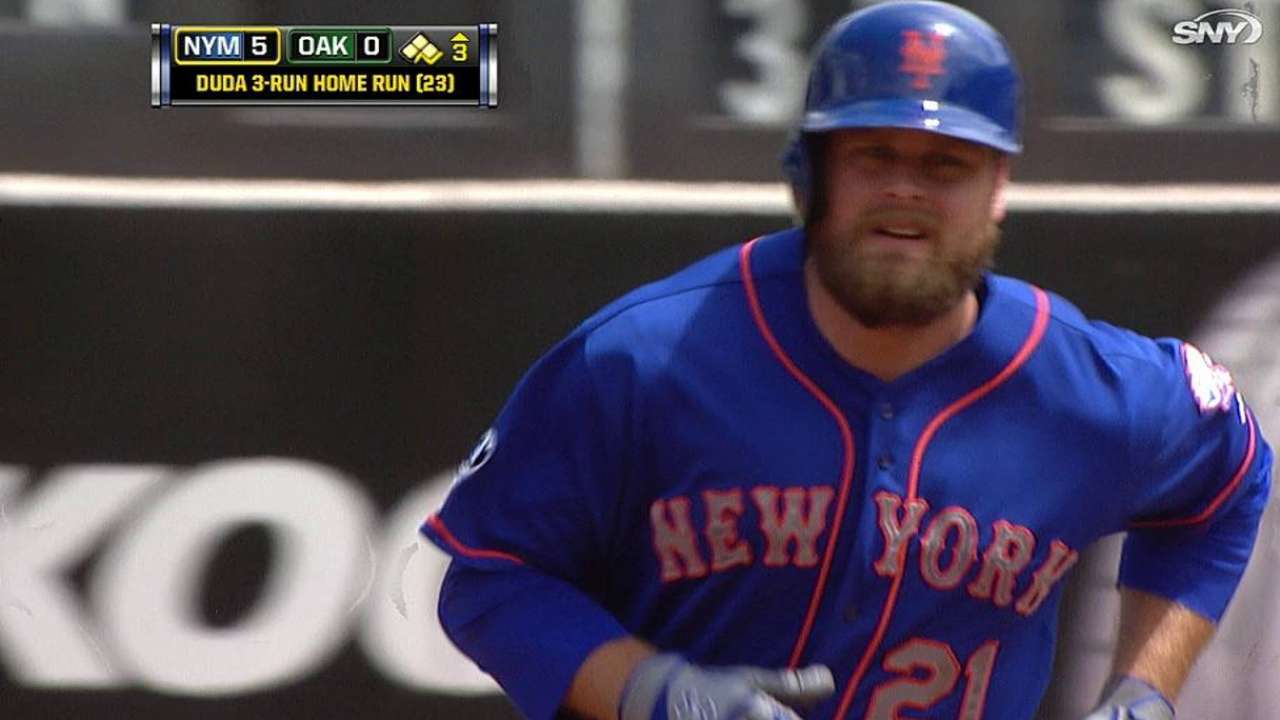 OAKLAND -- Considering all the things that have gone wrong for the Mets this season, those that have gone right have stood out in stark relief. Two in particular were on display in Wednesday's 8-5 win over the A's: first baseman Lucas Duda's continued emergence and starting pitcher Zack Wheeler's obvious growth.
The former resulted in the crispest highlight of an otherwise sloppy game. Duda's three-run homer off Jeff Samardzija in the third inning at O.co Coliseum padded the Mets' early lead, upping his career-high total to 23. Since taking over as the Mets' everyday first baseman in April, Duda has slowly -- and recently, more rapidly -- developed into a legitimate Major League slugger.
"It's something to build on," Duda said.
Wheeler's growth has likewise accelerated as the season has progressed. Though he was not even close to his sharpest in Wednesday's victory, his ability to overcome multiple defensive lapses behind him served him well.
In the past, Wheeler might have caved amidst the shortcomings of second baseman Daniel Murphy -- a throwing error in the third inning, a bobble in the fourth and a fielding error later that inning, two of which resulted in runs. Instead, Wheeler escaped each rally with minimal damage, pitching into the sixth while holding the A's to four runs, two earned.
"It's easier to pitch when you've got some runs," Wheeler said. "Every time we score, you try and go out there and put up a zero. It didn't happen that way today, but luckily we had the bats going."
In that sense he easily outpitched Samardzija, Oakland's non-waiver Trade Deadline import, who left to scattered boos after giving up seven runs in 3 2/3 innings -- one of them coming on an Eric Campbell solo homer.
"I gave up a couple hits and then [Duda's] home run, which was the dagger," Samardzija said. "A day your team comes out and gives you five runs, you've got to turn those into victories."
The A's did storm back late, drawing three walks -- including one with the bases loaded -- off Vic Black and Jeurys Familia in the eighth. But Familia retired Josh Donaldson, who entered the game in the seventh as a pinch-hitter, on a sharp groundout to leave the potential tying run on base. Then -- with regular closer Jenrry Mejia unavailable due to back stiffness -- Familia worked around a double in the ninth to nail down his fourth save.
That made a winner out of Wheeler, who rebounded from some early hiccups to go 6-0 with a 2.12 ERA since June 30, establishing himself as one of the league's best young starting pitchers. The Mets, in turn, have won seven of Wheeler's last 10 starts. So while his learning curve may have been steeper than that of 2013 All-Star Matt Harvey, Wheeler appears to have conquered it.
"That's our goal, is to go out there every time and try to give our team a chance to win," Wheeler said. "It's been fun."
His emergence gives the Mets two young players with peers in high places. In mid-April, the organization took a significant risk when it traded Ike Davis to the Pirates, effectively choosing Duda over Davis. While Davis, a former first-round Draft pick, has struggled in Pittsburgh, Duda has spent the past two months establishing himself at an elite level. Since June 13, only two big leaguers have more home runs than Duda's 15, and only five have posted a higher OPS.
That does not mean Duda and Wheeler alone can cure the Mets' ills. But when the team begins wading through its year-end inventory and working to improve for 2015, those two will be on the list of solutions -- not problems.
Ten months ago, Mets COO Jeff Wilpon said there were only four players guaranteed roster spots on the 2014 club: David Wright, Wheeler, Dillon Gee and Jon Niese. Now there are at least twice that many, with Duda and Familia establishing themselves, Black and Mejia improving the bullpen and Travis d'Arnaud breaking out behind the plate. Curtis Granderson will be back next year and, barring a trade, so will Daniel Murphy. A full 18 months removed from Tommy John surgery, Matt Harvey should be on the roster as well.
So it's fair for the Mets to be optimistic about 2015, even if they refuse to look completely past 2014 just yet.
"I think right now you can't really look at personal stats or whatever it is," Duda said. "You've got to think about winning games. Some people think that we're out of it, but everybody in the room believes we still have a chance. That's all we need."
Anthony DiComo is a reporter for MLB.com. Follow him on Twitter @AnthonyDicomo. This story was not subject to the approval of Major League Baseball or its clubs.