Braves unable to hold early lead, fall in ninth
J. Upton's ninth-inning error proves costly as win streak ends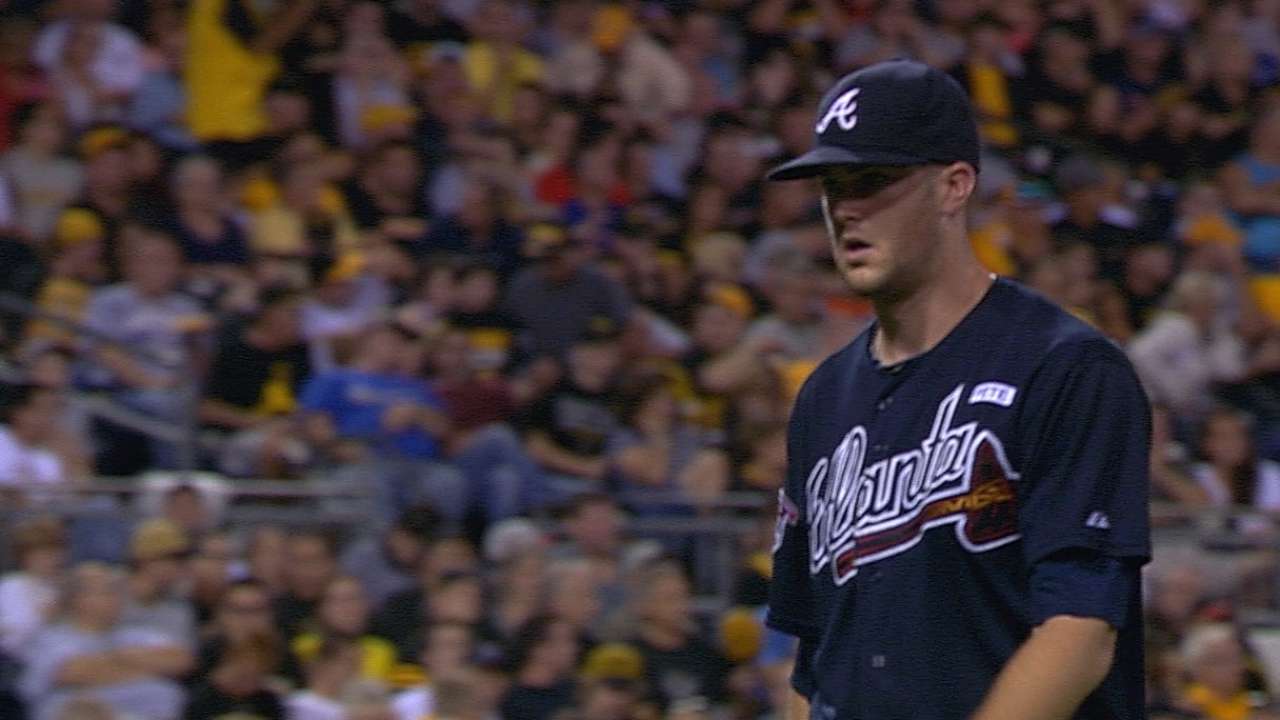 PITTSBURGH -- After watching Alex Wood position them for a sixth straight victory, the Braves played two innings that might have been uglier than most of those experienced while they were in the midst of a three-week tailspin that ended late last week.
Jordan Walden bounced a wild pitch during a game-tying two-run eighth and the Upton brothers nearly collided on what proved to be the key play in the ninth inning. By the time Gaby Sanchez gave the Pirates a 3-2 win with his game-ending sacrifice fly on Wednesday night, the Braves found themselves wondering which of their late-inning blunders actually proved to be the most fatal.
"It's a game we should have had. Woody pitched his [butt] off," David Carpenter said. "You couldn't ask for anything more. We needed a few things to go our way there and they didn't."
Though the box score credited him with the loss, Carpenter was essentially a rather innocent bystander, whose most egregious mistake was allowing Jordy Mercer to begin the ninth with a soft single. Andrew McCutchen then popped out before Starling Marte produced what appeared to be the second out until Justin Upton's attempt to get out of B.J. Upton's way led to the ball bouncing out of his glove.
Suddenly, the Pirates, who had been held scoreless and to three hits during the first seven innings, had runners at second and third with one out in the ninth.
"B.J. is playing the gap and I'm playing straight up and there was a huge gap," Justin Upton said. "We covered some ground. We just couldn't get there. ... I saw [B.J.]. There was nothing we could do. That ball was literally right between where both of us could get to it. It was just perfect placement."
When Sanchez followed with his sacrifice fly to deep center field, the Braves found themselves dealing with the imperfect conclusion to a night that turned in a hurry. Along with bidding adieu to their five-game winning streak, the Braves fell seven games behind the division-leading Nationals, who have won nine straight games. Maybe the Braves should have known this night was doomed when they lost a half-game in the Wild Card standing because the Giants became the first team to have a protest upheld since 1986. By the end of the night, the Giants sat 1 1/2 games in front of the Braves in the battle for the second Wild Card entry.
"We can't stop," Justin Upton said. "Games like this are going to happen. We've just got to keep our heads up and keep going."
Wood, who has a 1.89 ERA in his past five starts, certainly had no reason to be ashamed about the effort he made while matching up against Gerrit Cole. The 23-year-old southpaw exited the seventh having retired 16 of the previous 17 hitters he had faced.
With his pitch count at 90, Wood said he still felt fresh. But he got himself into immediate trouble when he opened the eighth by issuing Sanchez a five-pitch walk. He then threw two curveballs to gain an 0-2 count against left-hander Travis Snider. His decision to throw a third straight hook proved unwise when Snider turned on the hanger and painted the right-field line with a ground-rule double.
"If you want to go deep in games and be one of the best in the league, that can't happen in the eighth inning," Wood said. "It's inexcusable and it stinks. ... One minute you're carving them up, going along nice and then all of the sudden, you go back out there for the eighth and you hang a breaking ball and it's a whole new ballgame. Those things can't happen at this level."
Walden entered with two on and promptly allowed Sanchez to score on a Chris Stewart groundout. The setup man's bid to keep the tying run on base died as he threw three consecutive sliders to left-handed pinch-hitter Neil Walker. The first was a strike and the second was blocked by Evan Gattis. The third bounced in front of the plate leaving Gattis essentially defenseless as Snider scored the tying run.
"You hate to end a game like this because there was a lot of good stuff," Braves manager Fredi Gonzalez said. "The wild pitch, I don't think Gattis ... he blocked the [heck] out of the one before that. The other one that got away, that was a tough block."
Once the ugly conclusion was complete, the Braves were not thinking about the fact that Jason Heyward had tallied two more runs from the leadoff spot or that Justin Upton had extended his hitting streak to 11 games with a first-inning RBI single off Cole.
Instead, they could not overlook that they had literally let one slip away.
Mark Bowman is a reporter for MLB.com. This story was not subject to the approval of Major League Baseball or its clubs.