MLB.com Columnist
Bill Ladson
Rendon walks off Nats for ninth straight win
Pinch-hitting, infielder extends club's streak, increases NL East lead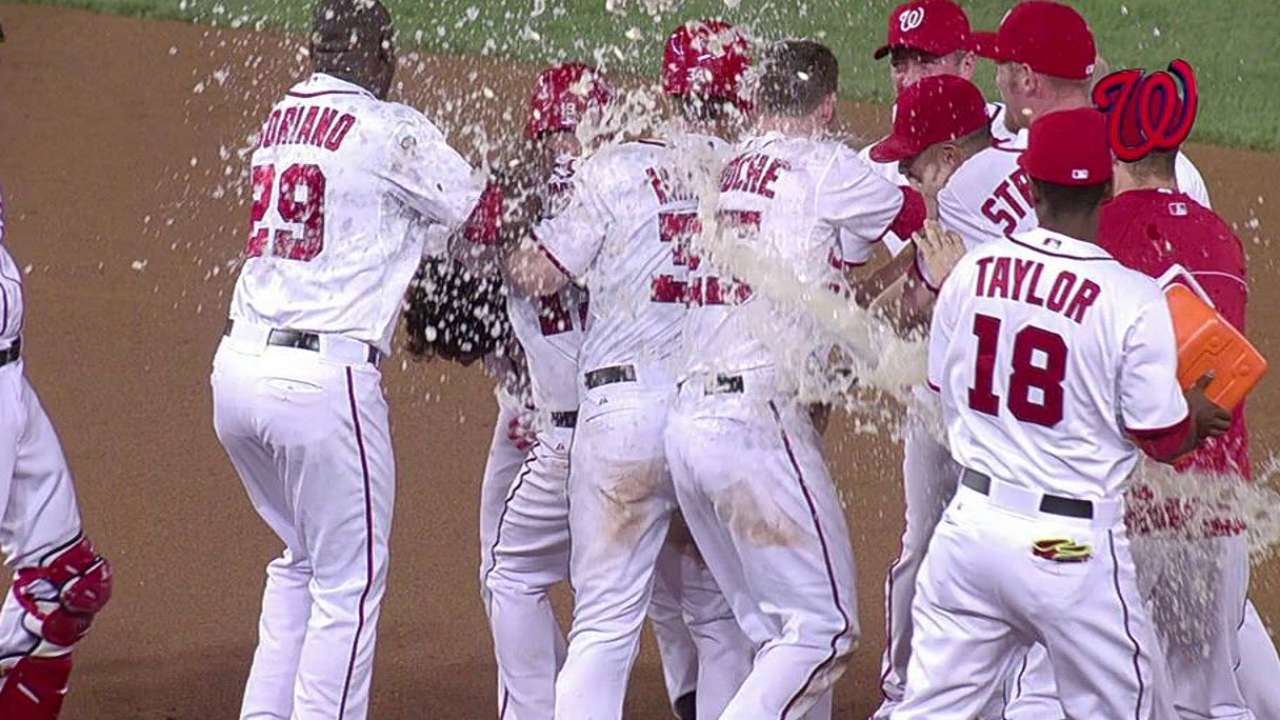 WASHINGTON -- Make it nine victories in a row. Anthony Rendon, who was scheduled to have a day off, came to the plate as a pinch-hitter and singled home the game-winning run in the bottom of the ninth inning to help the Nationals edge the D-backs, 3-2, at Nationals Park on Wednesday night.
It was Washington's fourth walk-off victory in the last five games. The club improved its record to a National League-best 72-53 and is now seven games ahead of the Braves in the NL East. The nine-game winning streak is the second-longest run in Nationals history. The record is 10 straight, set in 2005.
"It's a little stressful," said Rendon. "I have some gray [in my hair] coming in now. But it's good to be on the winning side of these walk-offs. As long as we get a 'W,' it's a good time."
Rendon had played in 62 consecutive games before manager Matt Williams decided to give him the day off and start Kevin Frandsen at third base. Rendon didn't just sit on the bench and watch the game. He remembered the advice he received from teammates and pinch-hitting specialists such as Greg Dobbs and Scott Hairston. They taught him how to be ready in case Williams called on him late in the game.
In fact, Rendon followed Hairston throughout the game. During the game, Rendon took his share of swings in the indoor batting cage.
"It was different, to say the least," Rendon said.
Before Rendon was sent to pinch-hit, Bryce Harper started the inning with a single to center off right-hander Evan Marshall. After Wilson Ramos struck out, Frandsen came to the plate and singled up the middle to put runners on first and third.
Then came Rendon to the plate. The count was 1-0 when Rendon hit a grounder past third baseman Cliff Pennington to drive in the game-winner. Rendon ran past first base, and was then mobbed by his teammates.
"It's a good feeling. We are definitely rolling right now," center fielder Denard Span said. "It was very impressive for Rendon to kind of cut the switch on, having the day off and all of a sudden get thrown in the game and get the big hit for us. He has been doing it all year. So it really doesn't surprise me."
Said Frandsen, "Tony has been so awesome for us. Guys will sing his praises all the time, because he is so level-headed. For him to finally get a day off today, you would never know it. He was out doing everything [before the game]. Coming off the bench is one thing. But there is one thing he was born to do, and that was hit."
Marshall was trying to get Rendon to hit into a double play, but the game came to an end quickly.
"It's definitely a game of inches," Marshall said. "The game plan was to go in there and attack them and try to force a ball on the ground [and get a] double play, or at least get the guy in a rundown. [Rendon] worked his hands inside the ball and kept it fair and just right up the line. Nothing I can do about it."
Right-hander Tanner Roark started the game for Washington and was outstanding, pitching seven shutout innings and allowing five hits. Roark became the fifth pitcher this season -- Adam Wainwright, Felix Hernandez, Clayton Kershaw, Cole Hamels are the others -- with at least 10 starts of seven-plus innings and one or fewer runs allowed.
"I felt good. I felt early on -- the first two innings -- I was nibbling a little bit on my fastball," Roark said. "After that, I started attacking more and being aggressive."
Against Roark, the D-backs had runners in scoring position only twice. With one out in the third inning, Arizona had runners on first and third with one out, but David Peralta flied out to Jayson Werth and Mark Trumbo grounded out to end the threat.
Three innings later, the D-backs had runners on first and third and one out, but Roark induced Miguel Montero to hit into an inning-ending double play.
Washington gave Roark a 1-0 lead in the second inning off right-hander Trevor Cahill. With runners on first and third, Ramos hit into a fielder's choice, but Ian Desmond scored on the play.
Cahill was still on the mound in the sixth when Washington scored its second run of the game. Asdrubal Cabrera scored on a double by Werth.
After Roark left the game, the D-backs tied things up against reliever Tyler Clippard. On a 1-1 pitch, Ender Inciarte hit a two-run homer over the right-field wall to make it a 2-2 game in the eighth.
But the blip from Clippard was forgotten once Rendon was able to get the game-winning hit. Although they increased their lead to seven, the Nationals, by no means, feel the NL East is won.
"It's the middle of August. We have to continue to play good baseball. Obviously, what we are seeing are the Braves are playing good baseball," Frandsen said. "We have to worry about us. Everybody likes being in first place, but it doesn't mean you lay off the gas. You have to keep going. The Braves are not going to give in. The Marlins are not going to give in. People are sleeping on other teams, you can't do that. We have to keep playing good baseball, continue to hit the baseball the way we do, pitch the ball, catch the ball and do all that. Things will work themselves out."
Bill Ladson is a reporter for MLB.com and writes an MLBlog, All Nats All the time. He also could be found on Twitter @WashingNats. This story was not subject to the approval of Major League Baseball or its clubs.