Pineda solid, but Yankees give up ground in loss
Bullpen allows four runs in seventh; club falls five back in Wild Card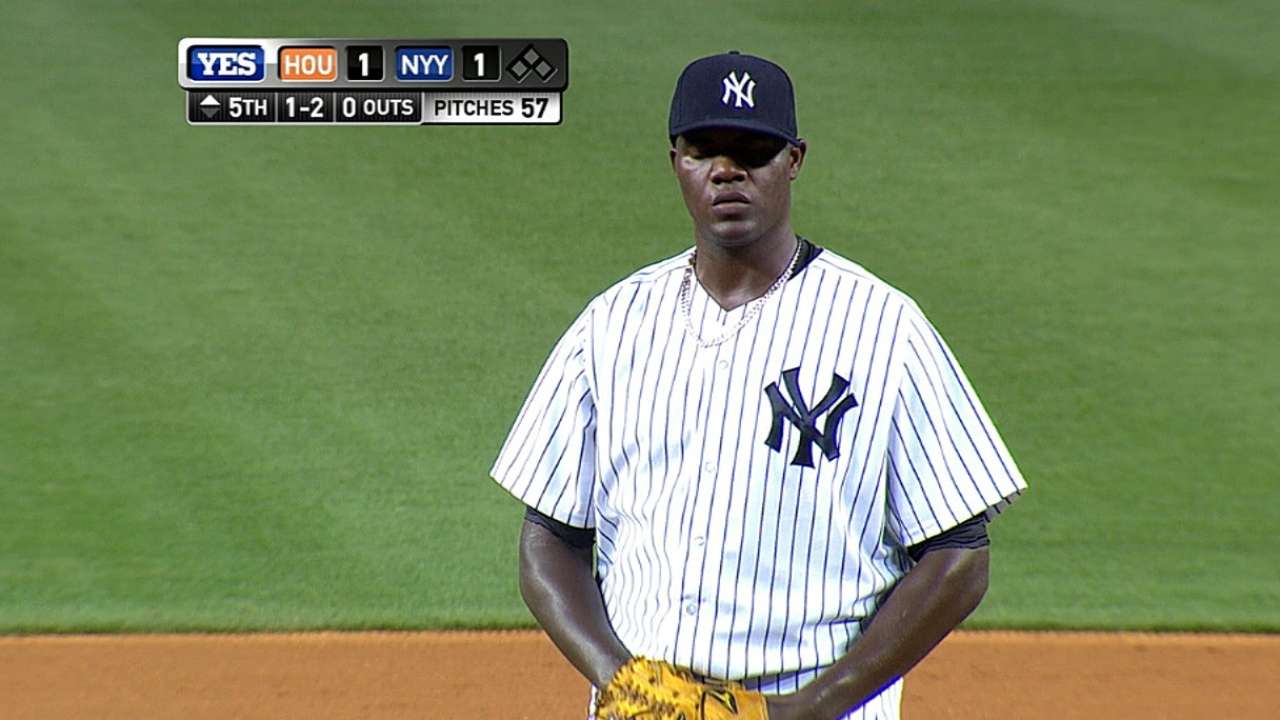 NEW YORK -- There is still talk about keeping the lights burning in the Bronx this October, which remains the Yankees' primary goal. Yet each day peeling off the calendar with a loss makes it more difficult to calculate how that math would add up for the Yankees.
New York's fading postseason hopes were dealt another major blow on Wednesday, as relievers David Huff and Esmil Rogers were knocked around in a four-run seventh inning and the bats couldn't respond in a 5-2 loss to the Astros at Yankee Stadium.
"We've got to find a way to score more than two runs," Yankees manager Joe Girardi said. "It's hard to win when you only score two runs. Our pitching has been pretty good, but that's a tall task."
Houston rapped out five straight hits, all singles, as they batted around to spoil a solid second start back from the disabled list by Michael Pineda, who held the Astros to one run over the first six innings before issuing a walk to start the seventh.
The stress of the offensive drought has had a ripple effect on the Yankees' bullpen, where Girardi had to balance his choices to protect the arms of David Robertson, Dellin Betances and Shawn Kelley, each of whom worked in three of the last four days.
Girardi's first call went to Huff, who recorded a strikeout and then a hit. Rogers then surrendered hits to the next four hitters; Jake Marisnick had an RBI single, Robbie Grossman knocked home two and Jose Altuve collected an RBI single before Rogers escaped.
The Yanks couldn't match that, finishing 1-for-8 with runners in scoring position and leaving 10 men on base en route to their seventh loss in nine games. They haven't scored more than four runs in a game since Aug. 8.
"It is frustrating," catcher Brian McCann said. "You score two, three runs every night, it is definitely frustrating."
New York fell five games behind the Tigers for the second American League Wild Card slot with 38 games remaining.
"The bottom line is, we can't worry about who's in front of us," Girardi said. "If we don't play better, we can't get there. We need to play better, and right now this homestand has not started off the way we want it. But we have the ability to turn it around."
Making his first home start since April 16 and just the third of his Yankees career, Pineda earned a standing ovation as he walked off the field. He was lifted after 89 pitches, as Girardi thought the hurler was showing signs of fatigue.
"I'm feeling good today. I'm very excited today," Pineda said. "I'm feeling good. I had good energy, but I don't have control for this situation. I want to pitch, but they have control."
The right-hander permitted four hits, including Dexter Fowler's fourth-inning RBI double, while walking one and striking out three in a no-decision.
"He was pretty good," Girardi said. "I thought he got a little tired at the end, but that's to be expected. We pushed him a little bit, but I thought he gave us a really good performance."
Houston's Scott Feldman held the Yankees to two runs and eight hits over 6 2/3 innings. Stephen Drew hit his first Yankees home run to tie the game in the fourth inning, clearing the wall into the right-field bullpen.
The Yankees pushed across a run on Jacoby Ellsbury's safety squeeze to secure a lead in the fifth. Ichiro Suzuki singled, stole second and advanced on a groundout before Ellsbury perfectly placed a two-out bunt down the third-base line.
Ellsbury was at the plate representing the tying run in the seventh, following a Brett Gardner walk and a Derek Jeter single that chased Feldman. Ellsbury made bids for two extra-base hits, both foul, before Kevin Chapman struck him out swinging on a slider.
"Chappy comes in, probably the biggest part of the game right there," Feldman said. "He picked me up, leaving a couple guys on base like that. I owe him a dinner or something for that."
Ellsbury got a second crack as Jose Veras wobbled trying to close out the victory, with Gardner and Jeter once again aboard. Ellsbury worked the count to 2-1 before launching a fly ball to right field that settled into Grossman's glove, officially marking another valuable day off the calendar.
"We gave Jacoby a chance to tie it up," Gardner said. "He's one of our best hitters, and we were able to get two men on with two out and give him a chance. It's obviously tough down three runs in the ninth inning, but we did make it interesting. It's good to see that we kept fighting. Every loss is a tough loss."
Bryan Hoch is a reporter for MLB.com. Follow him on Twitter @bryanhoch and read his MLBlog, Bombers Beat. This story was not subject to the approval of Major League Baseball or its clubs.