Porcello blanks Rays as Tigers climb in Wild Card
Right-hander yields just three hits, while V-Mart logs slam, five RBIs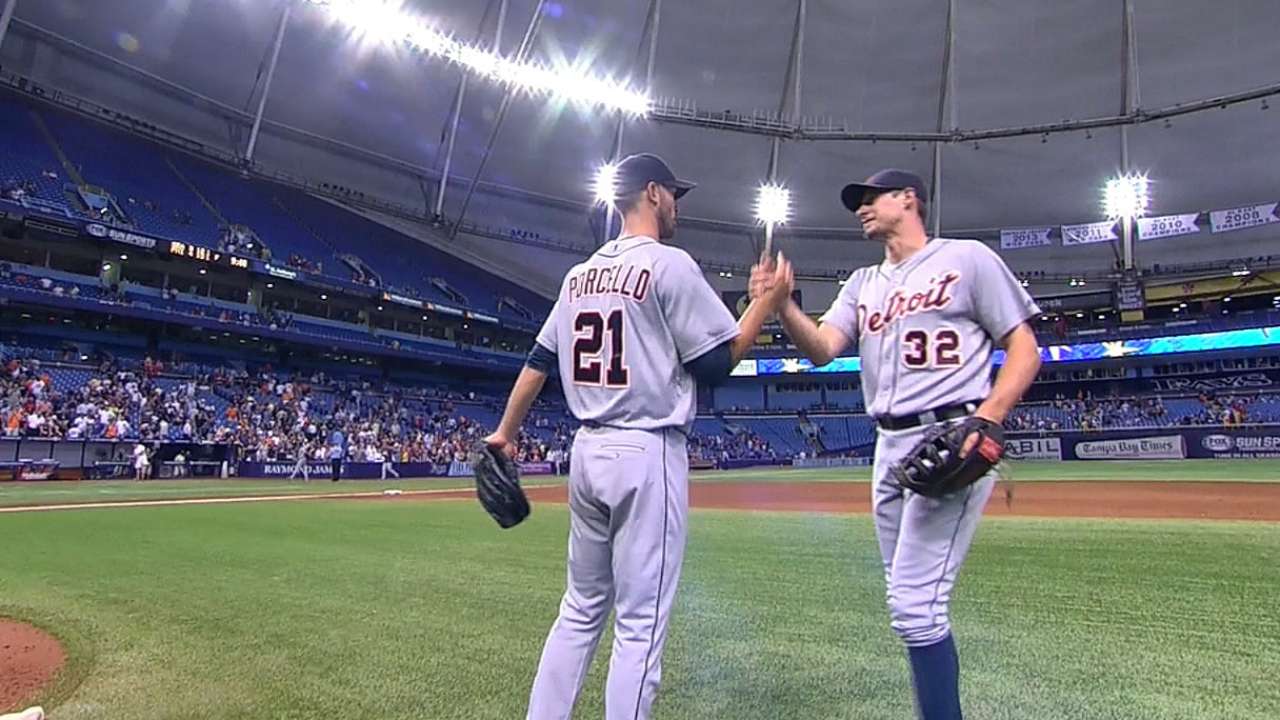 ST. PETERSBURG -- Seven innings into Rick Porcello's three-hit shutout of the Rays on Wednesday night, Tigers bench coach Gene Lamont turned to manager Brad Ausmus with a question for the skipper.
"When did Ben Zobrist get the hit?" Lamont asked.
Ausmus thought about it.
"I think it was the second hitter of the game," he answered.
It was, and that's when Ausmus realized his sinkerballer had retired 20 men in a row -- between Zobrist's double with one out in the first inning and James Loney's single leading off the eighth.
Porcello was superb in Detroit's 6-0 win at Tropicana Field, when, backed by Victor Martinez's seventh-inning grand slam, the right-hander helped clinch the series victory in advance of Thursday's matinee finale.
Detroit also took a one-game lead over Seattle for the American League's second Wild Card spot. In addition, the Tigers trimmed their deficit in the AL Central standings to one game behind the first-place Royals, who lost to the Rockies on Wednesday night.
"Obviously, Rick Porcello was the biggest factor in this game," Ausmus said. "Nine shutout innings -- we literally can't ask for anything more."
The last time Porcello faced the Rays on July 6, he was tagged for seven runs on 11 hits in 5 2/3 innings, allowing home runs to Matt Joyce and Desmond Jennings. This was also a Rays lineup that had rocked reigning AL Cy Young Award winner Max Scherzer for four runs in the first two innings of Tuesday's series opener.
But Porcello ran into no such trouble on Wednesday, finishing off the Rays with ruthless efficiency. He had thrown just 104 pitches when he walked down off the mound after the ninth inning, picking up a hug from catcher Alex Avila.
All Rays manager Joe Maddon could do was look on from his perch on the home dugout railing while Porcello put on his magic act.
"Poof. From the side, it looked like a Wiffle ball," Maddon said. "It's like playing in your backyard and the ball's just doing all kinds of weird things."
Porcello struck out four and walked none in picking up his 14th win and third career shutout -- all this season. He's now tied for the most shutouts in the Major Leagues in 2014.
"There's a stage in most good pitchers' careers where they turn a corner, so maybe we're seeing that with Rick," Ausmus said. "Even when I was in San Diego, he was highly coveted by the front office there, as a young guy who could get ground balls. So maybe this is that proverbial corner that he's turned -- he's certainly done an excellent job this year."
Porcello had the Tampa Bay hitters so off-balance that all four of his K's came on fastballs over the plate that caught the Rays looking.
"We had a couple of guys set up," Porcello said. "The right-handers, we were pounding them in with sinkers. When you throw consecutive pitches on the inner half or in off [the plate] and you get them swinging at it, it makes the outer half of the plate look pretty far away."
While the Rays' offense scuffled, the Tigers managed all six of their runs -- one in the first inning and five in the seventh -- with two outs and none on base. Martinez drove in a season-high five of them.
"Not how you draw it up," Ausmus said. "That's not really how you plan on scoring runs -- with two outs -- but you'll take them."
After two quick strikeouts in the first against Rays starter Jake Odorizzi, Miguel Cabrera bounced a slow infield single up the middle. Martinez followed with a double pulled fair over the first base bag, and when Kevin Kiermaier couldn't pick it up cleanly in the right-field corner, Cabrera scored from first.
In the seventh, Odorizzi again struck out the first two hitters he faced, but Rajai Davis doubled deep to left-center field and Ian Kinsler drove him in with a flared single to center, ending Odorizzi's night. Reliever Kirby Yates allowed a single to Torii Hunter and walked Cabrera before leaving a fastball belt-high over the middle of the plate to Martinez, who blasted it to right field for his fourth career grand slam.
"Those guys are geared up to hit those kinds of pitches, and bottom line is I didn't execute," Yates said. "I knew it was gone as soon as it left my hand."
So, too, was any realistic chance the Rays had to come back in the game. With the way Porcello was dealing, that disappeared along with the baseball.
"The grand slam by Victor was that big hit we've talked about in the past we were looking for," Ausmus said. "And there it was."
David Adler is an associate reporter for MLB.com. This story was not subject to the approval of Major League Baseball or its clubs.