Tigers squander Price's stellar return vs. Rays
Lefty yields one hit, unearned run in gem against former teammates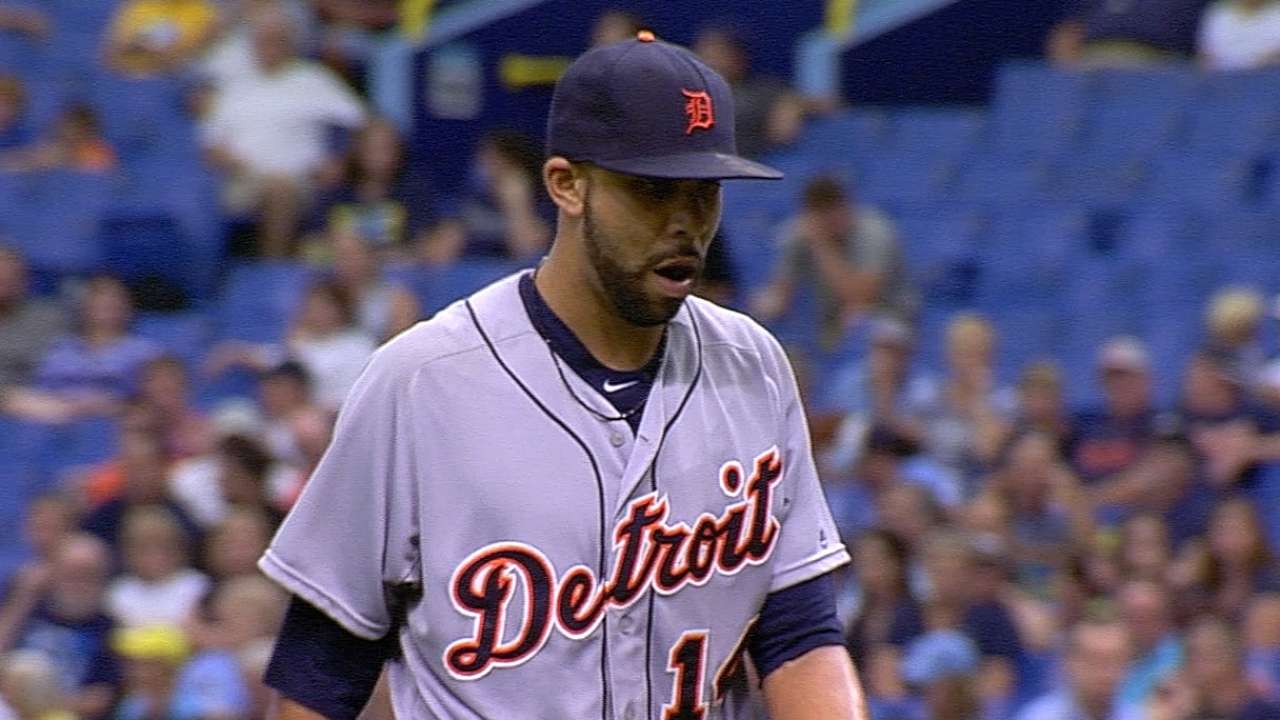 ST. PETERSBURG -- David Price stared down at the Tropicana Field mound in the first inning on Thursday, with Brandon Guyer having just tripled home a run for the Rays, as Evan Longoria stepped into the box against the lefty for the first time.
"Why couldn't Longo have taken a day?" Price thought to himself.
In anticipation of his first start against the Rays since he was sent to the Tigers at the non-waiver Trade Deadline, the left-hander had jokingly suggested that his friend sit the game out. No matter, Price allowed just that one hit and retired the final 23 batters he faced in a 1-0 loss to the Rays.
Longoria, who was in the lineup as he has been for every Rays game this season, looked back at Price, who had been his teammate for seven seasons and all four of Tampa Bay's playoff appearances, and thought, "Don't let him strike me out."
But four pitches later, Price had done exactly that, burning a 94-mph fastball past Longoria for strike three. It was the first of 23 consecutive outs one day after Rick Porcello retired 20 straight Rays.
On Thursday, Price was the ace he has always been, striking out nine in a complete game gem. The one run was unearned, as Ben Zobrist had reached on an error prior to Guyer's RBI hit.
Eighty-five times, Price had toed the rubber at The Trop, going 35-27 with a 2.89 ERA, although it was never as a visitor. Eighty-five times, too, Price had pitched against AL East foes, although the Rays were never one of them.
This one might have been the best of them all. And the Tigers lost.
"I mean, you talk about almost a no-hitter," Detroit right-fielder Torii Hunter said. "I just wish we would have scored some runs. At least one run. It's really frustrating, you know? Of course it was a good game both ways, but -- at least one run? Can't we get one?"
The Tigers did win the series and maintained a half-game lead over the Mariners for the second American League Wild Card spot, while falling to 1 1/2 back of Kansas City in the AL Central race. But the way Price pitched, a loss was almost unthinkable.
It was the first time since at least 1914 that a pitcher has lost a complete-game, one-hit, no-walk start without allowing an earned run.
According to baseball-reference.com, Price is the first pitcher in the Majors to lose a complete-game one-hitter or better with no earned runs since Andy Hawkins lost a no-hitter for the Yankees on July 1, 1990. The only other pitcher to do it in the last 40 years was Texas knuckleballer Charlie Hough on June 16, 1986.
"I guess I could've asked for a perfect game from him," Tigers manager Brad Ausmus joked after the game. "But that's probably stretching it."
Detroit only came away empty-handed because of the corresponding brilliance of Alex Cobb, who matched the big lefty pitch for pitch over seven scoreless innings. The Rays' starter struck out seven batters of his own. Then, Brad Boxberger and Jake McGee, Tampa Bay's 1-2 punch out of the bullpen, shut the game down in the eighth and ninth.
"David was outstanding. Cobb was outstanding, too," Ausmus said. "You could make the argument that David was even a little better, despite the fact that he got the loss. It was a classic pitchers' duel."
The Tigers had their chances in the seventh and eighth, but they couldn't come through with the big hits they'd gotten in the series' first two games.
With one out in the seventh and Cobb nearing the end of his day, Detroit got runners to second and third. But J.D. Martinez struck out against Cobb for the third time, and Nick Castellanos skied out to Desmond Jennings in center for the third out.
In the eighth, the Tigers got the tying run into scoring position against Boxberger on Suarez's double to left, and it appeared like they might tie the score, when Rajai Davis poked a blooper into shallow right field. But Kevin Kiermaier, who had just entered the game as a defensive replacement, made a tremendous diving catch to rob Davis, and Boxberger blew away Ian Kinsler on a 95-mph fastball up and in to end the inning.
And just like that, Price's day was spoiled. But only in terms of the results.
"Honestly, that was something I really never thought I'd have to do -- pitching against these guys in this ballpark, or really pitching against them at any time," Price said. "[But the fans] kept cheering. I kind of had to step off the rubber. That was a good feeling."
David Adler is an associate reporter for MLB.com. This story was not subject to the approval of Major League Baseball or its clubs.