Rays' bats can't stop Tigers from slamming door
Odorizzi logs seven K's in solid start before 'pen allows big homer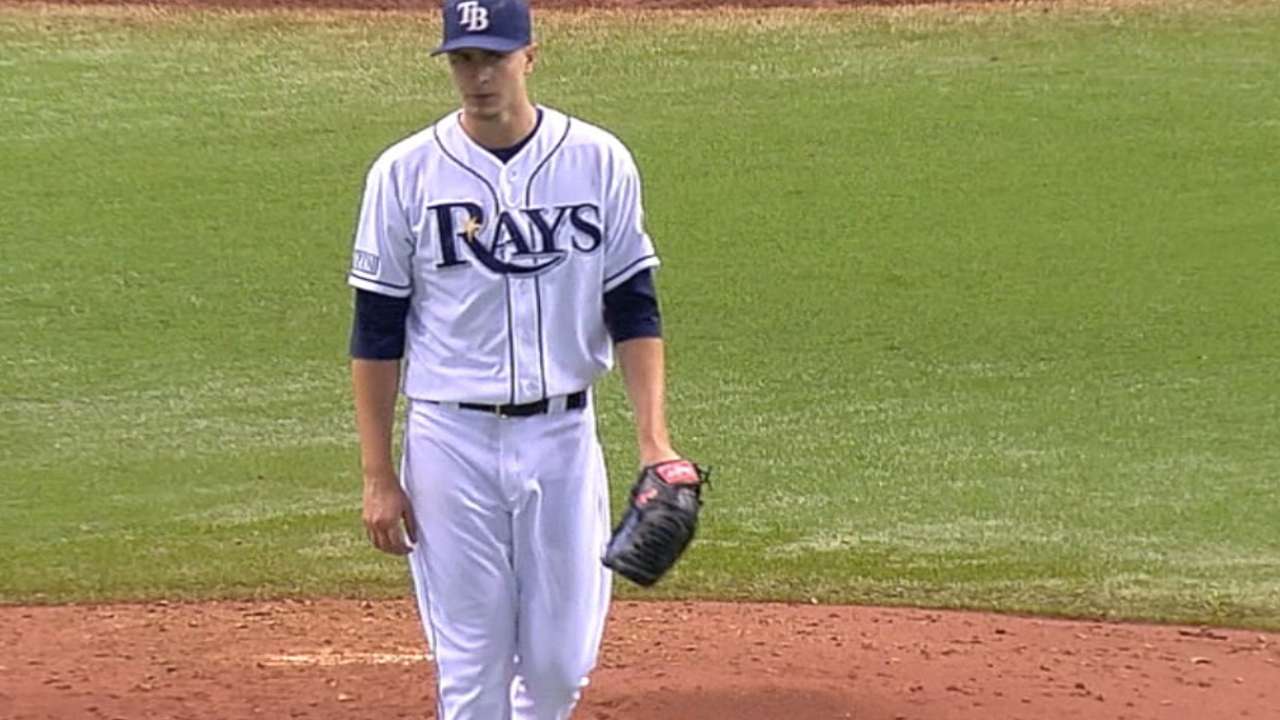 ST. PETERSBURG -- The catwalks cower and Raymond the mascot hides when Victor Martinez walks into Tropicana Field.
That's because the veteran Tigers' slugger digs the home of the Rays.
Entering Wednesday night's contest, Martinez held a .382 batting average with seven home runs and 20 RBIs in 144 career at-bats at the park where he so loves to hit.
An RBI double in the first and a seventh-inning grand slam off Kirby Yates only added to Martinez's Ruthian stature at the Trop. The slam put the game on ice in a 6-0 win over the Rays in a contest that quickly changed from pitchers' duel to rout.
"That was a huge one," Tigers manager Brad Ausmus said of Martinez's hit. "It gives you some breaking room."
Save for the RBI double Rays starter Jake Odorizzi surrendered to Martinez in the first, the game was an exercise in frustration for hitters on both sides while facing Odorizzi and Tigers starter Rick Porcello.
Odorizzi posted five zeros on the scoreboard after the first until a two-out RBI single by Ian Kinsler chased him in the seventh.
The trouble came when Yates took over for Odorizzi. After allowing a single to Torii Hunter, he walked Miguel Cabrera to load the bases and bring Martinez to the plate. Yates got ahead in the count 1-2 before delivering a belt-high fastball that Martinez deposited into the right field stands to put the Tigers up 6-0.
"Tried to throw it up and didn't get it up. And it's about executing pitches and I didn't execute," Yates said. "Great hitter and that's what he does. Especially in a situation like that. ... Bottom line is, I didn't execute."
Rays manager Joe Maddon noted that Martinez "didn't miss it."
"Some guys may have fouled it off, taken it whatever, he didn't miss it," Maddon said. "That why, if you look at his numbers, they're as good as they are."
Yates' outing snapped a streak of seven scoreless appearances.
"I think that Kirby is going to be a really good Major League relief pitcher," Maddon said. "I think retrospectively, if he had the chance to sit down and really analyze what he wanted to do differently, hopefully that moment's going to arrive when he's able to be so self-aware that he can do it in the moment."
Meanwhile, Porcello dominated the Rays in posting a three-hit shutout for his 14th win of the season. At one point, he retired 20 consecutive batters.
"I really had no idea," Porcello said of the 20 straight. "It was a tight game. I just wanted to go back out there and put up zeros."
Ausmus was more to the point: "Porcello was the biggest factor in this game. You literally can't ask for anything more."
In recording his third career shutout -- all of them have come this season -- Porcello showed a different side of himself than what the Rays saw earlier this season. On July 6 at Comerica Park, the Rays jumped him for seven runs on 11 hits.
"Poof," Maddon said. "From the side [Porcello's pitches] looked like a Wiffle ball. It's like playing in your backyard and the ball's just doing all kinds of weird things. He only punched out four guys, but really elicited a lot of weak contact.
"... Incredibly different [than in Detroit]. Total one-eighty. Much more of a strike thrower. Everything going on. In Detroit he wasn't near as comfortable pitching like he was today. He just totally had it going on. He felt it from Jump Street."
The Rays (61-65) have lost four straight while getting shut out for the 15th time this season to lead the American League. In addition, they lost the series to Detroit, which translates to five series losses in their last seven after winning eight of nine.
"Our goal has been to win series," Maddon said. "We don't have a chance to do that right now. But to at least get one of three and move it along, and we're going to play Toronto and Baltimore on the road, where we seem to be playing better right now. So it will be kind of nice to leave town under those circumstances."
Bill Chastain is a reporter for MLB.com. This story was not subject to the approval of Major League Baseball or its clubs.