Paxton takes first loss as Mariners fall in Philly
Throwing error leads to three unearned runs in lefty's shortest start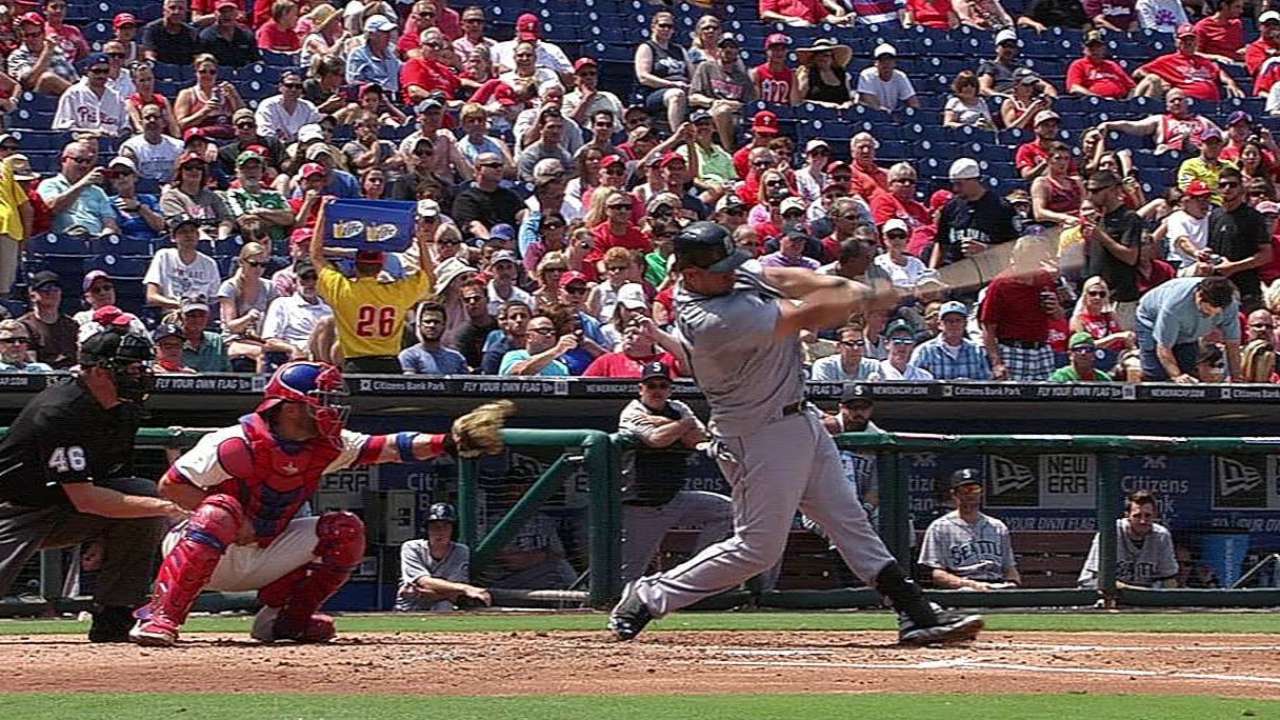 PHILADELPHIA -- There haven't been a lot of stubbed toes by the Mariners this season. Not many clunker games where a lot of things just don't seem to go right.
But that didn't take any of the sting away from a 4-3 loss to the Phillies on Wednesday when Seattle gave up three unearned runs following a costly throwing error by James Paxton, allowed one run to score on a passed ball, blew a suicide-squeeze attempt that took the wind out of a big inning and stranded 10 baserunners on a day they racked up 12 hits.
"It still hurts," said Logan Morrison, who went 2-for-4 with an RBI double and made a couple of nice catches out in right field at Citizens Bank Park. "We needed this game, just like we need every game. We get an off-day to forget about it and go out and get Boston. But when the opportunity is there, you have to take advantage of it, and we didn't do that today."
The loss dropped Seattle to 68-58 and a full game back of the Tigers in the race for the American League's second Wild Card spot after Detroit topped the Rays, 6-0, Wednesday night at Tampa Bay. The Mariners have still won 13 of their last 19 and are 3-3 on their current road trip, which resumes Friday at Fenway Park after a travel day.
But it's coming to the point in late August where every game looms large. Thus the Mariners were kicking themselves for booting a game and losing a series to the 56-71 Phillies.
"We know where we're at in the race," Morrison said. "Good teams don't do that. Playoff teams don't do that. We have to come out and be better. And we have been. And we will."
For his part, manager Lloyd McClendon wasn't ready to put too much weight on one poorly played game in a stretch where the Mariners have put themselves in position to contend for their first postseason berth since 2001.
"To be honest, we've been pretty darn good," McClendon said. "That's the first one we've had all year like that where a lot of things just didn't go right. Knock on wood, we'll be OK."
Paxton endured the first loss of his career as he lasted just four innings, allowing four runs on seven hits with two walks and a wild pitch in a rough outing that required 88 pitches. Three of the rookie left-hander's runs were unearned, but only because of his own two-base throwing error in a three-run third after he scrambled to fetch a hard line drive that caromed off his foot and then fired over the head of first baseman Kendrys Morales.
"They were finding holes and I probably could have executed pitches a little better," Paxton said. "I need to battle and I did. It came down to me having to make that throw to first base. That cost us. That can't happen."
The 25-year-old Canadian was making his 10th career start over the past two years, but just his fourth since coming off the 60-day disabled list following early-season shoulder problems. Paxton is now 3-1 with a 2.20 ERA in six starts this season, and 6-1 with a 1.91 ERA in his brief big league tenure.
Zach Duke is the only Major League pitcher to debut as a starter since 1990 with a lower ERA in his first 10 outings, as he posted a 1.81 mark in that span for the Pirates in 2005.
Paxton's error put runners on second and third, and both crossed the plate, first on a passed ball and then an infield groundout by Ben Revere to tie the game at 3 before Chase Utley blooped an RBI single to right to give Philly the lead.
McClendon replaced Paxton the following inning, with the four frames the shortest start of his young career.
"I thought he was really making some pretty good pitches, they just put some pretty good at-bats on him and got that pitch count up," McClendon said. "But things got away from him in the one inning where he threw the ball away and then crossed the catcher up. That cost us a couple runs. But those things happen. That's part of the growing pains."
The passed ball came when Paxton said he didn't see the correct number of fingers catcher Jesus Sucre put down. But it was that kind of game for the Mariners, who seemingly had Cole Hamels on the ropes as well, but couldn't quite deliver the knockout blow as the veteran got through five innings and held on for the win despite allowing nine hits with a walk and two wild pitches of his own.
Morales ripped a solo shot to dead center leading off the second to give Seattle a 1-0 lead. It was the third homer for Morales in his last seven games after he'd hit just one in his first 55 contests with the Twins and Mariners.
After his belated start, Morales appears to be heating up, as he went 2-for-4 with a walk and has batted .360 (9-for-25) over his past seven games to raise his season average to .229.
"He's starting to come around," McClendon said. "That's big for us."
The Mariners added two more runs in an adventurous fourth inning to take a 3-1 lead. After a Kyle Seager walk and Chris Denorfia single, Morrison drove in a run with a double to left-center. With runners on second and third, Denorfia broke for home on a suicide squeeze, but Sucre missed the sign and didn't attempt the bunt, leaving Denorfia caught in a rundown for the first out of the inning.
Sucre then followed with a single to right and Morrison wound up scoring from third on a wild pitch, but that turned out to be Seattle's final run of the game.
Greg Johns is a reporter for MLB.com. Follow him on Twitter @GregJohnsMLB as well as his Mariners Musings blog. This story was not subject to the approval of Major League Baseball or its clubs.