Phils bullpen steals show in finale vs. Mariners
Diekman, Giles, Papelbon preserve victory for shaky Hamels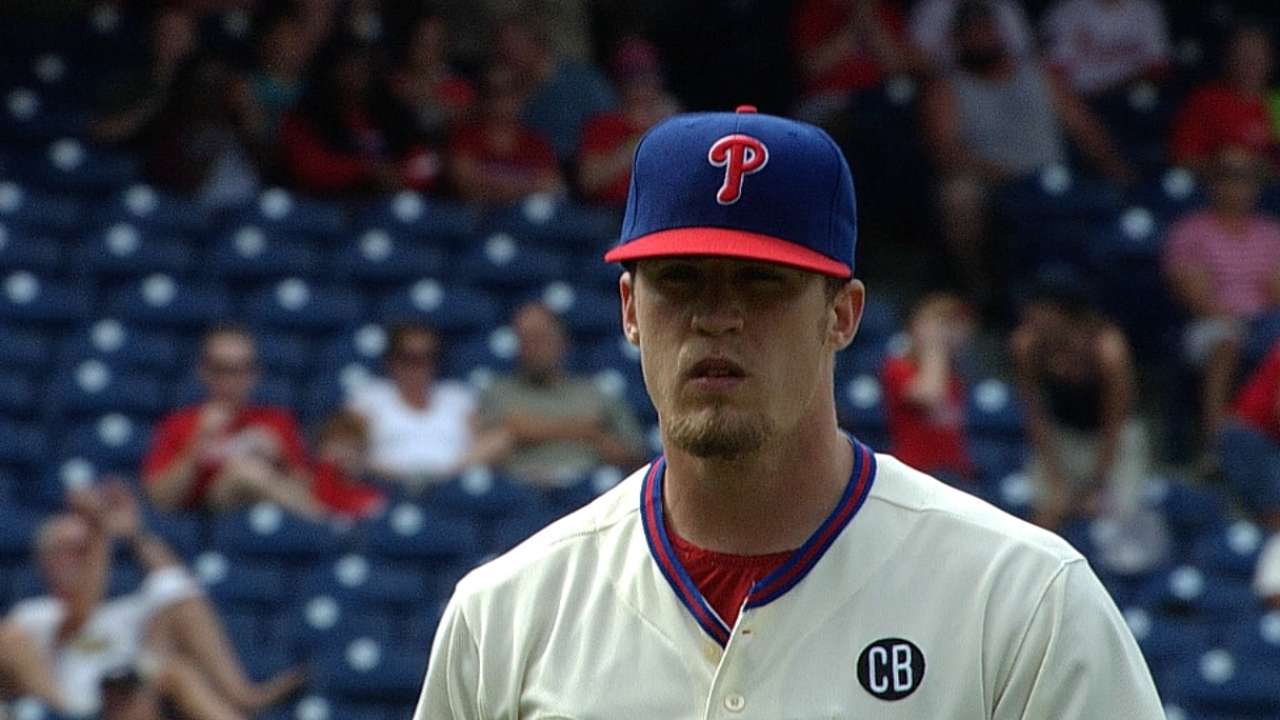 PHILADELPHIA -- The multiple mound meetings were one indicator. The two wild pitches were another. All the signs clearly denoted that Cole Hamels' start against the Mariners was unlike his past eight outings. Fortunately for the Phillies' ace, the bullpen was there to pick him up.
Before Mo'ne Davis mania hit Philly on Wednesday night, the Phillies slipped by the Mariners, 4-3, in the afternoon, but it didn't pan out as the anticipated pitchers' duel at Citizens Bank Park.
Hamels, who entered the game riding a season-high eight consecutive quality starts -- during which he had posted a 1.56 ERA -- saw the run come to an end against Seattle, as he lasted just five innings and surrendered three earned runs.
"When I was able to locate it, I was getting foul balls or check swings. When I left balls up, that's when they were hammering them," Hamels said. "When you're able to locate and get ahead early, you're putting yourself in a tight spot where any pitch you miss with they're hammering and putting it in play. The pitches had to be located better, and they weren't."
Hamels' counterpart, James Paxton, picked up his first career loss after allowing four runs (one earned) in four innings. Paxton entered the game with a 1.88 ERA through his first nine Major League starts.
"I probably could've executed pitches a little bit better," Paxton said. "But they were finding holes with ground balls, a couple bloopers in there, but that's baseball."
Hamels' wasn't his sharpest in the first three innings, but a solo blast by Kendrys Morales in the second represented the only damage inflicted by Seattle. Marlon Byrd's 72nd RBI of the season tied the game at 1 in the third, but the Mariners finally got to Hamels in the following inning.
A Kyle Seager walk and Chris Denorfia single to start the fourth set the table, with Logan Morrison plating Seager on an RBI double after an Andres Blanco throwing error allowed Seager to advance to third. Hamels' fourth wild pitch of the season then led to another run as Seattle took a 3-1 lead.
"It doesn't matter if you get to Cole early or late, whenever you get to him, it's a good thing," Morrison said.
But the Phillies struck right back in the bottom half of the frame, scoring three runs in a similar fashion. Blanco hit a comebacker to Paxton, and the ball ricocheted off the pitcher's left ankle. Paxton airmailed the ensuing throw to first base to put two runners in scoring position. A passed ball allowed Wil Nieves to score to make it 3-2, and a Ben Revere groundout brought home the tying run. Chase Utley then threw his bat at an offering from Paxton for a bloop single that gave the Phillies a 4-3 lead.
"To be honest with you, we've been pretty darn good," Mariners manager Lloyd McClendon said. "That's the first one we've had all year like that. A lot of things just didn't go right. Knock on wood, it's OK."
The Philly bullpen then took over from there, with Jake Diekman, Ken Giles and Jonathan Papelbon combining for four shutout innings and nine strikeouts.
"Extremely important role for us three," Giles said. "To get the lead and if our starters can battle -- no matter how they do it -- we have to try and get our starters the win."
"It's just nice to know when you're not able to go deep into the ballgame that you know guys are going to be able to get the job done," Hamels said.
After getting the call to join the big league club in June, Giles has struck out 44 batters in his first 29 1/3 innings in the Majors. Hamels even referred to the 23-year-old as a "Brad Lidge in the making."
"He's the only guy that comes to mind that threw hard and had an incredible slider. And I think Ken Giles throws a little harder than Brad, which makes his slider more dramatic and devastating to hitters," Hamels said. "He's the type of guy who's going to be a closer for a long time."
In his last eight appearances covering 8 1/3 innings, Giles hasn't allowed a run.
"Right now, I have tons of confidence in myself," Giles said.
Having a mentor like Jonathan Papelbon -- who picked up his 30th save of 2014 on Wednesday after not reaching 30 for the first time in his career last season -- has gone a long way in helping with that.
"I think it all starts with Pap. It all goes with the confidence he has on that mound," Giles said.
Despite not having his best stuff, Hamels improved his record to 7-6 to claim sole possession of the team lead in wins.
"He was due for a win like this, with not his best stuff and his teammates picking him up, because he pitched outstanding on a long roll of games," Phillies manager Ryne Sandberg said. "Some of them, without the run support and not a lot to show for it with the record. But he was due for one like today."
Erik Bacharach is an associate reporter for MLB.com. This story was not subject to the approval of Major League Baseball or its clubs.