Avisail finds power stroke in loss to Orioles
Outfielder hits two-run homer, drives in three; Noesi gives up three HRs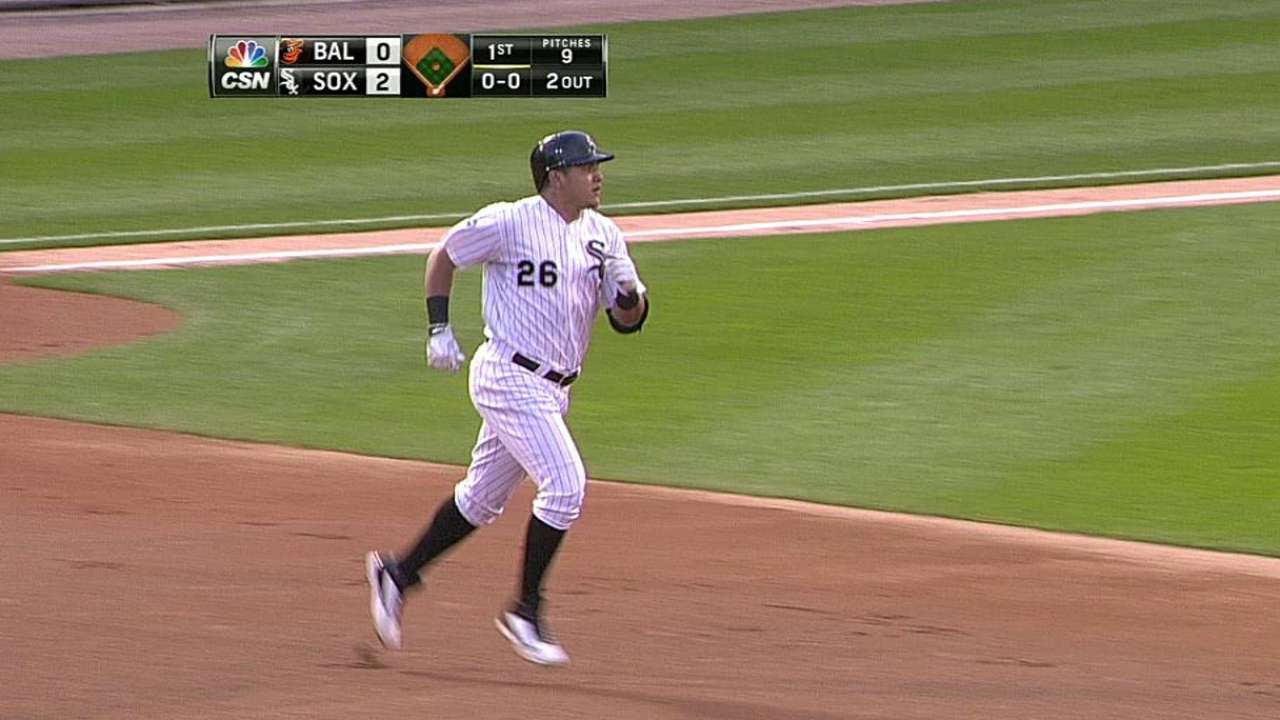 CHICAGO -- Avisail Garcia feels great.
Those four words stand as the most important piece of information to come from the White Sox 4-3 loss to the Orioles (73-52) on Wednesday night at U.S. Cellular Field, completing Baltimore's three-game sweep of the South Siders and dropping the White Sox (59-68) to a season-worst nine games under .500.
Garcia showed off that great feeling in the first inning against Baltimore starter Wei-Yin Chen (13-4) with a two-run blast to left, following a two-out single by Jose Abreu. Garcia added a sacrifice fly in the sixth to drive in all three of the White Sox runs.
Over the five games Garcia has played since returning from injury rehab (left shoulder) with Triple-A Charlotte, Garcia has five hits and six RBIs. His homer was his first since April 8, when he hit two among four hits in Colorado.
"As we see him go along, we're going to like what we see," said White Sox manager Robin Ventura. "People are going to like what they see. He's a good young player and it's nice to have him back."
"Last night, I didn't feel very good, but we've been working hard in the cage," Garcia said. "The hitting coach [Todd Steverson] told me a couple things, so I put it in the game so that's why you see the work today."
Not only did the White Sox lose the game against the Orioles to finish their six-game homestand 2-4, but they lost the battle of home runs, 3-1. That final total pretty much dictated the final score.
The 2-0 lead created by Garcia's line shot covering 337 feet lasted until the fourth when baseball's top team in homers went to work against Hector Noesi (7-9). Steve Pearce opened the frame with his 13th, and following an Adam Jones single, Nelson Cruz launched his Major League-leading 33rd to left for a 3-2 advantage in the matter of five pitches.
Jones' 402-foot opposite-field solo shot to right in the sixth increased the lead to 4-2. Noesi was on his game through the first three innings, allowing one hit and striking out five. The right-hander finished with eight strikeouts, no walks and the four runs on seven hits over seven innings, regretting two of the three pitches that resulted in the baseball clearing the fences.
"Just two pitches I missed because there was one where [Pearce] hit the first pitch and that doesn't matter to me," said Noesi, who threw 74 of his 111 pitches for strikes. "When you leave pitches up, they're going to get you. When you miss a pitch, you miss the location, they go for it."
Chen exited after 7 1/3 innings, with Alexei Ramirez on second and Alejandro De Aza on first following back-to-back eighth inning singles. Abreu and Garcia had a chance to be game-changers against right-handed reliever Darren O'Day.
O'Day and his 0.95 ERA, .045 average against in August and .169 average overall against right-handed hitters had other ideas. He fanned Abreu swinging on four pitches, using an 81-mph slider to knock him down. The at-bat against Garcia became a little bit more of a battle, going six pitches.
After getting ahead 2-0, Garcia swung through two sliders. He fouled off a third slider and then chased an elevated 89-mph fastball for the third out.
"I fight every at-bat, try to do my best for the team," Garcia said. "But [O'Day] is pretty amazing. He throws the ball really good, especially the slider because you see it in and he goes away. He made very good pitches."
"You get a guy, a sidewinder like that, it's a tough at-bat for those guys," Ventura said. "We had opportunities. Even early on, Paulie had a [leadoff] double [in the fifth] and we weren't able to get him in. So we had some spots where we could have tied it up and didn't get the big hit."
There was a running, sliding catch made by Garcia on J.J. Hardy's pop fly down the right-field line, which was important because it showed off Garcia's mobility, and he went feet first instead of using the dive that originally got him hurt on April 9. Wednesday's performance could become more of the norm for Garcia than the exception as he moves through the rest of the season.
"I'm glad he's somebody else's problem," said Baltimore manager Buck Showalter of Garcia. "They're going to be a good club to be reckoned with. They're in their process and they've got the pieces there when they get everybody healthy, so you just feel fortunate to catch them on a little different side of the season and get out of here."
Scott Merkin is a reporter for MLB.com. Read his blog, Merk's Works, and follow him on Twitter @scottmerkin. This story was not subject to the approval of Major League Baseball or its clubs.