Marlins' late rally can't make up for early struggles
Ozuna, Salty go deep in ninth; Eovaldi allows five runs over five frames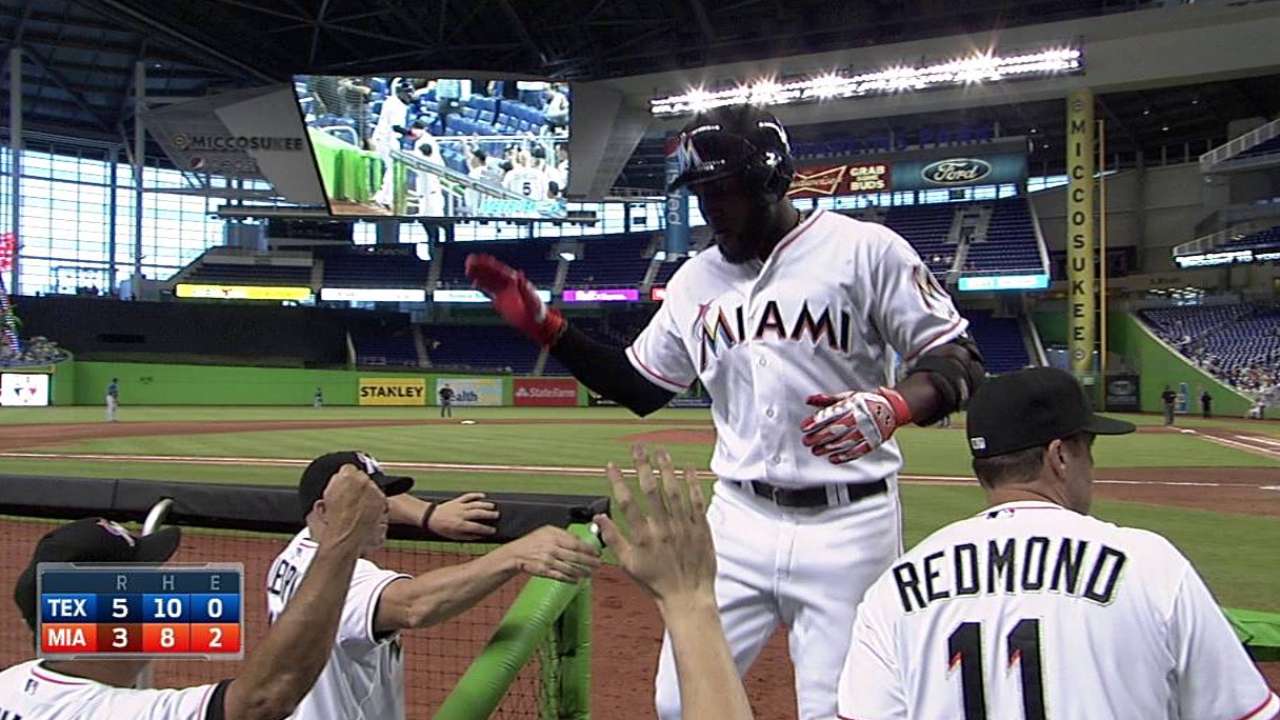 MIAMI -- The opportunity to rise two games over .500 for the first time since June 17 escaped the Marlins on Wednesday, as they dropped the series finale to the Rangers, 5-4, at Marlins Park.
They came close to ending up on the other side of that outcome, though. As has become the custom, they put together a dramatic ninth inning in which Marcell Ozuna and Jarrod Saltalamacchia hit two solo homers off Rangers closer Neftali Feliz.
The rally just fell short this time.
"We can't wait until the ninth inning every game," Giancarlo Stanton said. "... We're not afraid to make it interesting, I'll tell you that. That's kind of the way the season has been going."
But the early hole in which starter Nathan Eovaldi put his team kept the momentum away from Miami for most of the game. Eovaldi lasted just five innings after giving up nine hits, five runs (four earned) and one walk on 81 pitches.
Despite getting two quick outs to start the game, Eovaldi allowed four straight hits in the first, including a double from J.P. Arencibia that bounced off the wall in left field and brought in Alex Rios.
On the relay home, shortstop Adeiny Hechavarria couldn't corral Christian Yelich's throw. The error gave Adrian Beltre just enough time to score the second run of the inning. A third run came in before Eovaldi could get out of the jam with his 28th pitch of the frame.
"We've talked about with Nate big innings," manager Mike Redmond said. "He's had big innings and they've cost us. Had we gotten through those innings earlier with some zeros, we could've won that game.
"It's just a matter of as he continues to mature as a pitcher and figure it all out, is just limiting that inning. It just seems to be that one inning. That's unfortunately part of the learning process."
Eovaldi's inability to locate his fastball carried into the second. After allowing a leadoff single, he recorded two outs, but let the fourth batter get away on a seven-pitch walk.
Rios took advantage of Eovaldi's erraticism and blooped a two-run double to shallow right field at a spot down the first-base line that Stanton couldn't get to fast enough. He tried to slide in an attempt to catch the ball before it hit the ground, but it skipped into his glove instead.
"It's a tough play, but you've got to make those if you're going to continue to win games and close games like that," Stanton said.
Although the defense let Eovaldi down a few times, the offense didn't do much to pick him up either. Down by five at the end of the second inning, the Marlins couldn't find a way to get to Texas starter Nick Martinez, who struck out seven Marlins in six innings.
They tried to break through with one out in the third inning. Eovaldi snuck a single under the glove of second basemen Rougned Odor. Then Yelich hit a ball so sharply up the middle that it deflected off Martinez's glove and into right field, allowing Eovaldi to reach third.
But Eovaldi was stranded after Donovan Solano couldn't hit a fly ball deep enough to score him, and Stanton struck out to end the inning.
The Marlins did get to Martinez in the fourth, but that rally was also short-lived. Garrett Jones scored on a double into the left-field corner off the bat of Ozuna, who's had a few big hits during the Marlins' homestand. He moved to third on Hechavarria's ground ball to short, which set him up to come in on a wild pitch. Jeff Mathis, however, struck out looking for the last out.
The Marlins left seven men on base and were 0-for-6 with runners in scoring position.
"At the end of the day, we fought back," Redmond said. "The bullpen came in and gave us a shot, and we were able to climb back in it. One more big hit away from tying that ballgame up, or maybe even winning it."
Maria Torres is an associate reporter for MLB.com. This story was not subject to the approval of Major League Baseball or its clubs.