Martinez's happy homecoming spurs Rangers in finale
After working into ninth-inning jam, Feliz comes through for big save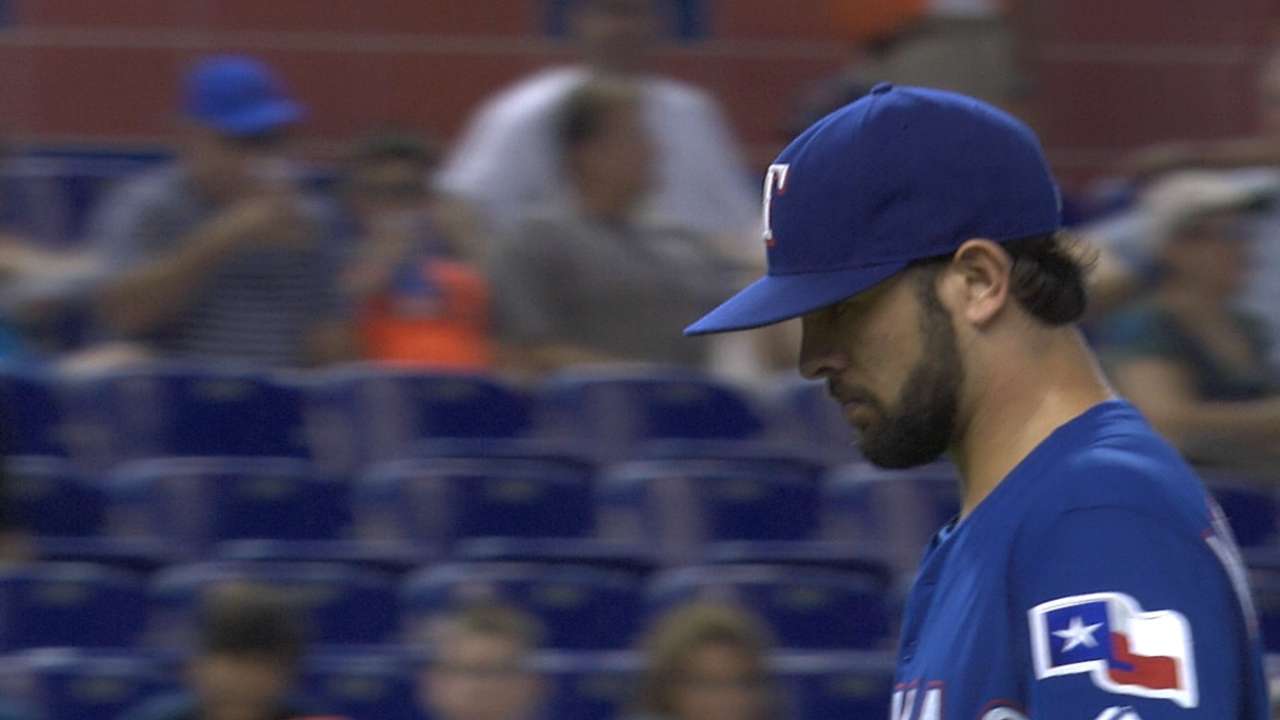 MIAMI -- Rangers manager Ron Washington went to the mound with two outs in the ninth inning for one reason.
He was going to take closer Neftali Feliz out of the game. Feliz had given up two home runs in the inning to Marcell Ozuna and Jarrod Saltalamacchia, and he had issued a two-out walk to Christian Yelich.
The Rangers' lead was down to 5-4, Donovan Solano was at the plate and Giancarlo Stanton was on deck. A tremendous effort by starter Nick Martinez in front of his hometown friends and family was in danger of going to waste. Washington had seen enough.
Washington was ready to take the ball away from Feliz with the game on the line. He had Scott Baker ready to come in.
"I told him that was I was about to take him out," Washington said. "He said, 'Let me have one more hitter.' He said it like he meant it, so I have him one more."
Feliz responded to the challenge by striking out Solano and preserving the 5-4 victory on Wednesday afternoon at Marlins Park.
"I told him I wanted to finish the ballgame -- have confidence to let me finish the game," Feliz said. "It was my game. I put myself in that position. I wanted the opportunity to get out of it."
Feliz did so by adding a couple of extra ticks on his fastball. He started the inning at 92-94 mph and finished it at 95-96.
"I was trying to throw strikes," Feliz said. "I was not worried about how hard I was throwing. I just felt I needed to step up and let loose, and I did."
Feliz ended up with his fifth save since getting his old job back as the Rangers' closer. He was once the closer when they went to the World Series in 2010-11. Then he had Tommy John elbow reconstruction surgery in '12, and he is still trying to work his way back. If he is to be Texas' future closer, he needs more moments of fire like he showed on Wednesday.
"He needed to do that," shortstop Elvis Andrus said. "He needs to get in those situations. He was out of the league for a year; it's not easy to come back and see the old Feliz. I'm glad he's healthy. If he keeps pitching, he'll be better every day."
Feliz allowed Martinez to enjoy his homecoming in front of about 100 loud friends and family members sitting behind the Rangers dugout. They were into it from the moment that Martinez, sitting with a 3-0 lead, struck out Yelich to start the first and Stanton to end it.
Martinez, given a 5-0 lead after just two Rangers at-bats, ended up earning his third Major League win by holding the Marlins to two runs in six innings. The rookie right-hander allowed six hits, two walks and struck out seven while improving his record to 3-9 with a 5.13 ERA. He is 2-3 with a 5.18 ERA since the All-Star break.
"It was great," Martinez said. "It was very special, getting to pitch where it all started. That was cool and to come out on top, it was a great day for everybody."
Martinez was especially tough on Stanton, striking him out twice. The second one came in the third inning on three straight pitches with runners at the corners. The Marlins were hitless in six at-bats with runners in scoring position.
"He had a good breaking ball and a good changeup and spotted his fastball really well early," Washington said. "I liked the way he attacked hitters and used all his stuff. He's a calm kid, he always looks calm. That's why he's still here."
Martinez was the first of three rookie pitchers used by the Rangers on Wednesday. Jon Edwards pitched a scoreless seventh and Roman Mendez set down the side in order in the eighth.
That left the ninth for Feliz to protect a 5-2 lead. He got ahead 1-2 on Ozuna, but then left a changeup over the plate and it ended up in the left-field seats for a home run. Adeiny Hechavarria grounded out, but Jarrod Saltalamacchia crushed a 1-2 slider over the right-field wall to make it a one-run game.
"I just made mistakes," Feliz said. "The changeup stayed right down the middle and the slider to Salty was up."
Feliz struck out Jeff Baker, but he then walked Yelich. That's when Washington went to the mound with the intention of pulling Feliz, only to be talked out of it. Feliz went after Solano with five straight fastballs, finally getting him to swing and miss to end it.
"He hung a couple of pitches, that was it," catcher Geovany Soto said. "After the mound visit, you could feel the poise and you could feel the intensity in his eyes and his demeanor, the way he went after the next hitter."
That's something the Rangers want to see every time out.
"After I went off the mound, we saw something we haven't seen before," Washington said. "It let him know it's still in there. We saw 96 a couple of times. It's in there, it's a matter of trusting his arm and letting it do."
After Solano went down, Feliz danced off the mound pumping his fist. He knew it was an important moment.
"Of course it was important," Feliz said. "That's my job to close games. When I get the chance, I want them to have confidence in me in those situations."
T.R. Sullivan is a reporter for MLB.com. Read his blog, Postcards from Elysian Fields, and follow him on Twitter @Sullivan_Ranger This story was not subject to the approval of Major League Baseball or its clubs.