MLB's top athletes display world-class talent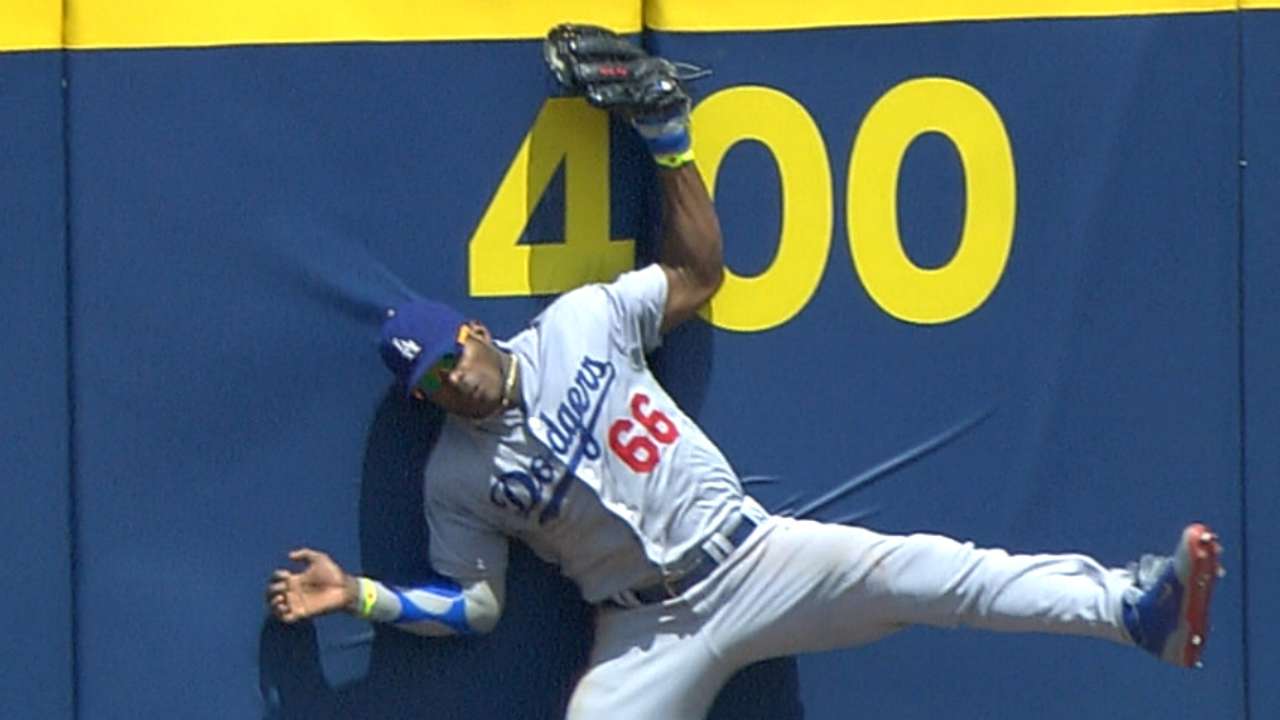 It's tough to define "great athlete." We think we know how to identify the qualifying traits, but we also know we can be surprised. We knew, for example, that on his way to the Hall of Fame, Dave Winfield could hit a baseball harder than most, glide with little effort on his 6-foot-6 frame, and throw out runners with a powerful arm. We might not have known that he was drafted not only by Major League Baseball but also by the NFL and the NBA.
We also knew that Bo Jackson was a once-in-a-lifetime specimen because he already had a Heisman Trophy in his living room before he blew baseball fans' minds with 500-foot home runs and 300-foot outfield assists.
So who are the best all-around athletes in baseball today? It's pretty subjective and open for extensive social media debate, we're sure. But here are 10 of the leading contenders:
Yasiel Puig, OF, Dodgers: If he didn't grow up in baseball-crazy Cuba, the 6-foot-3, 235-pound Los Angeles phenom might have been a linebacker in the NFL or one of the stronger point guards in NBA history. We'll never know, but at least we can watch all five of Puig's baseball tools on display in the best league in the world.
Jeff Samardzija, RHP, A's: Samardzija emerged as a star wide receiver at Notre Dame in 2005, and he was projected to be a first-round pick in the NFL Draft. He took his name out of that mix, though, deciding that he'd rather pitch in the big leagues. Samardzija has become a top-flight starter and now finds himself on a postseason-contending team in the thick of a pennant race. Not a bad decision, it seems.
Mike Trout, OF, Angels: Trout is considered by many to be the best all-around player in baseball, and he just turned 23. Watching him fly around the basepaths, gallop in center field and leap over walls to rob homers, one wonders how the 6-foot-2, 230-pound tank of a man would have fared in other pro sports.
Billy Hamilton, OF, Reds: If Hamilton isn't the fastest player in the Major Leagues, he's awfully close. Hamilton has such impressive speed that it wouldn't be surprising to imagine him as an Olympic hurdler or sprinter, potentially passing the baton to a teammate in a relay race on the way to a gold medal.
Andrew McCutchen, OF, Pirates: McCutchen was a three-sport star in high school in Fort Meade, Fla., playing baseball and football and running track, and it's likely that he would have excelled in any of those sports at the college level if he hadn't been selected with the 11th overall pick in the First-Year Player Draft by Pittsburgh in 2005.
Chris Young, RHP, Mariners: This selection might seem a bit odd until you realize that Young, the likely American League Comeback Player of the Year Award winner who is excelling for Seattle after years of devastating shoulder problems, is 6-foot-10 and was a star college basketball player for Princeton, winning the Ivy League Rookie of the Year Award in 1999.
Tim Lincecum, RHP, Giants: And this selection might seem a bit odd until you realize that Lincecum has won two National League Cy Young Awards, two World Series rings and thrown two no-hitters, despite being listed generously at 5-foot-10 and 170 pounds. He might not have that 99 mph heat anymore, but Lincecum is still finding ways to get big league hitters out, and that's an athletic feat in itself.
Giancarlo Stanton, Marlins: This selection isn't odd at all. Stanton, who is now well-known for how he crushes baseballs with his bat, could very easily have been channeling his raw strength and athleticism at high levels in other sports. Stanton had scholarship offers for football from UCLA and UNLV before being drafted into MLB.
Andrelton Simmons, SS, Braves: Simmons, who has incredible range and throws with firmness and accuracy honed by pitching (and reaching 98 mph), is considered one of baseball's best defensive players. If things had broken differently, though, Simmons might have stuck with soccer, which he excelled at while growing up in Curacao. Then Simmons could have been playing for the Netherlands in World Cup preparation instead of winning a NL Gold Glove Award in Atlanta last season. Either way, the world wins.
Jose Altuve, 2B, Astros: Altuve has a similar skill set to 2007 AL Rookie of the Year Award winner and 2008 AL MVP Award winner Dustin Pedroia of the Red Sox, which means they're both little guys who are athletic enough to succeed in what's usually a bigger man's game. Altuve is just younger and, this season in particular, better.
Others: Stephen Strasburg, RHP, Nationals; Clayton Kershaw, LHP, Dodgers; Dee Gordon, 2B, Dodgers; Carl Crawford, OF, Dodgers; Justin Morneau, 1B, Rockies; Carlos Gonzalez, OF, Rockies; Troy Tulowitzki, SS, Rockies; Pedroia, 2B, Red Sox; Gregory Polanco, OF, Pirates; Jason Heyward, OF, Braves; Justin Upton, OF, Braves; Peter Bourjos, OF, Cardinals; Bryce Harper, OF, Nationals; Yoenis Cespedes, OF, Red Sox.
Doug Miller is a reporter for MLB.com. Follow him on Twitter @DougMillerMLB. This story was not subject to the approval of Major League Baseball or its clubs.