Pipeline preview: Frisco, San Antonio set for battle
Gallo, Hedges lead talented Double-A squads in Texas League matchup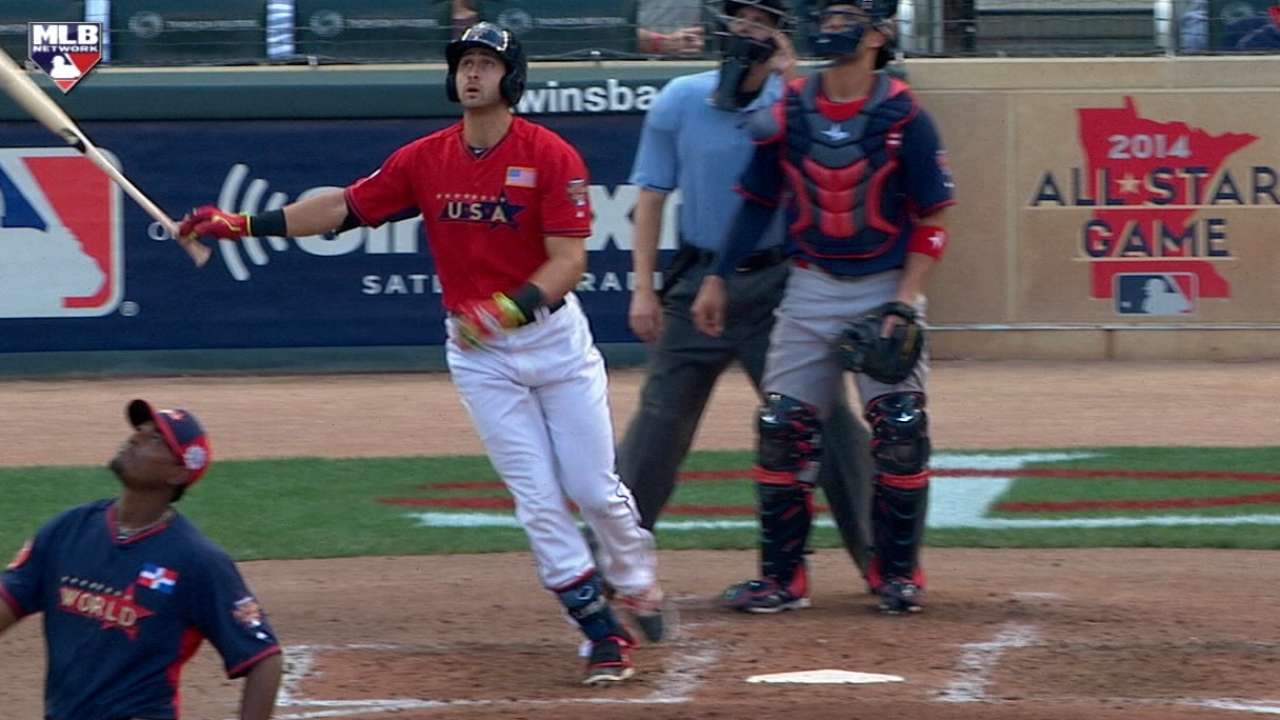 As the Minor League season enters the stretch run, the top prospects of the Rangers' and Padres' organizations have gathered in the Texas League. A combined five position players ranked on MLBPipeline.com's Top 100 Prospects list can be found on the rosters of Double-A Frisco and San Antonio, including Rangers' No. 1 prospect Joey Gallo and Padres' No. 1 prospect Austin Hedges.
This week, San Antonio is visiting Frisco for the last time this season in a four-game series. After the RoughRiders took the first game Tuesday night, the Missions will look to even the series when it continues Wednesday at 8:05 p.m. ET. The game can be seen on MiLB.TV.
Gallo, No. 8 on the Top 100, is the highest-ranked prospect in the series. Gallo is nearing the end of his quest to repeat as Minor League home run champion. After leading the Minor Leagues with 40 home runs last season, Gallo has already matched that total this year and is tied atop the leaderboard with Cubs' No. 1 prospect Kris Bryant.
Gallo began the season with Class A Advanced Myrtle Beach and earned a promotion in June. Since joining the RoughRiders, Gallo is hitting .249/.340/.562 with 19 home runs in 58 games. Gallo ranks second in the Texas League in home runs, one behind Corpus Christi first baseman Telvin Nash.
Like Gallo, catcher Jorge Alfaro and outfielders Nick Williams and Nomar Mazara all began the season with Myrtle Beach. The Rangers' Nos. 2, 4 and 10 prospects all earned promotions of their own to Frisco in recent weeks. Alfaro, No. 33 on the Top 100, has found early success, hitting .294/.379/.510 with three home runs in 12 games with the RoughRiders. Williams, No. 87 on the Top 100, is the most recent arrival and made his Double-A debut on Saturday.
San Antonio features catcher Austin Hedges, No. 25 on the Top 100. While the 22-year-old has struggled at the plate this season, hitting .233/.272/.337 with six home runs in 104 games, scouts consider Hedges to be the best defensive catcher in the Minor Leagues. Hedges has thrown out 40 percent of would-be basestealers this season.
Joining Hedges in the Missions' lineup is outfielder Hunter Renfroe, No. 74 on the Top 100. The Padres' first-round pick in the 2013 First-Year Player Draft, Renfroe began his season with Class A Advanced Lake Elsinore. Since joining San Antonio for the second half, Renfroe is hitting .227/.292/.347 with four home runs in 47 games.
Wednesday's Minor League schedule is also highlighted by several pitchers who are ranked in the Top 100, including Taijuan Walker (No. 7), Jon Gray (No. 14), Robert Stephenson (No. 20), Alex Meyer (No. 30), Mark Appel (No. 44), A.J. Cole (No. 59) and Lucas Sims (No. 66). Fans can watch Walker, Gray, Stephenson, Meyer, Appel and Cole on MiLB.TV, beginning with Stephenson and Double-A Pensacola visiting Jacksonville at 6:05 p.m. ET.
Sims, the Braves' No. 2 prospect, is set to start for Class A Advanced Lynchburg in a doubleheader against Potomac beginning at 6:05 p.m. ET. After enduring a rough stretch in June and early July, Sims has pitched much better in the past month. The 20-year-old has made seven straight quality starts, posting a 2.56 ERA with 40 strikeouts and 11 walks in 45 2/3 innings during the streak. Potomac is led by second baseman Tony Renda, the Nationals' No. 18 prospect, who enters the day hitting .302/.371/.372 with 17 stolen bases in 94 games.
Top prospect probables
Cody Anderson (Indians' No. 11), Akron vs. Altoona
Appel (Astros' No. 2), Corpus Christi at Midland
Dylan Baker (Indians' No. 15), Carolina vs. Frederick
Chris Beck (White Sox No. 11), Charlotte at Gwinnett
Cole (Nationals' No. 2), Syracuse at Scranton/Wilkes-Barre
Zach Eflin (Padres' No. 10), Lake Elsinore vs. Stockton
Grayson Garvin (Rays' No. 19), Montgomery vs. Tennessee
Stephen Gonsalves (Twins' No. 15), Cedar Rapids vs. Quad Cities
Severino Gonzalez (Phillies' No. 7), Reading at Bowie
Gray (Rockies' No. 1), Tulsa at Arkansas
Grant Holmes (Dodgers' No. 4), Ogden vs. Orem
Mike Kickham (Giants' No. 19), Fresno at Nashville
Branden Kline (Orioles' No. 9), Frederick at Carolina
Austin Kubitza (Tigers' No. 6), West Michigan vs. Lansing
Matt Magill (Dodgers' No. 20), Albuquerque at Colorado Springs
Meyer (Twins' No. 4), Rochester at Buffalo
Bryan Mitchell (Yankees' No. 20), Scranton/Wilkes-Barre vs. Syracuse
Justin Nicolino (Marlins' No. 4), Jacksonville vs. Pensacola
Ariel Pena (Brewers' No. 20), Nashville vs. Fresno
Nick Petree (Cardinals' No. 18), Palm Beach vs. Jupiter
Nick Pivetta (Nationals' No. 19), Hagerstown vs. Greensboro
Cody Reed (D-backs' No. 19), Missoula at Billings
Felipe Rivero (Nationals' No. 17), Harrisburg vs. Portland
Adrian Sampson (Pirates' No. 19), Indianapolis vs. Louisville
Sims (Braves' No. 2), Lynchburg vs. Potomac
Stephenson (Reds' No. 1), Pensacola at Jacksonville
Nick Traviieso (Reds' No. 7), Dayton at South Bend
Walker (Mariners' No. 1), Tacoma vs. Omaha
Trevor Williams (Marlins' No. 6), Jupiter at Palm Beach
Gabriel Ynoa (Mets' No. 12), Binghamton at Erie
Teddy Cahill is a reporter for MLB.com. Follow him on Twitter at @tedcahill. This story was not subject to the approval of Major League Baseball or its clubs.