Dodgers nip slide behind Crawford's big night
Left fielder goes 3-for-3 with HR; Turner adds two RBI doubles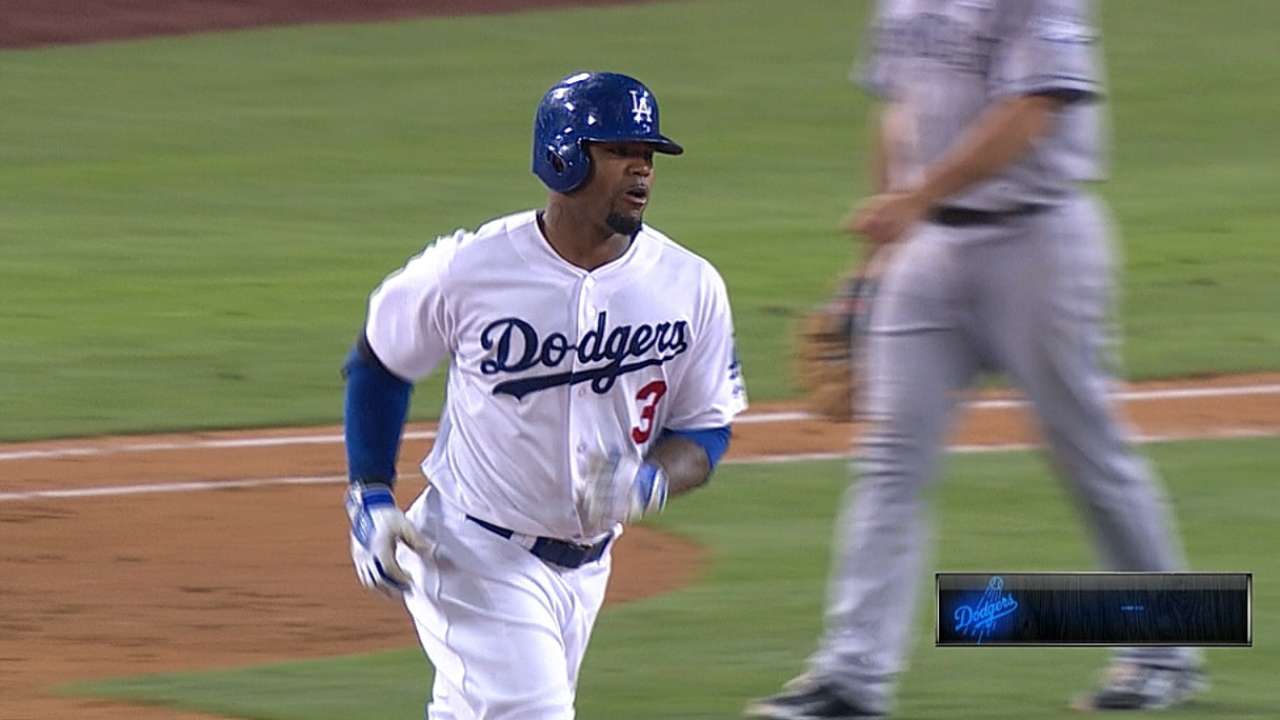 LOS ANGELES -- Carl Crawford, homerless since May 23, homers. Kevin Correia, a 13-game loser with Minnesota, remains unbeaten as a Dodger. Erisbel Arruebarrena, his Albuquerque playing time limited by drama, starts at shortstop in the big leagues.
The next thing you know, Yasiel Puig hits a cutoff man to win a game.
That happened too on Tuesday night, as the Dodgers avoided their first four-game losing streak of the year, rallying from down three runs for a wild 8-6 win over the mistake-riddled Padres.
Crawford homered with a pair of singles, three RBIs, three runs scored, a walk and a stolen base.
"We had a team meeting before the game and talked about losing three straight and getting back on track," said Crawford. "We were able to execute and come back to win."
Fill-in third baseman Justin Turner had a pair of RBI doubles, one coming in a three-run fourth inning when the Padres played more like the club that fell out of the race in the first half than one of the hottest teams in baseball they've been since.
Matt Kemp also had two doubles and Arruebarrena had an RBI single and walk starting at shortstop the same day he was recalled from Triple-A.
San Diego County resident Correia earned the decision against one of his former teams, striking out six but charged with four runs and lasting only five innings. It took the Dodgers four innings to overcome Jedd Gyorko's three-run homer in the first inning.
"Obviously, not the way I wanted to start," said Correia. "I was making pretty close pitches and not getting the calls and I fell behind and that led to the first-inning scoring. But I have a lot of confidence our team can score runs."
Relievers Jamey Wright, J.P. Howell, Brandon League and Kenley Jansen ate up the final four innings.
Jansen got save No. 35, but it wasn't pretty as he allowed three baserunners, one run and needed a replay to uphold a game-ending call on the last of San Diego's many mistakes.
With two outs and the Dodgers up by two runs, Gyorko singled to center. Abraham Almonte, running from second base, was held after rounding third. Dodgers first baseman Adrian Gonzalez cut off Puig's throw from center field and fired to third base, where Miguel Rojas slapped the tag on Almonte's back as he dived back to the bag. Third-base umpire Bill Miller, behind Rojas, called Almonte out and, after review, the call stood.
The Dodgers beat noted antagonist Ian Kennedy, and are 6-1 in games started by Kennedy over the last two years. They also are 8-3 this year against San Diego, this being the first of nine Dodgers-Padres games in the next 20 games.
"From Kemp all the way to A.J. Ellis, the No. 8 hitter, I wasn't able to put them away," said Kennedy. "I didn't make my pitches. It was a little frustrating ... our guys put up some runs early."
The Dodgers cut into the 3-0 deficit in the second with a one-out single by Crawford, an RBI double by Turner just out of the reach of left fielder Smith and an RBI single by Arruebarrena, who was injured, then suspended for triggering a brawl, then injured again since last seen in the big leagues. Arruebarrena also showed defense, making a very difficult play from the hole on an Alexi Amarista grounder look ridiculously easy.
In the wacky bottom of the fourth, after a double by Kemp and a walk to Crawford, Turner sent a liner to center field that grazed off the glove of Almonte. With Kemp holding up until he saw the ball fall and Crawford on his heels, Kemp was sent home and might have been out, except first baseman Jake Goebbert cut off Amarista's throw as Crawford held at third, and the game was tied at 3-3.
Arruebarrena walked to load the bases and Ellis gave the Dodgers a 4-3 lead with a sacrifice fly that scored Crawford. Correia's bunt was fielded by Goebbert, who threw wildly past third base as Turner scored (overcoming obstruction by third baseman Yangervis Solarte), Arruebarrena taking third and Correia second.
Correia wasn't able to shut down the Padres in the fifth, as they scrambled for a two-out run on consecutive singles from Solarte, Almonte and Smith. But with runners on the corners, Correia struck out Gyorko.
The Dodgers replied with a double by Kemp, who ran through coach Lorenzo Bundy's stop sign to score on Crawford's RBI single. Crawford's two-run homer in the seventh was his first since May 23. He's hitting .420 since Aug. 4.
Ken Gurnick is a reporter for MLB.com. This story was not subject to the approval of Major League Baseball or its clubs.