After Gyorko's loud start, Padres' rally clipped
Almonte collects four hits but gets cut down at third for final out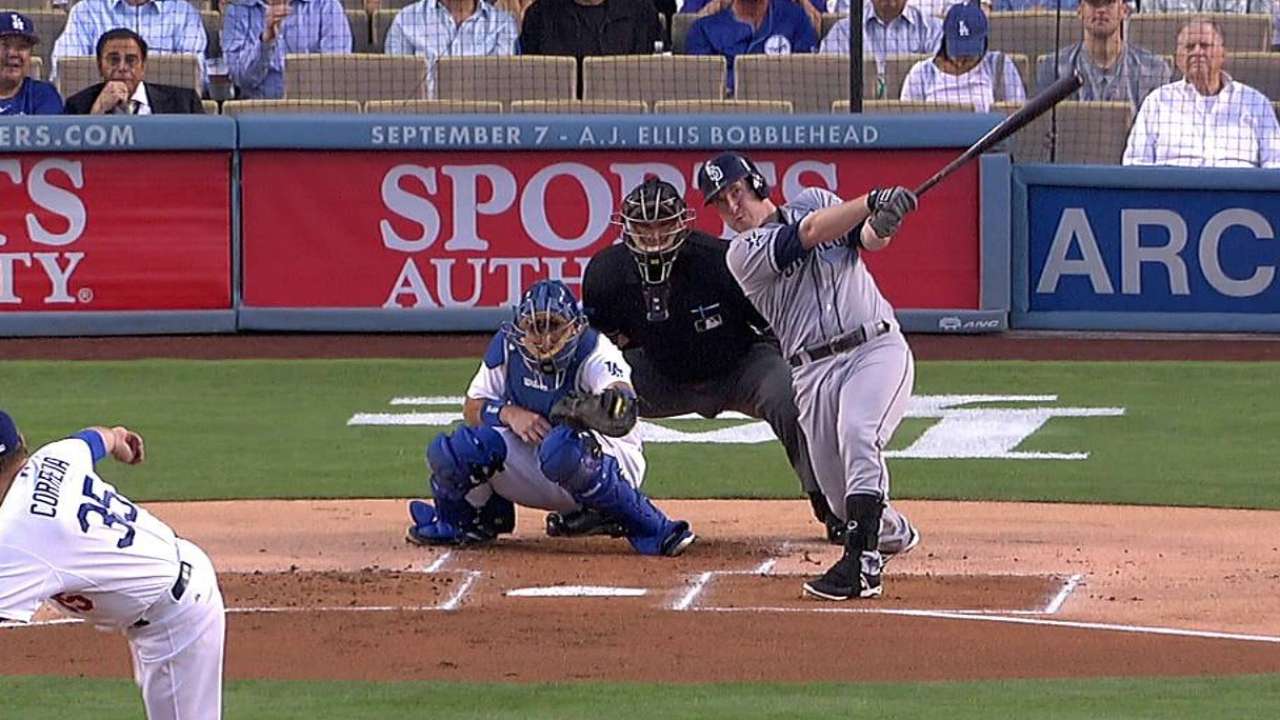 LOS ANGELES -- For a team that has been buried by its share of poor starts this season, the Padres struck a big blow against the norm on Tuesday night at Dodger Stadium.
A double and a walk set the stage for Jedd Gyorko to jump on a belt-high fastball from Kevin Correia, as he drove it over the wall in center field for a three-run home run and a rare, first-inning lead.
But any substantive moments of bliss -- along with that early lead -- dissipated quickly.
The Dodgers came back and jumped on Ian Kennedy, taking advantage of some defensive miscues, and a fitful finish, for an 8-6 victory in front of a crowd of 45,459 in the first game of a three-game series.
The Padres, who have dropped three of the first four games on this 10-game road trip, have now scored 21 runs over their last three games but have lost two of them.
They had 14 hits against the Dodgers on Tuesday and were still swinging at the end, scoring a run in the ninth inning and looking like they were hungry for more, when Gyorko singled into center field, allowing Abraham Almonte -- who had a career-high four hits -- to get to third base.
Only Almonte put on the brakes a little too late and was thrown out as he tried to get back to the bag as center fielder Yasiel Puig 's throw home was cut off by Adrian Gonzalez, who threw to third base. A crew-chief replay confirmed the call and the game ended.
"He plays an aggressive style of baseball, as we've seen," Padres manager Bud Black said. "That play worked out for Puig."
Just about everything did for the Dodgers (71-56), who were able to overcome Gyorko's early home run, rolling up eight runs of their own while taking advantage of two defensive miscues and a couple of other plays that won't officially show up in the box score.
"The mistakes came back to hurt us," Black said. "A couple of ill-advised walks, a couple of misplays, both in the outfield and infield."
Kennedy (9-11) allowed six runs (five earned) on seven hits in five innings. He walked two and struck out five. The five earned runs were the most he's allowed in a start since allowing five on June 10 against the Phillies.
After the Dodgers cut the lead to 3-2 with two runs in the second inning, they took a 5-3 lead with three runs in the fourth as Justin Turner had his second run-scoring double. There were the two walks in the inning that didn't help and a throwing error by first baseman Jake Goebbert, too.
"From [Matt] Kemp all the way to [A.J.] Ellis, the No. 8 hitter, I wasn't able to put them away," Kennedy said. "I didn't make my pitches. I felt really good in the bullpen. My breaking ball felt good, but I left the curveball up to Turner [on a second-inning double].
"It was a little frustrating ... our guys put up some runs early."
The Padres, who entered the game having been outscored 71-42 in the first inning of games this season, got an Almonte double with one out and a Seth Smith walk to bring up Gyorko. He got into a 2-1 fastball from Kevin Correia (2-0), the former Padres pitcher.
For Gyorko, it was his ninth home run of the season and his fourth in 20 games since missing 44 games with plantar fasciitis of his left foot.
"It's a sign we're swinging the bats better in the second half," Black said. "The frustrating part for us and Ian was we couldn't make it hold up."
Carl Crawford reached base four times Tuesday, had a home run and knocked in three runs for the Dodgers, who are 8-3 against the Padres this season.
The Padres got an RBI single from Smith in the eighth inning to make it 8-5 and Yasmani Grandal 's RBI double in the ninth inning cut the lead to 8-6. Almonte reached on a bunt single and advanced on a throwing error and scooted to third base on Gyorko's single.
He admitted afterward that he was surprised that Puig -- never shy about showing off his arm -- actually hit the cutoff man in Gonzalez with his thrown, which led to the final out of the game.
"I saw it a little late [stop sign from third-base coach Glenn Hoffman] ... it was a close play," Almonte said. "It's a little tough to say if I was safe. But they were playing back, [not allowing] no doubles. I didn't think they'd make that play."
Corey Brock is a reporter for MLB.com. Keep track of @FollowThePadres on Twitter. This story was not subject to the approval of Major League Baseball or its clubs.