Blue Jays offense has quiet night in Milwaukee
Bats manage two hits, Happ struggles as rough road trip continues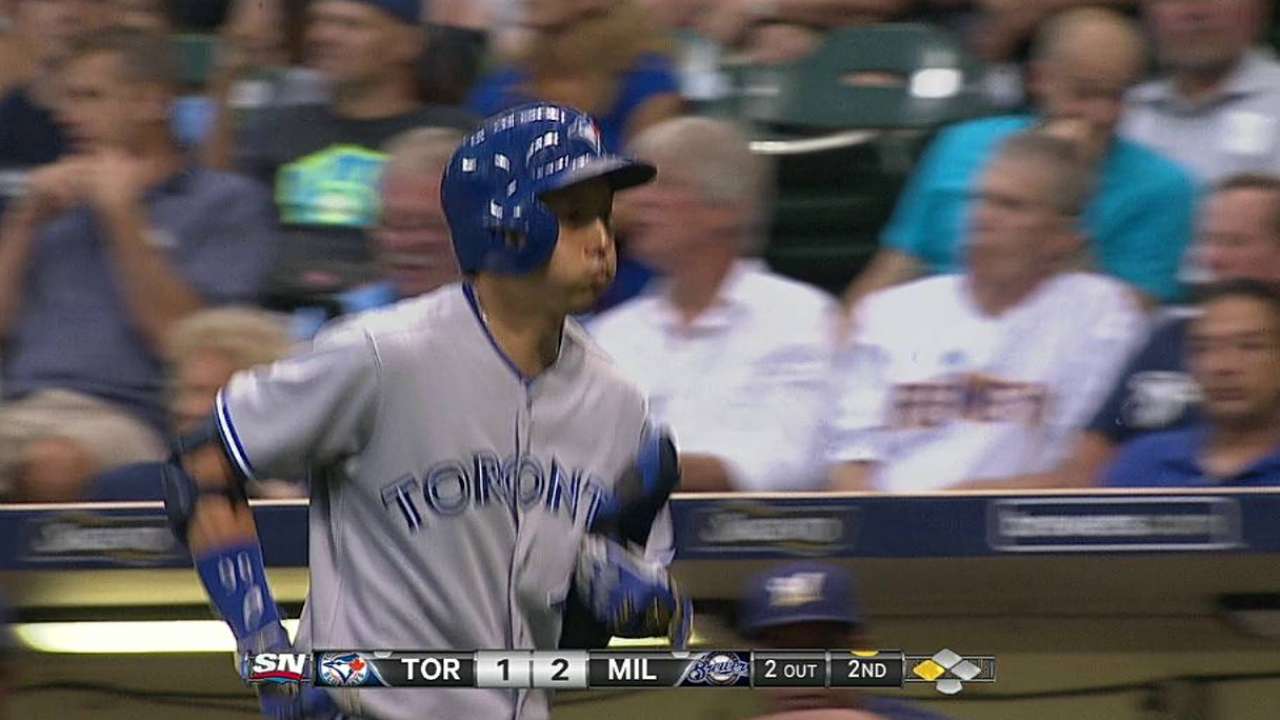 MILWAUKEE -- Superstitious types tend to believe that all bad things come in threes. The Blue Jays probably don't put a lot of stock into that theory, but their play on the field would dictate otherwise.
It was a three-city road trip before the All-Star break that sent the Blue Jays reeling out of a Wild Card spot. Now it's another three-city road trip that could knock the Blue Jays out of contention altogether.
Left-hander J.A. Happ couldn't pitch his way out of the fourth inning while his offense went missing in action as the Blue Jays dropped to 1-6 on this current road trip with a 6-1 loss to the Brewers on Tuesday night at Miller Park.
"It's tough, when you have a two-hit game and you score one run, it's going to be tough," Blue Jays shortstop Jose Reyes said. "This late into the season, we're not allowed to lose too many games, it's almost September. We're falling behind in the standings and that's not going to be good for us if we want to play in October."
October seemed like a foregone conclusion back in June when the club had a 6 1/2 game lead in the American League East. That seems like ancient history these days as the Blue Jays have turned into a shell of their former selves.
Even with the return of Edwin Encarnacion and Adam Lind from the disabled list the offense has all but dried up. Toronto has scored 48 runs in 16 games for an even 3.0 average. The pitching has been inconsistent but it's the lack of production in the everyday lineup that has been the main cause behind a 4-12 record in August.
While the Blue Jays continue to struggle, the rest of the AL is starting to pull away. Toronto finds itself a distant nine games back of the AL East-leading Orioles and is tied with Cleveland for fourth in the race for the second Wild Card spot. Seattle and Detroit share the top spot -- 4 1/2 games up of Toronto -- with the Yankees in third at four games back.
It's not impossible, but it's becoming increasingly unlikely with each passing day that the Blue Jays will be able to end their more than two-decades-long drought of October baseball.
"I don't know," Happ said when asked what's happened with his team. "We gotta ... I don't know, just find a way. It starts with pitching. It started with me tonight. We got outplayed and it started with me, I guess. In a hole behind early and that's tough against anybody, let alone a first-place team. Everybody's gotta do their part and I came up short tonight."
Happ has been one of Toronto's best pitchers since the All-Star break but he was hit hard early and often by the Brewers. He allowed three doubles in the first and an additional two in the third en route to a pair of two-run innings.
Even when the Brewers recorded an out it usually came on a hard-hit fly ball. With Happ not really fooling anyone at the plate, manager John Gibbons tried to make a preemptive strike by going to his bullpen with one out in the fourth inning, but that did little to hamper Milwaukee.
Right-hander Todd Redmond allowed an additional two doubles to lead off the fifth inning. By that point, all but one of Milwaukee's eight hits were doubles as the club jumped out to a commanding 6-1 lead. The seven doubles were three short of the franchise-worst mark, which was set vs. the Yankees on April 12, 1988.
"I can't remember the last game I was involved with where I saw that many hard-hit balls all night long," Gibbons said. "It was loud ... It's tough to come back when you're down early because we haven't been able to put anything together in awhile offensively."
Toronto's offense showed some signs of life early as Colby Rasmus doubled to put runners on second and third in the second with nobody out. The Blue Jays settled for one run and didn't get another hit the rest of the way as they were completely over-matched by starter Mike Fiers.
The Brewers right-hander faced the minimum after Rasmus' double until he departed after the seventh inning. Fiers walked one batter and struck out six as his ERA remained at a sparkling 1.29 in seven outings -- three starts -- this season.
"We just want to go home," Reyes said when asked about the road trip. "It seems like we play better baseball at home. But like I said, it's tough, it's tough when you come out with the kind of lineup that we have and score one run, two-hit game. But at the same time you have to give some credit to the pitcher from the other side. He did an unbelievable job, that's all I can say."
Gregor Chisholm is a reporter for MLB.com. Read his blog, North of the Border, and follow him on Twitter @gregorMLB. This story was not subject to the approval of Major League Baseball or its clubs.