Fiers, Brewers offense take apart Blue Jays
Crew racks up seven doubles while pitchers retire final 24 Blue Jays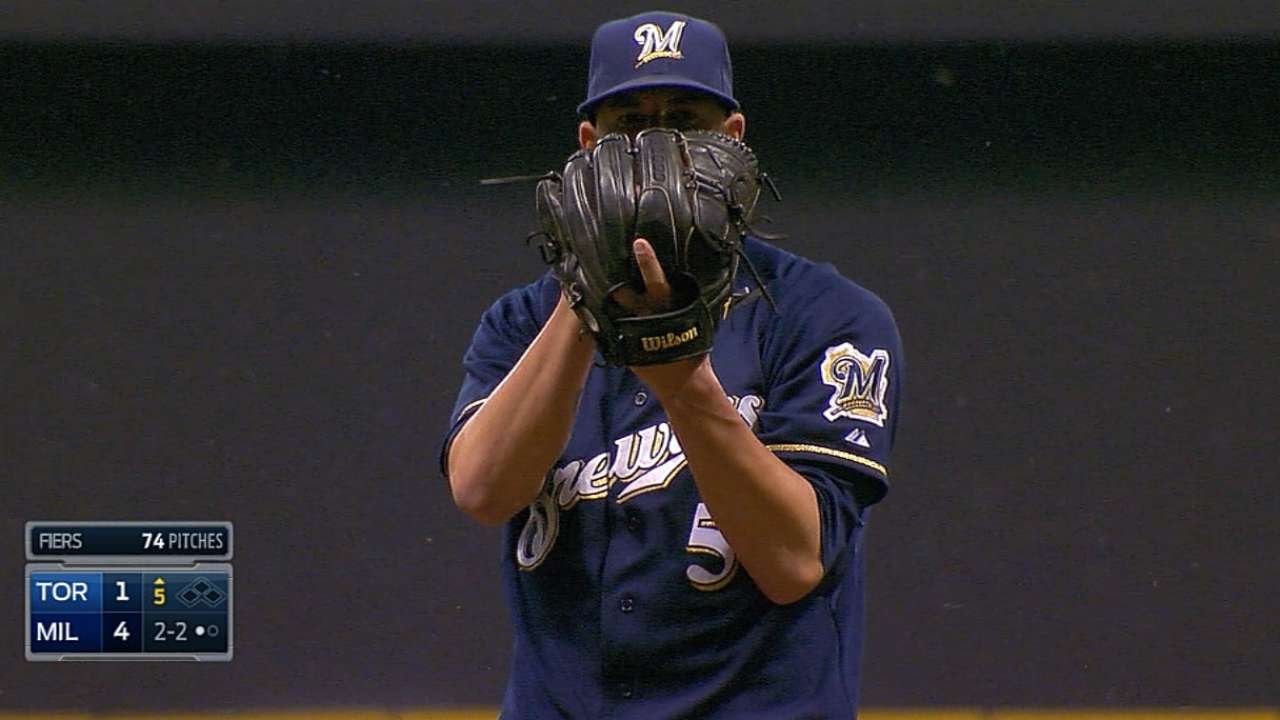 MILWAUKEE -- Coming off a weekend sweep of the mighty Dodgers, the Brewers didn't skip a beat Tuesday night as they slugged their way to a 6-1 win over Toronto at Miller Park.
Milwaukee showed no signs of slowing down as the team clicked in all three phases. The offense reeled off double after double, becoming only the 12th team in baseball this season and the 23rd team in club history to record seven or more two-baggers. Mike Fiers went seven strong innings as he and the bullpen retired the last 24 Toronto batters of the game. The defense did its part, supporting the pitching staff with several impressive infield putouts.
It all translated into a fifth straight win for the Brewers, who solidified their hold on first place in the National League Central, went 16 games over .500 and clinched their first winning record in Interleague Play since 2010.
Following up a seven-run showing on Sunday in Los Angeles, the offense set the tone early by taking advantage of J.A. Happ, who entered the game with a 5.82 ERA against Milwaukee. The Brewers registered a run before recording an out as Carlos Gomez and Jonathan Lucroy started the game with back-to-back doubles. Aramis Ramirez hit one of his own two-baggers later, giving Fiers a two-run cushion.
The Brewers added two more in the third and another pair in the fifth. Seven of the team's first eight hits were doubles, and each of the first five hitters in the lineup tallied at least one double. In all, the team scored six runs off 10 hits.
Khris Davis, who went 2-for-2 with 2 RBIs, summed it up in two words: "Contagious hitting."
"When it's happening, you just enjoy it and feed off it," Davis said. "I just feel like we're having a lot of fun as a group and enjoying ourselves."
Those six runs would be more than enough for Fiers, who followed up a 14-strikeout performance against the Cubs on Thursday with seven innings of one-run ball against the Blue Jays. He allowed only two hits and one walk, throwing strikes for 69 of his 106 pitches.
"He came and did the same thing; he attacked the zone," said Brewers manager Ron Roenicke. "This is a good fastball-hitting team, this is a good hitting team. He was able to locate that well and throw in enough breaking balls and changeups to keep them off-balance. He keeps doing it. Hopefully it continues."
Fiers' only trouble in the game came in the second inning, when Dioner Navarro led off the frame with a single and Colby Rasmus followed with a double. But after having two runners in scoring position and none out, the Blue Jays would get only one run on an RBI groundout by Munenori Kawasaki.
After Rasmus' double, Fiers and relievers Zach Duke and Brandon Kintzler retired 24 straight Blue Jays to end the game. It was the first time all season that the Blue Jays failed to record three hits in a game.
"I wanted to be aggressive in the strike zone," Fiers said. "Every inning, I wanted to make them swing the bat. The first two innings I was erratic -- I wasn't spotting the ball up. I got out of the one tough inning when they had second and third and no outs; I had to make some pitches there.
"I didn't want to get back to that situation, so I had to attack the first guy of the inning, attack that guy and then focus on the next guy. Maybe I was looking too far ahead in the game, but we were able to get up early and it made it easier for me to pitch with a lead."
Fiers lasted seven innings despite needing 44 pitches to get through the first two. It was his third straight strong start in place of the injured Matt Garza and continued a stellar stretch for Milwaukee starters: the rotation has posted a 2.36 ERA over its last 27 games, including 23 quality starts.
And both Fiers and Roenicke gave kudos to the defense, which helped keep runners off base all night. Ramirez snagged an Edwin Encarnacion line drive and kept a runner off base with an off-balance throw on a slow roller to third. Lucroy, playing first base, made a diving stop on a sharp Jose Reyes grounder to prevent a leadoff hit.
"We played a good game," said Roenicke. "I thought we did a really good job in the infield. Aramis played great at third, [Jean Segura] made some nice plays at short and 'Luc' with the dive at first. The defense was really good."
Caitlin Swieca is an associate reporter for MLB.com. This story was not subject to the approval of Major League Baseball or its clubs.