Stanton atones for error, lifts Miami to walk-off win
Miscue sets up tying seventh for Rangers, but slugger delivers in 10th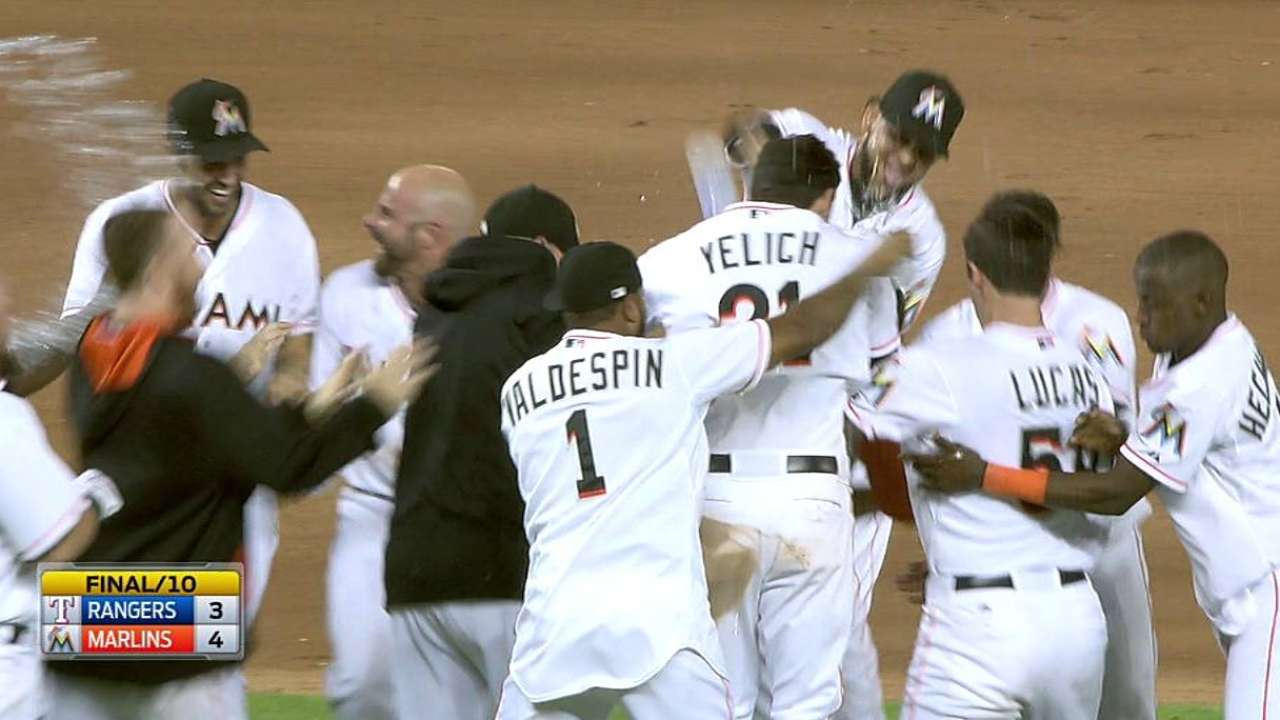 MIAMI -- Chants of "MVP!" greeted Giancarlo Stanton as he stepped up with two on and two outs in the 10th inning. The 24-year-old slugger backed the cheers up by blistering a walk-off RBI single that lifted the Marlins to a 4-3 win over the Rangers on Tuesday night at Marlins Park.
Stanton's decisive hit came off Neftali Feliz, who had a 1-2 count on the slugger before surrendering the decisive single to right field.
The 13th game-winning RBI and fifth career walk-off hit of Stanton's career also provided some redemption for the All-Star right fielder, who made a clumsy error that led to a run in the seventh inning.
"There was no other way but coming through in that situation," Stanton said. "I was [ticked off] because of the error. Then I walked twice. I couldn't do anything for that many more at-bats. I was fired up, man."
The victory pushed the Marlins' record to 63-62, marking the first time since June 20 (37-36) that they are over .500.
Stanton noted the game was a must-win.
"Absolutely," he said. "And [we were] not going to lose because of me mentality."
It took three hours and 59 minutes for the Marlins to improve to 9-9 in extra innings and secure their 11th walk-off win. Miami also upped its record in one-run games to 32-18.
Now over .500, the Marlins are hopeful of making up ground in the playoff standings.
"That's the step," manager Mike Redmond said. "Once you get to .500, you try to see how many games over .500 you can get. The teams that go to the playoffs, you see the record. You know where you've got to go. But we can't get too far ahead of ourselves."
In the 10th inning, Jeff Baker reached on a one-out error charged to first baseman Mike Carp, who came off the bag to handle Adrian Beltre's throw from third. With two outs, Donovan Solano reached on an infield single off Neal Cotts. Feliz entered and gave up the game-winner to Stanton.
With two on, Feliz went right after Stanton with the game on the line.
"I felt like he could get him," Rangers manager Ron Washington said. "Make a pitch but don't make a mistake. If we walk him, walk him. He tried to go away off the plate and Stanton reached out and punched it."
Both teams had numerous chances. Miami left 15 on base, while Texas stranded 12.
Steve Cishek worked out of a one-out, first-and-third jam in the ninth inning. Beltre smashed a hot grounder at Solano, who booted the ball for his first error in 29 starts at second base, putting runners at the corners. Daniel Robertson attempted a squeeze bunt that was taken for a ball, and Elvis Andrus was hung up halfway down the third-base line, where he was tagged out. Robertson walked, but Cishek ended the threat by striking out Leonys Martin.
In the fourth inning, Marcell Ozuna belted his 17th homer of the season. The drive was off Rangers starter Miles Mikolas, a Jupiter, Fla., native who attended Nova Southeastern University, who gave up three runs in five-plus innings on eight hits with six strikeouts.
In a no-decision, Miami starter Jarred Cosart was solid over six innings, allowing just one run on six hits. But at 91 pitches, he was lifted for a pinch-hitter.
"I think we all knew that this guy's got great stuff," Redmond said of the righty, who was acquired from Houston on July 31. "I think it's been fun watching him over the last couple of starts pitching when games mean something."
Texas pulled even at 3 in an ugly seventh inning for the Marlins. A.J. Ramos replaced Cosart and immediately yielded a double to Rougned Odor to open the inning. The ball went off the wall and kicked past Stanton, who stumbled trying to make the play. The error by Stanton allowed Odor to circle the bases.
The Rangers tied it when Mike Dunn, inheriting the bases loaded, walked Robertson, who was pinch-hitting.
The error bothered Stanton the rest of the game and provided him extra motivation to come through in the 10th.
"I was out of sync," Stanton said of the error. "My lower body was moving too fast for my upper body to catch up. Down she goes."
Joe Frisaro is a reporter for MLB.com. He writes a blog, called The Fish Pond. Follow him on Twitter @JoeFrisaro. This story was not subject to the approval of Major League Baseball or its clubs.