Braves roll to fifth straight win with rout of Bucs
Harang pitches into ninth inning; J-Up leads charge with five RBIs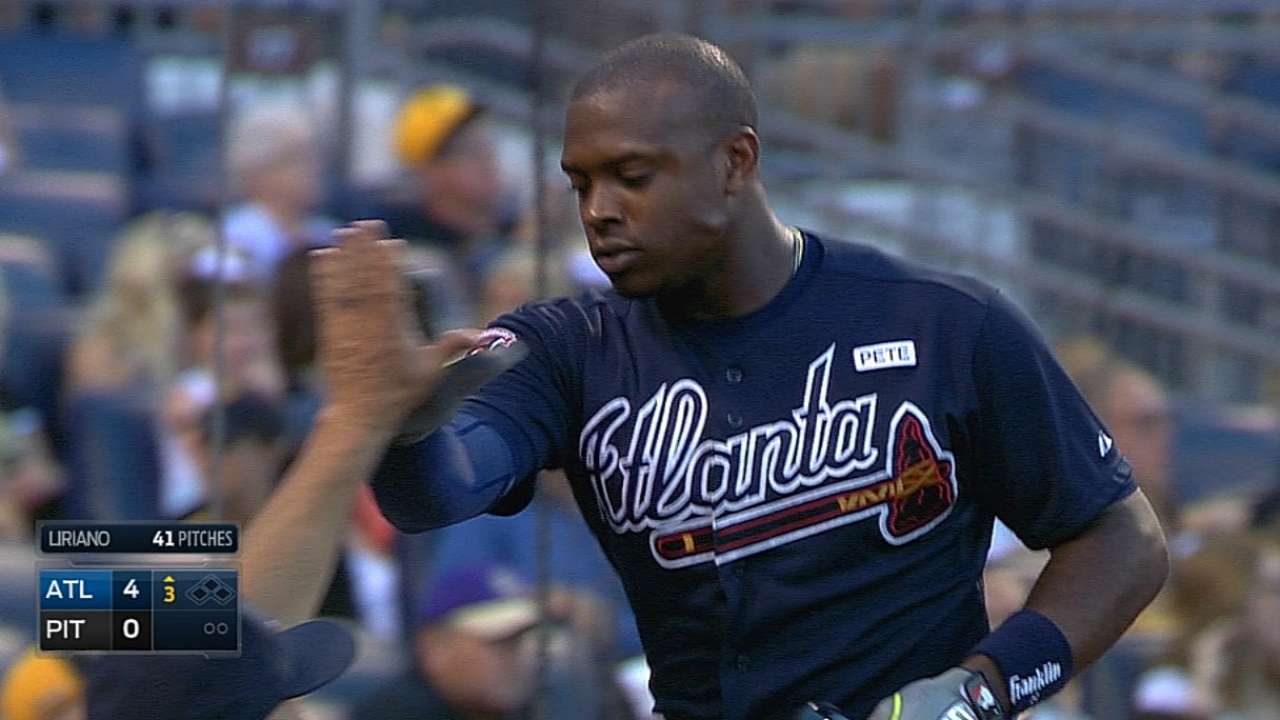 PITTSBURGH -- As the suddenly vibrant and rejuvenated Braves have rolled through their competition over the past few days, it's hard to imagine that this is the same group that appeared lethargic and destined for doom last week.
But with Jason Heyward providing a spark in the leadoff role and Justin Upton in the midst of one of his patented hot streaks, the Braves now find themselves blazing through a impressive stretch that was extended with Tuesday night's 11-3 thrashing of the Pirates at PNC Park.
"It's nice to string together a few nice games and be at ease and have some fun again," said Heyward, who drove in three runs as the Braves notched their first streak of at least five games since July 5 while distancing themselves from their recent miseries.
When the Braves lost for the 12th time in a span of 15 games on Thursday, it was impossible to ignore the negative energy that was floating around the clubhouse. But five days and five wins later, they are back to the jovial bunch that had no problem having some fun at the expense of Chris Johnson, who went hitless in five at-bats and stood as the only member of the starting lineup who did not record a hit on Tuesday.
"Not throwing CJ under the bus, but [Gerald] Laird was saying somebody had to keep the game going," Heyward said with a smile.
Though they have not made up any ground on the red-hot Nationals, who have won eight straight games, the Braves have kept themselves in the thick of the postseason chase. The Braves are now tied with the Giants for the second National League Wild Card spot after San Francisco was topped by Chicago, 2-0, in a rain-shortened game at Wrigley Field on Tuesday.
As they were on their way to tallying seven runs in back-to-back games for just the second time this year, the Braves benefited from a number of offensive contributors -- including Aaron Harang, who finished two outs short of a complete game and also generated the game's first run with what was his fourth hit of the season and first RBI since 2012.
"As we profiled them, they've got guys capable of doing damage," Pirates manager Clint Hurdle said. "It's been a quick-strike offense. They've gone on stretches where they hit good pitching. But like any team, they can be pitched to. We haven't located the ball where have needed to, on numerous occasions."
Harang's two-out single in the second inning sparked the uprising. But most of the production was fueled by the red-hot bat of Upton, who highlighted his season-best, five-RBI performance with a three-run third-inning home run off Francisco Liriano. Upton's broken-bat single also accounted for a pair of runs during the five-run fifth that chased Liriano, who had not allowed more than three runs in any of his 10 most recent starts.
"We were positive throughout our struggles," Upton said. "We know how crazy the game of baseball is. Baseball can drive you nuts, and you can have some great times too. We've just got to continue to try to stay positive and try to ride it out."
Upton is batting .313 with six home runs and a 1.082 OPS in his past 19 games, a surge that's reminiscent of the ones he's produced in the past when he has essentially put the Braves on his back. The often underappreciated outfielder stands with Alex Rodriguez, Adrian Beltre, Albert Pujols and Miguel Cabrera as the only active players who have notched 1,000 hits and 500 RBIs before their 27th birthday.
"He gets hot and he can carry us," Braves manager Fredi Gonzalez said. "He can do that for a few months. It's nice to have that big bat right behind Freddie Freeman, who is starting to roll the pole a little bit."
Given a four-run lead by the time he took the mound for the third inning, Harang did not experience much stress during his 114-pitch effort, which ended with three consecutive one-out hits that led to a run in the ninth. His efficient outing allowed the Braves to limit their bullpen work to the seven pitches thrown by David Hale.
When the Braves were still struggling last week, Harang said the club was capable of doing what he and his 2002 A's teammates did when they broke off a 20-game winning streak and went from 4 1/2 games back on Aug. 12 to 3 1/2 games ahead on Sept. 4.
"Everybody is swinging well," Harang said. "We're taking advantage of any kind of miscues. The guys are up there being aggressive and hitting the ball hard. We just got to look at it one game at a time."
Mark Bowman is a reporter for MLB.com. This story was not subject to the approval of Major League Baseball or its clubs.