Gee's rough fourth inning costly in loss to A's
Righty allows four runs in frame as Mets' offensive struggles continue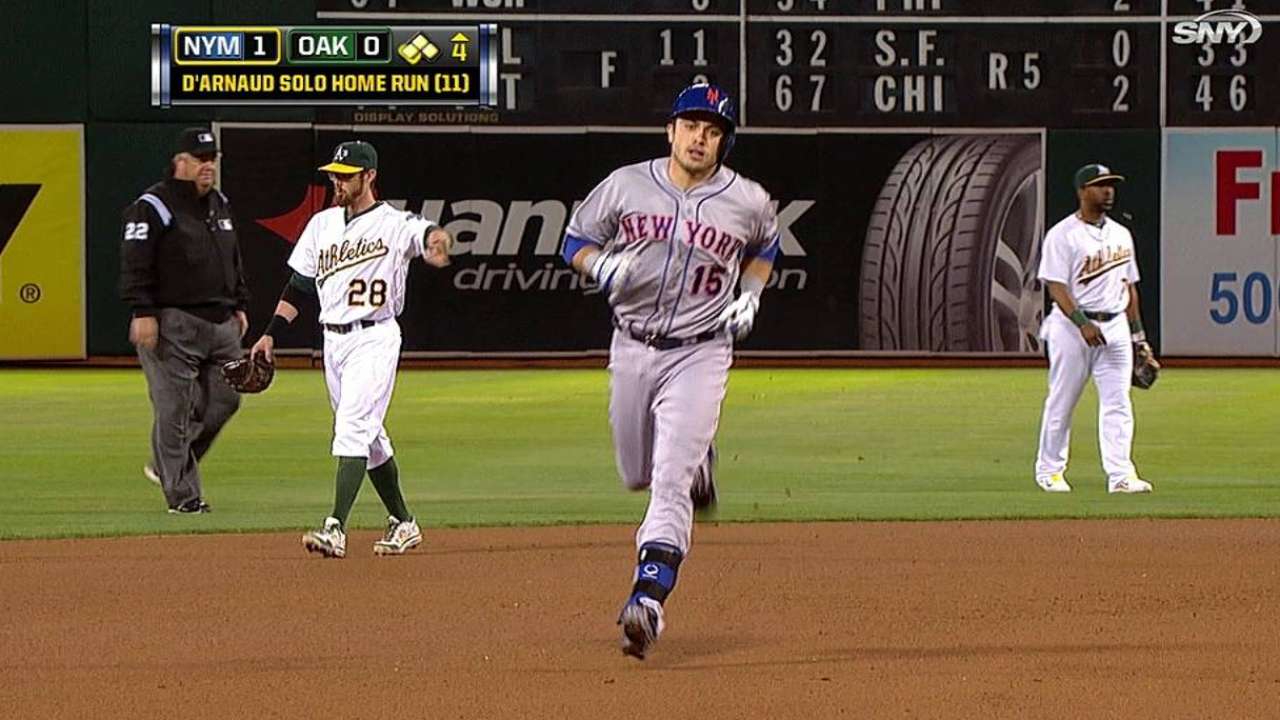 OAKLAND -- By the fourth inning Tuesday, the Mets had recorded their fourth hit, matching their daily output in each of their previous four games. It may have been a moral victory, but it proved to be nothing more than that; the Mets mustered only three other knocks in a 6-2 loss to the A's at O.co Coliseum.
"We've got to certainly put together more than two hits in an inning," manager Terry Collins said. "We've got to get some stuff going."
Proceeding with an unorthodox lineup in hopes of jump-starting their stagnant offense, the Mets instead delivered more of the same. Travis d'Arnaud's homer leading off the fourth inning marked their only damage against A's starter Scott Kazmir, who struck out six in six innings. The tiny flecks of spark the Mets showed early in the game, putting five of their first 10 batters on base, evaporated as Kazmir improved in the middle innings.
Mets starter Dillon Gee did the opposite, showcasing strong early command of his arsenal only to melt down in the fourth. After loading the bases with one out, allowing Oakland's first run on a sacrifice fly and then reloading the bases with a walk to the No. 9 hitter, Gee caved for Coco Crisp's three-run triple. The A's never looked back, even adding two runs on Josh Reddick's homer in the eighth, while their bullpen held the Mets to a single additional run.
"It's been very frustrating," said Gee, who lost his career-high fifth straight decision -- all five since returning from the disabled list on July 9. "But all you can do is try to take the positives from each outing and keep working hard, and try to turn it around."
"Dillon was up in the zone," Collins said. "That's just not where he pitches. I don't know if his rhythm's bad -- I'm not sure what it is. But he's a better pitcher than what's going on right now."
It was that type of game for not just Gee, but all the Mets, whose offensive rut has widened into a canyon. Arriving at the ballpark early Tuesday afternoon, Collins decided his best chance to snap the Mets out of their doldrums was to mix up his lineup. To that end, he rested regular second baseman Daniel Murphy, shifting Juan Lagares into the leadoff spot and Curtis Granderson to the No. 2 hole, and slotting d'Arnaud at designated hitter.
Neither Granderson nor Lagares finished with a hit, which did not make them terribly unique. The Mets, who do not have a .300 hitter on their active roster, averaged 2.3 runs per game on their recent seven-game homestand -- a figure that would have been much lower if not for a seven-run outburst Saturday against the Cubs.
"It's been a rough stretch for a little bit, but that's baseball," d'Arnaud said. "We've just got to keep our heads up and keep fighting every day."
Such stagnant offense did not seem like a recipe for success against the A's, whose own recent slide -- five straight losses -- may have knocked them out of first place, but not out of relevance. The A's still have much to play for, sitting a half-game behind the Angels in the American League West and holding a hammerlock on a playoff berth. As they proved Tuesday, they are plenty capable of rebounding.
The Mets, by contrast, must start considering their own reality as they rapidly fade away from even the fringes of contention. More and more, they know they must look toward 2015 -- whether that means resting David Wright and his balky left shoulder, playing Wilmer Flores on a more regular basis or proceeding cautiously with injured starter Jacob deGrom.
For Gee, it means reestablishing what he was doing prior to his shoulder injury. Before his DL stint, Gee was 3-1 with a 2.73 ERA in eight starts. Since, he is 1-5 with a 5.06 mark.
"It seems like I'll be consistent for a second, and then I'll just lose all consistency with my breaking balls and stuff like that," Gee said. "Those have been hurting me really bad. I haven't been able to get through that one rough inning and just get by."
Anthony DiComo is a reporter for MLB.com. Follow him on Twitter @AnthonyDicomo. This story was not subject to the approval of Major League Baseball or its clubs.